Enjoying Theater and Film When You Are Blind or Have Low Vision
Audio Described Theater Performances
A number of theaters offer Audio Described Performances, during which patrons can obtain stereo headsets to hear verbal descriptions of stage activities. These are often available for operas, plays, concerts, and political events. Call ahead to see if this is service is available at your theater and performance. Due to the increasing popularity of audio description, reservations may be necessary.
Nikki Llewellyn, COMS, is an Orientation and Mobility instructor at the Association for the Blind and Visually Impaired-Goodwill Industries of Greater Rochester, Inc. and a nationally certified audio describer. Nikki, who does audio description for national touring Broadway shows that come to the Rochester Auditorium Theatre, explains the process of audio description for theatergoers who are blind or have low vision: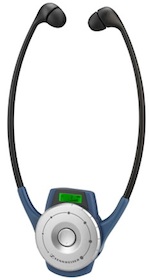 Example of an audio
description receiver
"Audio description is a wonderful benefit for individuals who are blind or have low vision. For both the regional theater and national Broadway tours, I sit in an isolated sound booth where I can see the performance. I have headphones for the stage sound, as well as for my own microphone.
"Theatergoers who are blind or have low vision have small receivers and an ear cup with a directional microphone so that they can hear both the stage and my description. The receivers have controls for the volume and they can turn me off if they desire.
I describe the actors, costumes and scenery prior to start of the show and again during the show. Then I add necessary action descriptions during the show to allow the patron who is visually impaired to follow the action that is critical to the story line. This has to be written ahead and timed, so that I don't step on any of the dialogue.
I usually see a show three to four times before actually doing the audio described performance. I also work with a consultant who is blind and views the show once or as a rehearsal to critique my performance and offer suggestions.
Only one performance of each show's run is usually audio described. It's frustrating when I see individuals who are blind or have low vision at performances that aren't audio described. Sometimes it's a matter of not knowing that audio description is available on another date. Other times, it's just that the person has transportation available for that particular performance and not for the audio described one."
Preview Sessions
Some theaters offer special preview sessions for patrons who are blind, visually impaired, or have low vision. During these sessions, staff meet with patrons prior to the performance and describe the plot and the stage activities that will take place throughout the performance. Ask if your theater offers this service.
Low Vision Devices
Talk with your eye doctor about low vision optical devices that might help with viewing some stage performances. Helpful low vision devices can include small hand-held magnifiers and/or magnifiers with built-in lights (to help with reading the program), small hand-held telescopes for spot viewing, spectacle-mounted telescopes, bioptic telescopes, or frame-mounted binoculars.
Large Print Programs
An increasing number of theater and cultural events now provide large print programs and materials. Some may also be available in braille. Ask if your theater provides this service.
Familiarize Yourself with the Story
If you know someone who has seen the performance, ask for an overview of the plot before you go. If the performance is based on a specific book or poem, consider reading it before you attend.
Audio Described Movies and Video
Audio description is additional narration that provides important visual elements of a film or television show as they happen. Increasing numbers of movie theaters and cineplexes are offering movies with audio description and closed captioning.
MoPix® Motion Picture Access, developed by the Media Access Group at WGBH, makes theaters accessible to audiences with disabilities, including blindness and visual impairment. The MoPix® website provides current information about audio described films playing in movie theaters throughout the country.
Many DVDs also come with audio description. The Media Access group at WGBH provides links to described movies available from Amazon.com and described PBS programs available from Amazon.com.
You can also check with your local library or State Library for the Blind. Both may offer a number of audio described movies free for lending. For more information, see resources for audio, large print, and braille books and materials.
Resources for Descriptive Narration
Other useful resources concerning audio description and theater and movie adaptations include: