Audio Players and Talking Books
Not many people realize that the earliest phonograph records were created specifically to provide spoken recordings for people who could not read because they were blind. Recorded music came later, but recording the written word for use by people with vision loss continues today. Audio books and a new generation of listening devices are helpful for readers with limited vision and are an increasingly popular reading option for sighted audiences as well. Almost any popular novel or nonfiction book, general interest and trade magazines, and newspapers are now available in a variety of accessible audio formats.
Talking Books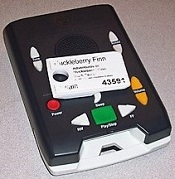 Launched in 1933 and sponsored by the Library of Congress, the National Library Service for the Blind and Physically Handicapped (NLS) is a national network of cooperating libraries that distribute recorded books to people with vision loss. These books are loaned and mailed free of charge, and are played on machines provided by the NLS program. The books come in special containers that are mailed back free of charge. Talking Books can also be downloaded from the Braille and Audio Reading Download website (BARD) for play on the Digital Talking Book Player via a USB thumb drive or on portable players compatible with the NLS format. To apply for this service, call (800) 424-8567, go to the NLS website, or visit your local library. BARD Mobile is available in the App Store for iOS devices such as the iPod Touch, the iPhone, or the iPad. It is also available from Google Play for devices running Android OS 4.1 or later.
Commercial Audio Books
Available at all major booksellers, these are CD editions of commercial bestsellers read by their authors or by noted actors. Audio books are now so popular that many publishers release the audio version of a new title simultaneously with its print counterpart. Your local library may even have an audio book section.
Amy Bovaird, Author of Mobility Matters: Stepping Out in Faith, Available in Kindle and Large Print Formats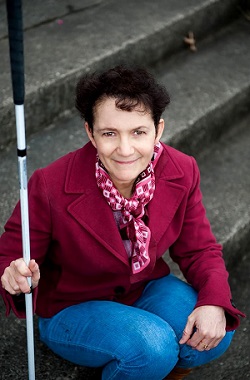 Amy Bovaird
is a VisionAware Peer Advisor and author of
Mobility Matters: Stepping Out in Faith
, her compelling memoir that documents her life as an international teacher and traveler, her diagnosis of
retinitis pigmentosa
, and her triumph at learning to travel independently once again, using her long white cane. Says Amy, "Mobility matters. It allows me to join the rest of society, follow my interests and passions, and reconnect with my love for traveling. I don't have to stay at home fearing the dark anymore. I can live independently."
Read Amy's personal story
about her journey to independence as she learns
daily living skills
and
access technology
and masters
travel skills and cane training
. Learn more about ways to find emotional support for you – and your family members – after a vision loss diagnosis:
Downloadable Audio Books
These books are digital files that contain the same content as conventional audio books but can be downloaded on to a personal computer or a portable device such as an MP3 player. Apps for the iPhone, iPad or iPod Touch make the download and listening process seamless for many audio books. If you're not technically oriented, the digital option may seem unfamiliar, but it does have advantages that make it worth exploring. The main advantage is navigation. CDs offer limited movement backward or forward within the text. Digital playback is much more flexible, allowing the user to jump back or forward by chapter or sometimes by page. You can even set digital bookmarks that let you find a particular passage instantly. Here is more information about downloadable audio books:
Electronic Audio Books are recorded electronically and stored in files on the Web, or downloaded to your own computer.
Sometimes they are especially designed for people who are blind or have low vision and use the DAISY (Digital Accessible Information SYstem) format.
This format has encoded markers for chapters, subheadings, paragraphs, and other codes that help the listener navigate through the book and bookmark passages of interest.
The DAISY format means that Digital Audio Books will not work on players that are not designed to play them.
If you have a computer, you can get software that can play the DAISY format. You can also buy a stand-alone machine that plays Digital Audio Books.
Some Personal Digital Assistants (PDAs) can play the DAISY format. Look for a PDA that understands DAISY and has sufficient memory for storing your books.
Stand-alone machines can also be small and portable and will play MP3 files and music CDs too.
DAISY books can contain both text and audio files. The text portion can be displayed on a braille display or on a screen in a larger font size. You can search the text for key words or passages. Unlike CDs, you don't have to rewind or fast forward. And you can increase or decrease the reading speed without affecting the quality of the narrator's voice. Ask yourself the following questions before purchasing a digital audio book player:
Do you want a portable player or a software player that runs on your computer? If you want to use it on your computer, you will need a software player that is compatible with your computer's operating system.
If you have a portable player, does your PDA already support the DAISY format and have sufficient memory for storing books? Can your PDA memory be expanded?
Do you want a player that plays CDs, or a player that plays files transferred directly from your computer? Should it also play MP3, WAV, WMA file formats?
If you are buying software, do you want a version that allows you to produce, as well as listen to, books?
Audio Book Resources
Audible.com is the first and most successful source of commercial electronic books online. You can find the same popular audio books that are available on CD from various publishers, usually priced at 30 percent below retail. You have the choice of listening to the books on your computer (called streaming), listening on your iPhone, or transferring them to a portable MP3 player.
Please note: Not all portable devices will play Audible files or are accessible to people with vision loss. Some popular models that meet both criteria are the iPhone 3GS and newer models, the iPad, the iPod Touch and the iPod Shuffle.
PlayAway Books are ideal starters for older readers who have never used a digital audio book. Packaged to resemble print books—with artwork and jacket information reproduced on the front and back covers—PlayAway books are self-contained listening devices. You don't need a separate device to play them. Each PlayAway is about the size of a credit card and contains one featured selection. A set of earplugs, a spare battery, and operating instructions are included. To listen to audio samples, visit the PlayAway Books site.
Public libraries in a growing number of U.S. cities are now offering audio books online. These books are played in Windows Media Player with the assistance of a special program called OverDrive, which you can download for free. Books are generally available on loan for a two- or three-week period, just like hardcopy books. Instead of having to return the book to the library, however, it will simply vanish from your computer's hard drive when the loan period ends. To find out if this service is available in your area, visit OverDrive's Digital Library Reserve. You'll also need a library card from your local library.
Audio Players Specifically for People Who are Blind or Visually Impaired
While there are commercial audio players that work reasonably well for people with limited vision, numerous players have been designed specifically with the vision loss community in mind. There are no visual prompts to deal with. All are operated by listening to audio cues and pressing easy-to-use keys.
Victor Reader Stream
The Victor Reader Stream (VR Stream) is sold by HumanWare. About the size of a deck of cards, it features both text-to-speech capabilities and digital audio support. This means you can read electronic files (with synthetic speech) or digital recorded books (with human speech). This versatile device plays books in a variety of digital formats from Learning Ally [Formerly Recording for the Blind & Dyslexic (RFB&D)], and digital Talking Books from the National Library Service for the Blind and Physically Handicapped (NLS) and Bookshare.org. It can also play text files that have been loaded into it, as well as your favorite music. Simple to use, the VR Stream lets you place electronic bookmarks in any file and locate specific information or favorite passages quickly. It has variable speed playback, a time Jump feature, auto Sleep shutoff with multiple time settings, and a key lock feature. A digital recorder accessed with one button allows you to record a note and play it back later. The VR Stream comes with a built-in rechargeable battery providing up to 15 hours of uninterrupted listening time. It has small built-in stereo speakers, or you can use headphones or small portable speakers that plug into the headphone jack.
Milestone 312
The Milestone 312 is another handheld player designed specifically for people who are blind or visually impaired. Developed in Switzerland, it is sold in the United States by Independent Living Aids. About the size of a credit card, this portable player can be used for MP3 files of music or audio books. It can play books which have been recorded in DAISY (Digital Accessible Information SYstem) format, which allows for easy skipping around within a book by chapter and heading. It has a built-in speaker so you don't need to buy headphones. It also has a recording device and a removable secure digital card for storage of books and music. However, you cannot use it to listen to documents or web pages.
For More Information