Where Can I Get White Cane Training?
Many people with vision loss are not aware of their need to learn safe travel skills. When they finally realize they are no longer moving around safely and look for training to use a white cane, they often experience long waits for services. Sometimes they are even told there is no such training available in their area due to budget cuts and a shortage of professionals who teach cane skills.
In honor of White Cane Safety Day on October 15, VisionAware is highlighting the Leader Dog Orientation and Mobility program.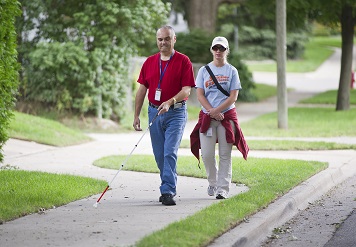 Caption: Leader Dog Orientation and Mobility Instructor Supervising Client Learning Cane Skills
Orientation and Mobility training (which includes white cane training) provides people with vision loss the essential skills to get around, to live the life they desire-without limits. Specially trained instructors provide this training.
Several years ago, I was fortunate to take the training at Leader Dogs for the Blind. I was on a long waiting list for orientation and mobility services in my state. Realizing how much I needed to learn these skills to be independent and safe, I knew this was a great opportunity so I applied.
Are you or someone you know in need of white cane training? Read about the program and find out more about this free training available to anyone who wants to learn how to travel safely and independently! Not only is the week-long course free, but it also includes airfare to the training center in Michigan.
More About White Canes and White Cane Day
Read a history of white cane day.
Find out how using a white cane gives confidence and safety.
Read "What will people think about me if I use a white cane?".
Use the VisionAware Directory to find more orientation and mobility services.