Editor's note: Here is our third post related to volunteering and National Volunteer Week. She addresses how people who are blind or visually impaired can thank those who volunteer to help them with everyday life.
Finding Creative Ways to Say Thank You Is Challenging
Those of us who are a part of the blind and visually impaired community sometimes have to ask for help from others on a regular basis. Finding creative ways to show gratitude and appreciation for the help extended to us can be challenging because just saying thank-you never seems to be enough. But I have found some inventive ways that I would like to share, that go beyond the basic thank-you and express sincere appreciation.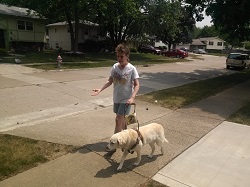 My Dog Guide Says Thanks
I have friends who enjoy keeping my dog guide for me while I go somewhere where it would be inconvenient to have a dog with me. They love her and always say yes when I ask them. They never expect payment or gifts; but each time, I present them with a gift card for a restaurant I know they like, or I bring gifts from where I've been. I enclose it in a thank-you note from my dog which is greatly appreciated.
Two Ways of Being Considerate
I am fortunate to have a group of friends from my church who have offered to take me to the grocery, to the doctor, or to run errands. In order not to ask the same ones too many times, like the ones I like best, I keep a record of when each of them volunteered. Each time, I need someone, I look at the list and determine whose turn it is. I feel that this method keeps me from overtaxing anybody. It works out that they each take a turn about once every 6 weeks. While this is not a thank-you per se, it is a way of being considerate. Another way of being considerate is to refrain from asking a volunteer, "While we're out, do you mind if we stop at…?" I try to map out an efficient route for the various tasks that need to be done, so we're not crisscrossing across town, and we're not adding on stops that my volunteer had not planned on. Keeping in mind that they have other things to do that day is very important.
Pick Up the Tab

While we're out shopping or running errands, we might stop for a coffee or an ice cream. I insist on buying, even when I know that my volunteer is quite capable of paying for her own. It's a small gesture of saying thanks.
Purchase a Gift or Make Homemade Items
Remembering a birthday with a card or a small gift is another way of showing appreciation. And a gift for no reason at all makes anyone happy. Or sometimes, I present a special volunteer with a cake or a tin of cookies, especially if I've been baking anyway. A pastry from a shop will do just fine, but something you have made yourself means more. Some teenagers down the street shovel the snow off my driveway, so at the end of winter, I make them a pie. They don't want money, but pie, well that's another matter to two hungry teenage boys.
Find Ways to Contribute Yourself
There are many volunteer jobs that I can't perform at my church. But I can cook. It's important to me to use that skill to contribute to a church dinner or bake sale. If cooking isn't your thing, try to find something else you can do, like knitting scarves for people in need, singing in the choir, or stuffing envelopes. If you're a musician, offer to play a solo at your volunteer's church or speak at her daughter's Girl Scout meeting. The point is to give back by helping others.
How to Say Thank You
Just saying "Thanks," as you get out of the car and hurry inside is almost as rude as not saying thank you at all. I try to express my thanks by telling my volunteer how much this means to me. It's like writing a thank-you note. You don't just say "Thanks for the gift." You tell the giver how much you enjoy the gift and how you will use it. In the same way, I tell my helper, for instance, at the doctor's office, "This is so much easier than having to rely on public transportation. I can't tell you how nice it is to leave when I'm done with the appointment, and I don't have to stress about missing my ride or having to sit here for an hour and wait for it." When your volunteer gets a picture of what it's like to be you, they will be glad to do it again next time.
Let's Talk About Saying Thanks
So, were my ideas helpful to you? What ways have you found to demonstrate thank you to a volunteer, friend or family member? How do you go beyond the basic "thank-you" to show your appreciation? Share your tips and suggestions in the comment section below.
Related Post