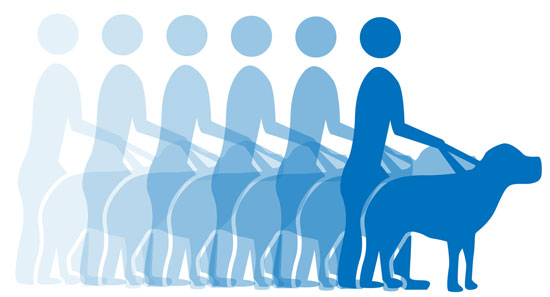 Guide dog schools everywhere are committed to the mission of producing, training, and matching skilled guide dogs with handlers who are visually impaired, to provide safe and independent mobility. The mission is multi-faceted and requires a huge investment of time, talent, and money. Transforming a little ball of fur into a responsible and disciplined working dog takes patience and commitment from many people along the way. And the people who do this work are driven by a special passion, both for the dogs and the people they will serve. They would say the reward of witnessing a successful guide dog team working together makes it all worth it.
Guide dogs change lives. These uniquely trained animals are the "cream of the crop," possessing extraordinary intelligence, work ethic, and willingness to obey. Each school refines their breeding stock, hoping to produce puppies with ideal physical and behavioral characteristics to become guide dogs. However, not all their puppies make it. Even with the best care, breeding, and training – up to 50 percent of the dogs will be removed from the program. Only the dogs meeting the highest standards of health and performance are fit to serve as guide dogs. So they are carefully evaluated and selected for this important job and only the best of the best graduate.
Becoming a Guide Dog
Their training begins at birth, as they are stimulated and encouraged to explore the world. At eight weeks old, the future guide dogs are sent to loving puppy raiser homes where they are nurtured to be all they can be for one year. Puppy raisers focus on potty training, basic obedience, and socializing their charges. They are supported by the guide dog school and use approved methods, lots of positive interaction, and exposure to a variety of environments for shaping a future guide dog.
At the end of this formative year, the dog returns to the training center to begin its formal instruction with a professional guide dog trainer. The returning dogs must be able to endure the separation from their beloved families and weather the stressful transition back to the kennels. Then begins a rigorous four month long training schedule; something akin to doggie college where they will learn to be professional guides. If the dog learns its lessons well and makes all the required benchmarks, it will be presented to a " human" partner to begin its life of skilled service and devotion.
By now this amazing dog, so eager to work and please, has learned the intricacies of its job and begins the final phase – to train and bond with their human. For about a month, the team works together under the watchful eye of the guide dog instructor who teaches them everything they need to know about taking care of each other. The dog and human partner learn to trust each other and move as one as if they are dancing together. It is a beautiful thing.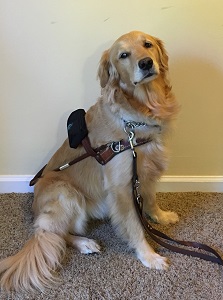 Thankful for My Guide Dog
I have been working with my beloved guide dog Sophie for five years. When I think about what she accomplished to become a guide dog and all that she does to enrich my life, I am amazed and grateful. Next time you meet a guide dog, be sure to show respect for these animals and the very important work they do. Follow these rules of etiquette:
Do not pet, feed, or talk to a working dog while it is on duty (in harness).
Ignore the dog and talk to the handler.
Never interfere with a working team while they are traveling together. Their safety is at stake.
A guide dog team has the right of way and, under the Americans with Disabilities Act, is required to be allowed access everywhere the public is allowed.
Please remember guide dogs are professionals and have worked hard to achieve the status they hold. They are dedicated dogs who deserve admiration and appreciation! Sophie, you are a star and I thank you for your love and service which opens up the world to me!
VisionAware Peer Adviors Talk About Their Guide Dogs
Memoir of a Guide Dog: It's Off to Work We Go
Top Ten Ways My Dog Guide Assists Me
Lessons My Dog Guides Have Taught Me
RunMelbourne: A Walk in the Park with Our Guide Dogs