We are continuing our theme of National Physical Fitness and Sports Month.
Even though there may be a few added challenges for people who are visually impaired to get exercise, we need to make it a part of our daily lives. This can be done with the right information, creativity and motivation. VisionAware Peer Advisors share their routines and ideas in hopes of inspiring others to pursue greater levels of physical activity and achieve the associated health benefits. Let's make fitness a priority, together.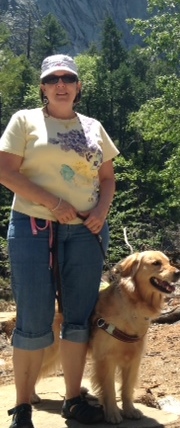 "I like to mix things up and try new things to avoid boredom. I enjoy solitary activities like yoga, walking with my guide dog and getting on my elliptical machine while listening to a good book. But my favorite activities are outdoor sports like hiking and tandem biking when I can spend time with family and friends."
"I have found the simplest and least expensive way to exercise, aside from walking of course, is to use a jogging trampoline. There is no motor to roar, no belt to come off, and it takes up less space than a tread mill. You can make it as aerobic as you like. And, if you get one from a second hand store, like 'Play It Again Sports,' it's not nearly as expensive as any other piece of equipment. There is a bar to hold, so jumping on it is safe. You may also want to read about my tandem biking adventures."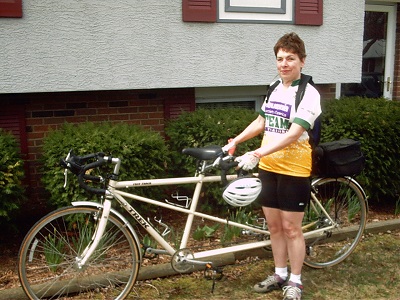 "It is my flexibility that adds grace and ease to my movements and makes it possible for me to return on June 1st to train with my ninth guide dog. When you don't know what your foot will land on in the next step, quick reflexes and flexibility help you keep from tripping or falling. Shortly after I lost all light perception at age 8, my mother put me in ballet classes because, she explained to the teacher, now that I was blind and would be walking into things, tripping etc., she wanted me to do it gracefully! I perform at least half an hour of stretches and other exercises each evening before bed. I keep my weight down and at 66, am still able to move freely and quickly, carry lots of heavy technology and do all of things I want to do."
"I have several suggestions to share:
We use a tandem bike. It's not as easy as one might think, working as a team, being alert to traffic, on the edge of my seat at the ready to follow my partner's instructions. Sitting on the back of a tandem bike, I truly feel engaged with nature. This shared form of exercise can be as gentle or as hard as the pace we both want to set depending on our energy levels. One thing on which we insist is a reconnoiter to a café for that well deserved cup of hot coffee at the end of our ride.
One of my favorite places to walk is around the Botanical Gardens in Melbourne. A comfortable gravel track circles the lush gardens and I love being caught up with other Melbournians who like to walk or jog around 'The Tan' too. As I use a white cane, I prefer to go with a friend to catch up on news while we both get some brisk exercise.
There is nothing as wonderful as feeling swept away with my favorite music that inspires me to jive, swing and dance to music from my teen years. Call me old fashioned, but the rhythms of the 70s is still some of the best music you can play to encourage enjoyment of doing housework!
Getting out in the garden is not always about smelling the roses. There are many jobs that can get the heart pumping. There is something very satisfying when at the end of my gardening day, the flower beds have been cleared of weeds, the compost has been turned, the large garden pots have been moved into different sunny places and I take off my gloves – exhausted in a good way.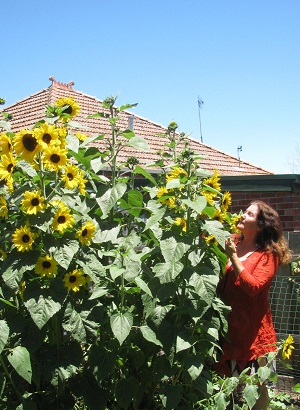 "I have exercise equipment in my home and use that on a regular basis. I also use a talking pedometer to measure steps, miles and calories burned. Recently I have hired a personal trainer to come to my home for help with workouts. Also, there is a Blind Yoga series created by Marty Klein that I recommend."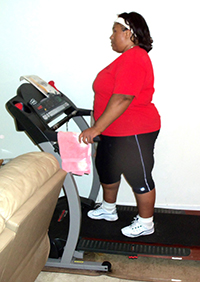 "I am new to vision loss. I have done all sorts of different exercise over the years. I used to put a lot of pressure on myself to exercise so many hours a week. I stopped that way of thinking completely. Since my vision loss I have learned to focus on the activities that bring me joy and not the ones I have difficulty doing. For me, being outside is a real struggle. The light and flashing is too much."
Leann's Routine
"My first step is to follow a series of stretching techniques to avoid injury and to warm up.
Then I choose between following a few routines on YouTube and creating my own. With my low vision I need a much larger screen, so I use my TV instead of my computer. This way I can see the instruction well enough to follow along. With my light sensitivity I can also adjust brightness on the screen, the overhead lighting and I wear sunglasses. It is impossible to get bored, the variety is endless. I choose ones that are ten minutes long and go with the flow. Sometimes I do three or four videos, depending on how I am feeling.
My favorite activity is dancing. I put on some music and get moving. I have a bad ankle so I adapt to my body. I dance with minimal foot movements or I sit in a chair. It's amazing how much of a workout you can get sitting in a chair. Dancing and exercise is such a mood elevator. Since my vision loss, this is critical for me. I need to be able to bring myself up out of the trenches and feel good about myself."
"I think with exercise, people need to think more about small improvements. It's easier to get moving if you aren't thinking you have 30 minutes or an hour to work out before you can quit. I say start with putting on your shoes and taking a few steps or walking one block or climbing one flight of stairs. I have had better results myself lately setting myself a goal of 15 minutes instead of 30 minutes."
Health and Fitness Apps
Many apps are emerging to help track and motivate healthy eating and fitness goals. They are not all fully accessible yet, but some may be useful depending on your level of vision. Many are free and there is no risk in checking them out in the app store.
"Here are a few free fitness apps that my friends and I like:
More Information on Fitness
Read the first post in this fitness series:Make physical activity a way of life
For more reviews on fitness apps go to AFB AccessWorld "A Review of Pocket Yoga, CARROT Fit, CARROT Hunger, iOS Fitness Apps".
Recreation and fitness section on VisionAware
Sign up with a personal trainer
Give Us Feedback
What are your favorite forms of exercise? In what ways do you adapt your fitness routines? Are there some activities mentioned here that you would be willing to try? Make physical activity a daily activity!