It has been almost 100 years since a total solar eclipse has happened coast to coast in the United States. Typically, solar eclipses occur somewhere on earth about once every year and a half, but on Monday, August 21, everyone in the US will be able to see this momentous event.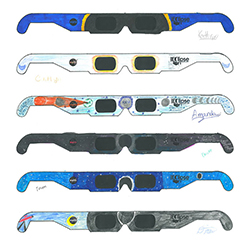 A solar eclipse occurs when the moon blocks the disk of the sun and, as a result, the day will darken. Lasting for only a few minutes, it is an incredible sight to see but very unsafe to do so because of the radiation that is released. Watching a solar eclipse has been known to cause permanent damage to the eye's retina. Staring directly at the eclipse or viewing it through an optical aid like binoculars, a telescope, or optical camera viewfinder is harmful, so people wear special sunglasses that have a solar filter for protection. Safe solar filters provide a view of the sun that is comfortably bright (like the full moon), in focus, and surrounded by a dark sky. Another way to safely view the solar eclipse is through indirect projection. According to NASA, this is done by projecting an image of the sun's disk onto a white piece of paper or card using a pair of binoculars (with one of the lenses covered), a telescope, or another piece of cardboard with a small hole in it (about 1 mm diameter), often called a pinhole camera. The projected image of the sun can then be safely viewed. Caution must be taken to not look directly through the projector.
Word of Extreme Caution About Viewing the Eclipse
The National Eye Institute (NEI) has issued guidance about safely viewing the eclipse. "Never look directly at the sun or an eclipse! The sun's rays can damage the retina and lead to permanent vision loss," said Rachel Bishop, M.D., chief of the NEI Consult Service. "The retina is the light-sensitive tissue in the back of the eye. A condition called solar retinopathy occurs when sunlight burns and potentially scars the retina. Symptoms of solar retinopathy include central graying and fuzziness of vision. A solar eclipse can be viewed safely by looking through special-purpose solar filters. These filters must meet an international standard indicated by ISO 12312-2 certification."
The American Astronomical Society has issued warnings about solar glasses that are not safe and that are being sold as if they meet certification requirements. Please check their site for safe manufacturers.
Other Ways to Participate
If the two techniques above don't work because of your vision loss, there are other ways to participate in this natural phenomena. Below, I have listed some different ways you can actively engage in our next historical eclipse. Check out these resources and get ready! Who knows when the next one will occur, it might be another 100 years or so.
Share Your Thoughts on the Eclipse and Resources
Regardless of the way in which you decide to view the upcoming solar eclipse, it is good to know that there are options. So after reading this post, how will you view the solar eclipse? Do any of the above options peak your interest? Or do you have another way to view the eclipse that was not mentioned? Share your thoughts in the comment section below and let's get ready to share in this historical and spectacular event.
More Information
Read more about the eclipse app