Celebrating our successes as visually impaired people is an essential step on the journey to healing. Peer advisor, Lynda McKinney Lambert knows this firsthand.
Celebrating in a Memorable Way
After profound vision loss in 2007 due to Ischemic Optic Neuropathy, Lynda did not use a computer for almost two years. When she finally did relearn her way around the computer with the help of adaptive technology, she decided to celebrate in a memorable way. She started a blog.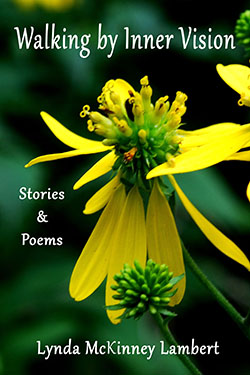 Lynda's blog, "Walking by Inner Vision," grew and grew over a seven-year period. Last year, she decided to collect her stories and poems in a delightful book by the same name.
Walking by Inner Vision: Stories & Poems is Lynda's second book. The first, Concerti: Psalms for the Pilgrimage, was published in 2003 by Kota Press.
Into the Mind of the Artist
Lynda is an artist and a retired professor of fine arts and humanities from Geneva College. Her artistic background permeates her writing in an unmistakable style, painting word pictures and setting vivid scenes. Her black and white photography accompanies several stories and adds to the visual appeal.
"This book takes readers into the mind of an artist, how we work in layers, seeing connections between history, philosophy, psychology, and nature. It's the artist's job to tell the things others don't notice. We see nuances and fragments—these things spark the mind," Lynda said.
Walking by Inner Vision is arranged as a year-long pilgrimage from January through December. Each month begins with a poem and reflects the happenings unique to its time and place. For example, in "March Arrived Like a Capricious Cat," she speaks of the changeable nature of late winter in her native Western Pennsylvania.
"Glass wind chimes
hang
immovable
stiff
shrouded in new snow.
March arrived like a capricious cat
crouched—hunkered down, bent over
spring-loaded, squat
Changeable!"
Viewing a World of Beauty with Vision Loss
Throughout the 16 poems and 27 essays, Lynda views her world through the lens of beauty even in the midst of vision loss.
"I want to give people a strand of hope to hold on to," Lynda said. Her personal Christian faith provides the anchor for her own hope and optimism.
"I believe we were created to be image bearers, as the Bible teaches, and that we are called for a purpose," she said.
Lynda draws on her wealth of experiences to offer the reader a treasure chest of reading variety. While some stories are light and humorous ("A Wintry Tale"), others are poignant, like the story of her mother's last family gathering and ensuing struggle with Alzheimer's ("The Living Room").
Regardless of the form—free verse or creative non-fiction—one thing remains consistent: lingering images stay with the reader long after the book is finished. They have been taken into the world of Lynda's inner vision. And all is well.
The artist has done her job.
Want to sample some of Walking by Inner Vision: Stories & Poems? A free 30-page sample is available by going to Lynda's author page.
The book comes in e-book, Kindle, and print formats. Cost is $3.99 for e-book and Kindle and $14.95 for print copies. It is also available online through Barnes & Noble, Amazon, or anywhere books are sold.
Check out Abbie's Corner of the World for another review of Lynda's latest book, Walking by Inner Vision: Stories & Poems.
Reading After Vision Loss
Reading, Writing, and Vision Loss
Reading Apps for Booklovers Who Are Blind or Visually Impaired
How to Get the Most from the Bard in Your Book
The Bookshelf: Reading Books on Blindness and Learning About the Experiences of Others