Excerpt from the Novel The Help
I put the manuscript down on the table with a thump… I brought it over to show to Aibileen and Minny one last time before I mail it…
"Now we just…wait and see," I say.
"What if they find out?" Aibileen says quietly. "What if folks find out it is Jackson or figure out who' who."
"They ain't gon' know," Minny says. "Jackson ain't no special place. They's ten thousand towns juz like it."
Who Are the Readers Who Bring Books to Life?
The voice of Jill Fox, Talking Book (TB) narrator in Louisville, Kentucky, fills the room with these lines from the classic novel The Help. With the slightest change in accent, rhythm, pace, tone, and attitude Jill Fox brings alive the three main characters in these few lines of Kathryn Stockett's classic. (For readers who do not know the joys of talking books, you are in for a treat. You can listen free of charge to your favorite books by signing up for the program).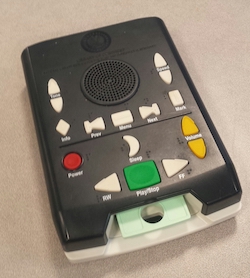 The voices of the men and women who narrate Talking Books are as familiar to me, a TB junkie, as faces and voices of actors and actresses are to movie junkies. These men and women are equally celebrities in their own genre. With their voices they become the authors of history, science, medical research, technology, etc. They take on the persona of a well-known celebrity within the pages of an autobiography. Phrases in French, German, Italian, Russian, or Arabic often roll off their tongues as if it is their native language. Frequently, one narrator will record all the books of a multi-book series. Like the voice of Jill Fox, the narrator's voice morphs into the ten or fifteen characters of the series.
Through many years of limitless listening to Talking Books, I've wondered what the people behind the voices are like. What motivates them to continue narrating Talking Books for ten, fifteen, or forty years like Jack Fox? What type of book do they enjoy narrating most? How do they change their voices from one character to another without hesitation?? Reading is one of my hobbies. What kind of hobbies do they enjoy? Recently I had the great pleasure of interviewing Jack and Jill Fox. Here's what I learned.
It's In the Genes!
Jack Fox began his media career on radio while still in high school. In 1978 he joined other local radio and TV personalities in Louisville, narrating books in the TB studio at the American Printing House for the Blind. Eventually, the TB studio put together—as Jack called it—a stable of fifteen to twenty narrators. Many of these individuals like Jack are still recording. In 1996, Jill followed in her dad's footsteps, narrating Talking Books and as the voice of three area NPR stations. Like her dad, Jill joined a "stable" of family members in the media, beginning with Jack's father and including brothers, nephews, etc. Perhaps Jill's nine year old daughter will one day be another voice of the TB.
What Is Your Favorite Book Category To Narrate?
Over the years, Jack and Jill have each recorded over 1500 books. Jack loves books on humor and really enjoyed recording books by Milton Berle and Bob Hope. His catalog reveals quite the continuum of authors and styles from Winnie the Pooh, Louis L'aMour westerns, Billy Graham inspirational books, and Red Dragon by Thomas Harris, the first of the Hannibal Lecter series. Jill enjoys mysteries, historical fiction, and especially books for young adults. "These are well written for reading aloud," Jill remarked. She loved narrating her favorite series the Maisie Dobbs mysteries by Jacqueline Winspear.
From Print to Cartridge!
As you might imagine, a lot of preparation goes into each book before a book arrives at the TB libraries. An audio editor researches each book, listing foreign words, names of people and places that must be researched for accurate pronunciations. This editor then directs the narrator in the recording session. After the book is recorded, another Audio Book Editor reviews it for errors. The book narrator then returns to the recording studio to make the corrections. Eventually the recording arrives at our state TB libraries.
How Do You Do It?
Listen to a clip of Jill Fox narrating The Help. Note: Speech users may need to press the spacebar to play and pause.
And here's a clip of Jack Fox narrating The Range.
"Some books are just written to be read aloud," Jill said and added,"The Help was one of the easiest books to narrate in spite of its many characters." Jack finds it helpful to mark the dialogue with the first letter of the character's name. Both agreed that creating a visual image of the various characters helps the most in creating a voice for each. Although they review several pages before a recording session, they rarely read an entire book. This enables them to maintain an element of surprise for themselves as well as for the listener.
Jill recounted a time when she got a really big surprise. She was recording a book about witches in England. Throughout the narration, she provided each witch with an appropriate British accent. However, when she got to the very end of the book, she discovered that the Warlock was from the U.S. At this point, they both laughed, and said, "We help give the audio proofreaders' job security."
Outside the Talking Book Studio!
Without hesitation, Jill stated more than anything else she enjoys reading and playing with her daughter. Not surprising, playing with his granddaughter is one of Jack's favorite pastimes too! Jill also enjoys playing with her dog, crocheting and baking. Her dad confirmed that she is "a very good baker! Jack enjoys golf and traveling with his wife. They enjoy baseball and hope to eventually visit all major league baseball stadiums.
What Motivates You To Continue Narrating Talking Books?
"It's a labor of love and a privilege," they stated spontaneously. Father and daughter love attending conferences to meet the people who listen to the hundreds of books they've recorded. Each related stories about memorable TB readers they've met over the years. At the end of the 45 minute interview with Jack and Jill Fox, I felt like I'd not only connected the people to the voices, but I'd met two new friends who enjoy recording books as much as I enjoy listening.
How You Can Become a Talking Book Junkie!
I was introduced to Talking Books the same year Jack Fox became a TB narrator. Shortly after losing the ability to read print, a professional with the state services for the blind helped me get connected with my state's TB library. The process was quick and easy. In no time, I received a special TB player and several little boxes with books on cassette through one of the state TB library Consultants. And, it was all free and delivered to my door! That was forty years and three states ago. The only big change is the books now come on nifty little cartridges and everything can be done online, if that's your preference. I prefer ordering via email which allows me to remain in touch with my TB Consultant—the same person for many years. FYI he made this comment about Jack Fox: "It's not common people request books by narrator, but he is one of the very few whom people will do just that." If you are a reading junkie like me and aren't connected to the TB Program in your area, listen to the exerpts above from The Help narrated by Jill Fox and The Range Detectives narrated by Jack Fox; then get connected to your TB library!