Traveling by Bus to Baltimore and DC
A few weeks ago I joined the Center for the Visually Impaired's Braille Club as they boarded a bus for a 3-day trip to Washington, DC. We were all on our way to visit the
Library of Congress
and the
Library of the Blind and Print Impaired
. The purpose of the trip was to bring a deeper awareness in the use of
braille
and trigger additional excitement in reading. So, all 24 of us left on a Wednesday evening. We rode all night and arrived in Baltimore at the National Federation of the Blind (NFB) Center early that Thursday morning. We would be staying and eating our meals there.
A Day at the NFB Center
Once we arrived at the NFB Center we unloaded our belongings, got our room assignments and went straight to our rooms. We unloaded our things and then went immediately to the dining hall for a quick breakfast. The entire day was filled with NFB activities of presentations and tours. We heard a presentation from the president, visited the technology area and the Independence Market where braille club members could purchase various blind and low vision aids and devices. After lunch it was more presentations and tours of the NFB Center. After dinner members who were interested got back on the bus for a trip down to the River Front Harbor for a little shopping. I decided to come along and get some souvenirs. But after walking around and drinking a nice cold smoothie I was too exhausted and sat down to rest. By the time I got back up again the shops were closing! Oh, well. Better luck next time. So, I just headed back to meet the bus.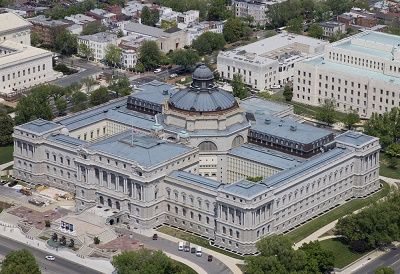 Tour of the Library of Congress and Library of the Blind and Print Impaired
The next day, Friday, we were up early again. This was a big day we had all been waiting for-our tour of the Library of Congress and Library of the Blind and Print Impaired. After breakfast we all boarded the bus and headed to Washington, DC. Our first stop was the Library of Congress. Typically, because of security restrictions large motor coach buses like ours are not allowed to come close to the Capitol and certain sections of the Mall; but our contact at the library was able to find a spot for our bus to get close. We had planned to use Uber to carpool and since my first adventure, which I
blogged about on VisionAware
, I have gotten much better using the app on
my iPhone
. She guided us into the Library for our tour. We had two tour guides and one of them had a daughter who was blind and studying to be a rabbi. So, she was familiar with working with blind people and gave good verbal information as she took us through the Library. She shared about the history of the Library and how the first Library was in New York and Philadelphia. But during the War of 1812 the Library was burned and destroyed. To help restore the Library, Thomas Jefferson donated over 6,000 books from his personal collection. She also shared about the Library's role in the copyrighting process. She described the intricate architecture of marble and stain glass. We viewed the Gutenberg Bible; one of the three surviving perfect copies on vellum. After our tour we all took a very long walk down a tunnel to the cafeteria for lunch. This was a bit tricky as we had one human guide per group of blind people. Some groups might have had two to three people who were in them. The cafeteria was set up in stations and you had to maneuver from station to station with a food tray. My
human guide
had another person who was blind and with some discussion and teamwork we figured it all out. We got our lunch, paid for our food, found a table and sat down to eat. It was an adventure, but we got it done. After eating and talking about what we learned we headed to our next stop—Library of the Blind and Print Impaired.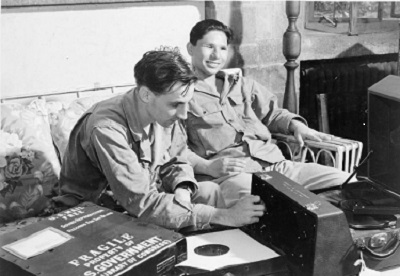 Caption for Photo: Blinded airman listening to talking book, Official First Air Force photo, Base Photo Lab. Bradley Field, Conn When we arrived at NLS, we sat in their conference room and key members of staff met us there. We were advised this was the better method to use instead of doing a walking tour. After a full day of NFB and a half day of walking around the Library of Congress; we had no problems sitting in a conference room! The NLS building is not set up for public tours as it is just people working in office cubicles. So, people from different departments came into the conference room and shared about the library. After each person was finished, we had time for questions and answers. We learned about the selection of books. We learned about the selection of book readers. We learned about the particular book playing devices. We also learned about books that come out in series and magazine availability. The staff encouraged us to stay in touch with them if we had more questions and gave out email addresses for continued conversation. We then left NLS and boarded the bus for dinner in Maryland. We selected a nice seafood restaurant where I had a great crab cake and great conversation. Afterward we headed back to the NFB Center. Some of the members met in the dining hall for line dancing, fun and games; whereas I headed back to my room to pack. We had to get up very early again the next day to head back to Atlanta.
Traveling Back to Atlanta
Early Saturday morning we grabbed our luggage and our brown bag breakfast. We boarded the bus and headed home for what was to be a 14-hour bus ride. We got caught up in some heavy traffic around the Baltimore/DC area that set us back about two hours. This caused a major delay in arriving to Atlanta. I had scheduled my
Para-transit
bus to meet me and had to call and cancel it. I have learned over my years of being blind it is always good to have a backup plan. So, once I arrive back in Atlanta, later that night, I called Uber. As I mentioned before I have gotten pretty savvy with my app!The driver came in about 5-minutes and I was home in no time. This trip to the Library of Congress and NLS was fast paced and interesting. It was quite an adventure, but I think the next time I travel I will take a plane! LOL!