"Food is the true universal language that breaks down barriers and brings us all together—no matter who, where, or what we are." — Penny Melville-Brown, Blind Baker and Holman Prize winner
When I read a message on the VisionAware message board several months ago, I knew I had to reply. It was an announcement by a woman from England who had been selected as one of three Holman Prize winners, and she was coming to cook in my home city in Australia as part of her prize-winning "Baking Blind Tour."
Setting Off on a Blind Ambition
When Penny was informed of a particular prize being offered to people with a visual disability, she decided to pitch her vision of the possible. The Lighthouse Foundation for the Blind and Visually Impaired set a challenge in 2017 with a new initiative as an annual set of awards called the Holman Prize. The aim is to fund three blind or visually impaired individuals from anywhere in the world to pursue their most ambitious projects. "The Holman Prize is specifically for legally blind individuals with a penchant for exploration of all types. The spirit of the Holman Prize is to give someone a chance to do something they never would have been able to do otherwise," according to the Lighthouse Foundation.
One of Three Winners
The judges of the Holman prize selected three entrants all with "ambitious dreams," and awarded the inaugural prize to Ahmet Ustunel, who wants to kayak Turkey's Bosphorus Strait solo; Ojok Simon, who wants to teach his fellow Ugandans how to become self-sustaining beekeepers; and Penny Melville-Brown, who will tour with her YouTube baking show to six continents in the next 12 months.
The Lighthouse wrote, "Penny will travel to Costa Rica, Malawi, Australia, China, and the United States, all over the course of a year. Along the way, she will meet chefs, teach blind people and community leaders the techniques and panache of blind baking, and film these encounters to ensure that people change their assumptions about the capabilities of blind chefs."
Reaching Out
As I've learned to be visually impaired, I have developed other skills, including a measure of resourcefulness. I wanted to reach out to Penny and invite her to cook with me as I felt we had so much in common. I found her "Baking Blind" website and took a positive leap across the World Wide Web. Within 24 hours, Penny and I were sending enthusiastic emails back and forth and connecting on many creative levels. Penny instantly accepted my offer to cook in my home kitchen and tour plans went into gear.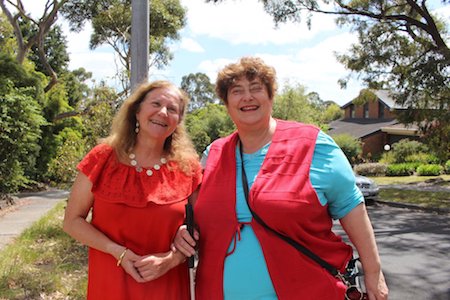 Making it Work Together
The plan was to demonstrate a dish of some kind. I chose a family favorite, "Spanish Eggs a la Flamenca," and Penny was thrilled. She had five days set aside for the Melbourne leg of her baking tour and needed to find a few more keen cooks to create culinary delights for a global audience as she planned to "vlog" each cooking demonstration later on her Youtube channel, A Taste of the World.
We were both amazed by the quick response we received when I reached out to a hub of local sighted chefs who were keen to work with Penny in their professional kitchens. She also had a cooking demonstration lined up with the young recruits from the HMAS Cerberus (a branch of the Royal Australian Navy).
The day arrived, and I was to meet Penny in person. It was an incredible feeling—having forged a friendship through our email correspondence to share our passion for cooking and how to make it all work on the day. I had prepared the kitchen space to allow for filming by removing the clutter on the bench tops. I placed a vase of flowers to be casually in the background for the video and pre-cut the ingredients to save us time.
When Penny arrived in a cab, I raced to the front of my house to greet her and her sighted companions. Toby, her nephew, would be filming the entire day, and her partner, Alan, was on the tour to lend a hand. I squealed with delight as Penny and I exchanged a hug, and then I noticed we were both on the same "pastry sheet," as both of us had chosen to wear red!
Roll the Camera
After Penny had a feel around my kitchen and we had discussed how filming would be done, we spent the next couple of hours enjoying the space together, sharing a conversation about being blind, the tour so far, cooking family favorites, and the multi-culinary scene in Melbourne. We even had time to visit a spice shop later after the filming. I had a bottle of champagne to celebrate the occasion, and it was a fun challenge to find each other's glass as neither of us could see and to elegantly toast to the project on camera.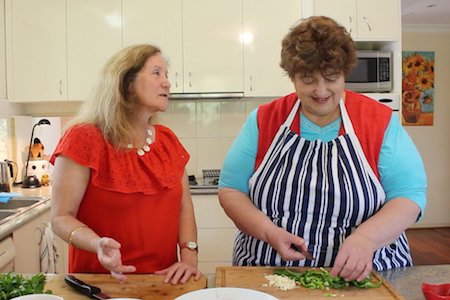 After chopping, chatting, and cooking, we enjoyed the dish we had prepared together with our sighted crew. In a relaxed mode, I hadn't noticed my partner bring out his ukulele and before I knew it, we were singing an improvised song to give Toby, the cameraman, a tune for the video clip.
But the biggest surprise of all was when Penny presented me with a special honor. She placed a handmade pewter medallion she had personally made back home in the UK that was attached to a long red ribbon. I felt like an athlete who had just won a gold medal. Penny had brought along a "Baking Blind" medal to give to each chef she cooked with on the tour as her token of thanks for supporting the project.
It is a day I will treasure, and I embrace Penny's sentiments as she says, "When we have the same enthusiasms, whether it's food, work, music, sport, or anything else, we can come together as equals. If we can manage to cook like everyone else, there's no limit to what else we can do too."
Holman Prize 2018 Is Now Open!
If you are 18 years of age or over and have a visual disability, you can pitch YOUR grand ambition too. The Holman Prize is now open for submissions for 2018. If you think you are a person who is willing to probe your environment, challenge stereotypes, and bring your unique passion to make a difference in the lives of others, you may be just the right candidate for this year's prize.
All the details and an FAQ page along with advice on how to create a 90-second video pitch, guidelines, and application form is all waiting for you on the Lighthouse website.
Good Luck Everyone!
---
Transcript and Description for Video of "Baking Blind"
Video
There is guitar music playing in the background. Text on screen written in green. First screen with picture of an apron: "Baking Blind by Penny Melville-Brown." Second screen: "Holman Prize 2017 Awarded by San Francisco's LightHouse for the Blind and Visually Impaired."
Transcript
Penny: Hello. I'm Penny Melville-Brown from Baking Blind. I've had a great week here in Melbourne exploring the diversity of people and their cooking styles. Cooking last week with Fred, I learned just a little about the indigenous aboriginal culture.
Fred: This you can put in the sage there and grind them there.
Penny: But this week has given me more insight into the aboriginal diversity here in Australia. There's some pretty uncomfortable history about the treatment of the indigenous people here. They weren't legally people until 1967. Staggeringly, they were categorized as flora and fauna.
The lost generation of aboriginal children removed from their families has broken cultural ties, which means it can be very difficult for them to make claims to their historic land. Much of their history has never been written because their artifacts, their spoken chronicles, and their way of life has been lost. But Australia is trying to rebuild its reputation for humanity, equality, and diversity. There's much public concern about the refugees being detained on distant islands. And people are saying yes to legalizing to same-sex marriages.
Cuisines, cultures, and communities represent people here in Melbourne from all over the world. A typical example of real integration is this long established Greek restaurant. It's owned by a Turk and run by a Hungarian. So it's no wonder that Euro Bites tracks an equally diverse clientele.
And we met the diversity of young men and women serving in the Australian Defense Forces.
(Description: applause from video)
I spent a morning at the college that is training all the young catering and hospitality specialists. I met many people who are proud of their international background and still hold on to the food and the traditions their families brought from their original countries.
Maribel, who is also blind, has actually written a book for her children about their Spanish legacy. Cooking does so much to enrich lives. So Charlene, with a background from Malta, was cooking us this amazing Italian dish but also studying French cooking. And Danny with whom I made bread is hugely enthusiastic about the fermented food that she's learned from migrants.
Danny: Some of what people found most important to them is obviously their food and their culture that they carry with them in that way. And for a lot of these people, it's traditional for them to do these fermented products. And for some of them, they've been fermenting things almost in hiding because they weren't supposed to be. They were doing it under sinks or under beds because that's just really kind of who they were.
Penny: Amazingly entrepreneurial pastry chef, Dre, has actively sought a multinational, multi-ability team, reinforces her whole concept of a family of professional cooks that work together to make the very best food.
Dre: Just the different array of people such a richness, of course, to what we do.
Penny: She is rewarded with a growing following of customers drawn from all over the world. So perhaps cooks and chefs are some of the best champions of diversity. Everyday, we draw on ingredients from all over the world which are really easy to find in Australia because of its multiplicity of climates.
Melbourne with more cafes and restaurants per head than anywhere else in the world is the clear winner. Celebrating international people and food in this gastronomic city is a great sort of economic strength, employment, and enjoyment—that triple prize.
(Description: People cheering)
Perhaps the answer to equality and diversity is for chefs and cooks to rule the world. And then everything is going to be all right.
Harry and Maribel: Don't you worry about a thing. Cause every little thing is going to be all right. Don't you worry about a thing, cause everything is gonna be all right. Cause everything is gonna be all right. Cause every little, every little, every little thing is gonna be all right.