Trying Art again
A few months ago I decided to try a new venture by delving into the art world of ceramic clay. I had purchased a coupon that allowed me to take a 2-hour individual ceramic clay class on a discount. Since losing my vision15 years ago, I had not done anything artistic and decided it was time to try again. Before losing my sight I was on the path of a new career in the fashion industry. I was taking fashion design and merchandising classes at a local college after work. I was working with paints and drawing with charcoal and pencils. But as my vision decreased and it became harder and harder to see my canvas, colors and still models; I withdrew from school. I gave away all my art supplies to an artsy friend and moved on from that career path. Since that time I had not attempted to do anything art related until I came across this opportunity. I felt enough time had passed and I was in a different place emotionally where I felt I could take it on and it be a pleasant and rewarding experience.
Signing Up for the Class
After purchasing my coupon, I called a clay friend and asked her to come to the class with me. She agreed and was excited to join me in this new venture. Next, I called the instructor and got details on what to expect. I told her that I was blind and that if she gave me more verbal information I could still participate in the class. I told her that I had taken art classes in the past and still had my visual memory. I also told her that I was bringing a sighted friend who would take pictures and notes for me. The instructor was very warm and friendly and seemed to not be troubled by my visual impairment.
Using Hand-Building Clay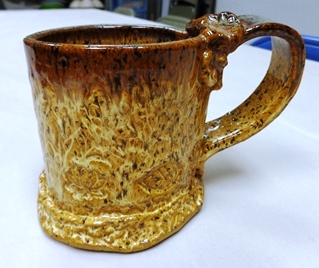 When my clay friend and I arrived at the class, the instructor greeted us and introduced us to two other people that would be taking the class with me. She described what we would be doing and the types of art supplies we would use. She brought a finished sample of the ceramic mug we would be making. This was very helpful to me because it allowed me to use my sense of touch to feel the mug's shape, size, weight and artistic details. She gave some background on the art studio and on hand-building clay. Hand-building clay comes in a large bag that she forms into slabs. She said she creates the slabs by placing the clay between two pieces of canvas and using a slab roller to flatten it out. The long slab is then cut into squares and rectangles which are used to create the mugs. She explained that hand-building clay is used with molds for cups, glasses, bowls, etc.
Preparing the Clay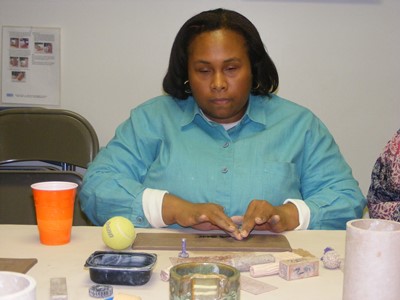 She gave a square for me to touch and feel to get a tactual sense of the clay. I ran my fingertips along the edges and then the whole piece of clay to feel its weight, dimensions and texture. She explained that the clay had the canvas imprint on it that we would have to first remove. Since we would be decorating our clay with rubber stamps the canvas imprint would take away from our designs. So to remove the canvas imprint, I held the end of the clay with one hand while taking the fingertips of the other hand and gently rubbed the imprint away. Next I wet my fingertips in a nearby water bowl to bevel all four edges. This is important to do to avoid sharp edges after the clay has been fired in the kindle.
Designing My Clay Mug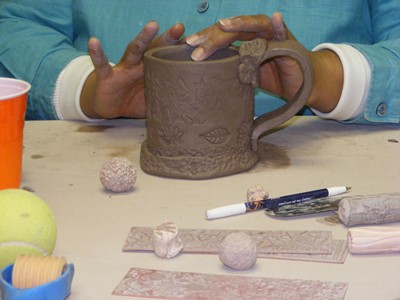 After we prepared the clay, the next step was to create our stencil designs. I had several rubber stamps to choose from. I also had various balls with imprinted designs for rolling onto clay as well as other tools to create a variety of impressions. My instructor verbally described all my tools and explained their usage. I decided on the lotus flower, single leaf and butterfly rubber stamps. I also chose a rubber stamp that said "You Are a Rock Star", which I am! Since I was not able to see the placement of the rubber stamps on the clay, I used my fingertips and thumb to help me determine the spacing between each imprint. I also used this technique to decipher how far from the edge of the clay to place the impression. This was important because if there was not enough space the impressions would overlay when we molded it into a ceramic mug. I also had to use my fingertips to determine how deep to press the stamp in the clay. After completing each impression, I would stop and feel it and have my instructor see if it was deep enough.
Creating My Mug
After I had designed my mug, the next step was to actually create it from the various slabs of clay. I had a square slab that had designs on it. I also had the round base and handle, which we also designed. I was given a cylinder which I wrapped with paper and secured with tape. I set that to the side because I had to score the clay before placing it around the mold. Scoring the clay is important because it helps seal the clay before firing. I used a scoring tool that had both a flat and serrated edge. I dipped the serrated edge into the water bowl and then brought it to the edge of the clay surface. Then I dipped my fingers into the water bowl and ran them over the area.
Now that all my clay pieces were scored, I took the cylinder and molded the clay around it. When I placed the two edges of the clay together I gently pressed them and used a rubber stamp to permanently seal them. Otherwise you will have holes in your ceramic mug and whatever fluid you are drinking will seep out. Yikes! I removed the cylinder and then worked on the base and handle repeating the same steps with the rubber stamp. After I had assembled my mug I turned it to the side and wrote my name, glaze color and date on the bottom with a clay tool. This would help the instructor to identify my mug from my other classmates. Then for the finishing touch, I dipped my fingertips in the water bowl and gently smoothed out the edges around the top and on the sides of the handle. This helps prevent sharp edges that would be painful when placing my lips or hands on the mug. The instructor then took our mugs to be glazed and fired in the kindle. After a few weeks, she contacted us to pick up our finished product.
Encouraged to Pursue Other Art Projects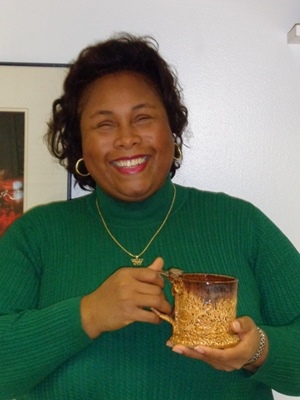 Taking this ceramic clay class encouraged me to pursue other art projects. I have signed up for another class but this time I will be focusing on design only. I will be painting an already finished piece. I have also signed up for a wine bottle painting class too. I am excited about the artistic opportunities I have found. I am not working toward being a world-renown visually impaired artist but I look forward to doing more art in the future. So, have you participated in any art projects since losing your vision? Have you enjoyed working with art such as clay or paints? If so, share your comments and tips.