Editor's note: We continue to celebrate National Service Dog Month. This post is Audrey's tribute to her dog guide Sophie and completes our series.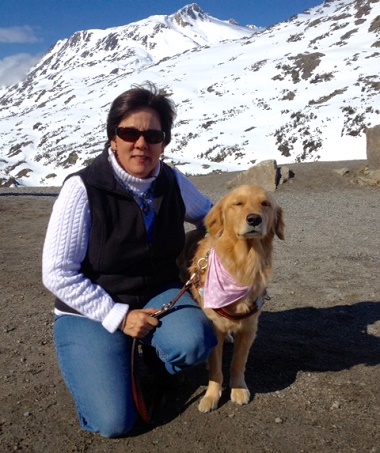 Perfect for Each Other
My guide dog Sophie is amazing. As we trained together to become a team, she wowed and captivated me with her sharp skills, attentive gaze, and beautiful face. I was certain she was the right dog for me from the very start. And I was so excited to begin my life with her. I had no idea what it took to become a good team. As I learned the intricacies of being a dog handler from Sophie and the instructors at Leader Dogs for the Blind, I began to realize the complexities of this new relationship.
Sophie was born to be a guide dog. She has been expertly raised and trained to be a guide dog. And she is an excellent guide dog, a professional. But first and foremost, she is a dog! She has all of the wonderful and natural instincts of a regular dog, even though they tried to breed them down and train them out of her! She also has this incredible drive to obey and please me and the discipline to do so…most of the time! You see, she is not a perfect dog all of the time though her guide work is exceptional. But I am not the perfect dog handler all of the time either. Realizing this takes the pressure off of both of us.
We make a great team in our imperfect ways. I adore her, she adores me. She leads me, I follow her. I feed and brush her and she repays me with warm snuggles and wet kisses. She loves to be rubbed and I love rubbing her. She keeps me safe and I keep her healthy. She is my eyes and I am her world. I praise her and she responds by working hard. I discipline her and she listens. She understands me and I understand her. She needs me and I need her. She is not a perfect dog but she is perfect for me. And I am not a perfect handler, but I am perfect for her. Together, we move through life basking in the glow of our mutual love, respect, and joy which we have found in each other.
A Tribute to Sophie
On Sophie's birthday, I pondered the ways she enriches my life and facilitates my independence. I celebrated her with extra hugs and special attentions and she ate it up. I even fixed her a "birthday" treat which my sister shared with me. (Take several doggie treats and place them in a small bowl. Cover with water or chicken broth and freeze. Pop it out of the bowl and give to your dog) Sophie loved her birthday popsicle.
It just so happened that Leader Dogs for the Blind asked me to write a list of "Top Ten Ways My Leader Dog Assists Me" for a media campaign the day before Sophie's birthday. I enjoyed thinking about that list and it marked her birthday in a special way. So here is what I came up with:
Top Ten Ways My Leader Dog Assists Me
10. My Leader Dog helps me to live a healthy walking lifestyle.
9. With my Leader Dog, I am more engaged in my community with organizations like Lions Clubs and local school groups.
8. My Leader Dog helps break the ice and start conversations socially.
7. I feel confident and eager to go places with my Leader Dog.
6. My Leader Dog gets me from here to there with style, grace, and efficiency.
5. My Leader Dog keeps me on a schedule and encourages me to play.
4. My Leader Dog helps me walk in a straight line, maintaining my balance, pace, and route.
3. My Leader Dog assists me to stay safe while walking, avoiding obstacles like curbs, signs, and people.
2. With my Leader Dog, I am able to walk with my head up and enjoy my surroundings.
and the #1 way my guide dog assists me is she provides unlimited love, adoration and devotion which lifts my spirit and enriches my life…what is not great about being adored!
Happy Birthday Sophie…I love you to the moon and back! We are perfect for each other.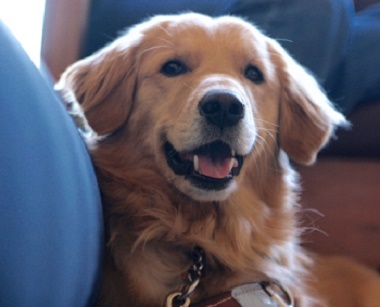 "Be The Person Your Dog Thinks You Are."
Additional Information
Be sure to read the other posts in this series.