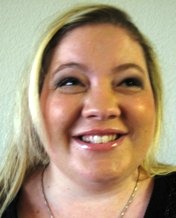 A number of older adults have approached our agency about how to spend quality time with their grandchildren. This concern has led me to address this issue for older adults who are new to vision loss.
A sudden onset of macular degeneration or other eye condition does not mean that you have to give up grandparenting. With encouragement, time, and training, it is possible to enjoy most of the activities you once did with your grandchildren.
For example, with advance planning, you can still make trips to parks and museums with your grandchildren. Find out as much information about the place ahead of time by calling, using the internet, or doing a pre-visit. Then have some rules with the child, depending on his or her age; such as hand holding at all times when crossing streets or moving from place to place, reminding your grandchild that you don't see as well. Set up a system with them so that you can identify where they are located. You may find that using your grandchild as a guide is the best way to keep up with him during street crossings. Brush up on the techniques.
Also, if you use a white cane, take it with you. This will facilitate your own mobility as well as obtaining assistance from the public or customer service. The white cane helps explain, and keeps you safe, when traveling.
Practice taking the bus or taxi to the museum ahead of your planned museum trip with grandchildren. You will feel more competent and in control and can turn your attention to setting the tone for a fun filled day. If you haven't had orientation and mobility instruction in using a white cane and taking public transportation, you may want consider this type of training. It will enhance both your safety and your self-confidence in getting around in your neighborhood or town.
Call the museum ahead of time, and set up a guided tour for yourself and your grandchildren and inquire about the accessibility of the museum. A guide will be able to read all the signs for you, and share facts with the children about the different exhibits. Many museums have self-guided audio tours as well as braille and large print signage. Using these accommodations will enhance your enjoyment of the trip and engage your grandchildren's curiosity. This example is just one for you to explore and it doesn't mean you might not be nervous at first. Sometimes, just trying new things lets us know that we can do them successfully.
"My granddaughter doesn't understand my vision changes." This is a common remark among grandparents. "How do I explain it to her so she isn't worried or uncomfortable about things changing?" The child's age will probably determine how much detailed information is needed about your vision loss. One way to explain your vision loss is to demonstrate things you can do and what adaptations you use. Cooking with a grandchild may be a good way to demonstrate that although you have limited vision, you are still a competent and fun grandparent. Cooking together using tactile measuring cups, markings on your oven, and a large print timer will be an adventure for grandchildren. Baking time will give you an opportunity to talk about some of the changes in your vision and how you use new tools and techniques such as liquid level indicators and long oven mitts to safely cook. Be honest about losing sight but impart some hope about the future and your ability to adapt.
Let your grandchildren know that losing vision happens sometimes to people as they grow older but it doesn't mean that you won't be the same grandparent to them that you have always been. You might not be able to drive them to ball practice or see how far they run but you will be with them every step of the way to experience their growing up and accomplishments along the way.
You can still enjoy recreational activities with your grandchildren such as going to movies and playing games with your grandchildren. Large print and braille versions of cards and board games are available. And you can always take a taxi or bus to the movies or invite a close friend to go along.
Reading is another traditional activity between grandparents and grandchildren. Children's books are available in large print or with braille overlay make reading to grandchildren continue to be a fun activity. Be sure to check with your local library for these and suggest that they consider providing this resource in your community.
Children may express sadness and fear regarding vision loss. Use these moments as an opportunity to share your fears as well as to discuss how you are learning new ways of living life with vision loss. Most importantly you can share that vision loss will never change who we are as people, or as devoted grandparents.
Gil Johnson's article on grandparenting offers more useful ideas.