With the holidays almost upon us, we are introducing a series of gift ideas and projects. We are starting with crafts that you, as a person with visual impairment, can make.
One of the nicest things to receive from a friend is a hand-made craft, especially during the holidays. Join the VisionAware peers by getting crafty and surprise a friend or loved one by making your own homemade gifts this year. This post focuses on knitted gifts.
Starting Small
By Mary Hiland
I'm just about the least crafty person I know, but for some reason, last summer, I took up knitting. I started with making a scarf or two and then decided to try making dishcloths. A friend found several patterns on line and read them to me while I took them down in braille.
I found that starting with a small project that is easy is a good way to build confidence. I discovered that making each dishcloth with a different pattern and in a different color could turn out to be a nice little thank you gift.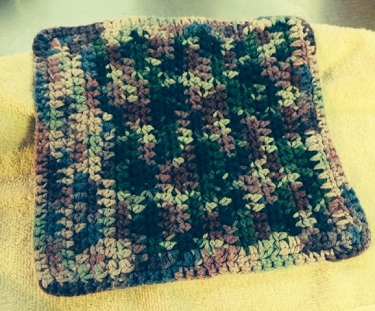 Personalizing Gifts
For my daughter, I made a set of seven dishcloths, one for each day of the week. For friends who transport me or help me with shopping, I plan to make sets of three, tied together with a coordinating ribbon.
Right now, I'm using fall colors, but since the Christmas colors are out already at the yarn departments, I'll be starting to make these for Christmas gifts too. I use a yarn called Sugar and Cream, which is cotton. All the patterns I use are just knitting and purling, nothing fancy, so they go quickly and are a form of relaxation for me.
Two Simple Ways to Make a Textured Gift
The beauty in using knitting yarns is that there are so many colors and textures to choose from. When you use a simple pattern and high contrasting colors, like this photo of three brightly knitted water bottle covers, the only thing left is to adapt a simple pattern to complete your crafty gift.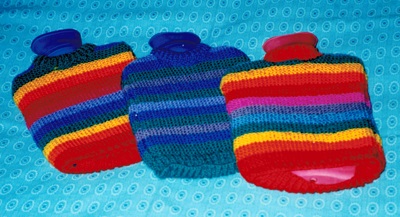 Two of my favorite stitch patterns you can use to make a scarf, cushion cover, water bottle cover, squares for a children's blanket, etc. made to any size are:
Ridged Rib
This is a simple yet effective four Row Pattern. Stitches are multiples of 2 + 1.
Rows 1 & 2: Knit
Row 3: Purl 1, Knit 1, Purl 1 (repeat to end of row)
Row 4: Knit 1, Purl 1, Knit 1 (repeat to end of row)
That's it! Converts a simple yarn into an interesting texture for a knee rug or scarf.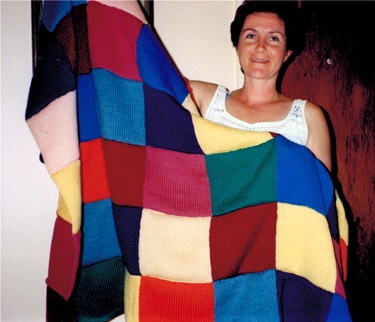 Double Moss Stitch
Another 4-row pattern. Use multiples of 2 + 1.
Row 1: Knit 1, Purl 1, Knit 1 (repeat to end)
Row 2: Purl 1, Knit 1, Purl 1 (repeat to end of row)
Row 3: Purl 1, Knit 1, Purl 1 (repeat to end)
Row 4: Knit 1, Purl 1, Knit 1 (repeat to end of row)
Note: Don't forget, a simple Garter Stitch (which is every row as Knit), also makes a great textured alternative and is easy to count rows by feel. Bring a touch of interest into the pattern by using rows of alternating colors.
A Hand Made Gift Says Love
Whether you sew, knit, or crochet, one of the easiest gifts to create is the humble scarf. Male, female, or child can all use a warm winter scarf to keep the icy blasts of winter at bay. Scarves need little in the way of materials and can be created in the recipient's favorite colors.
Knitted Turtle Scarf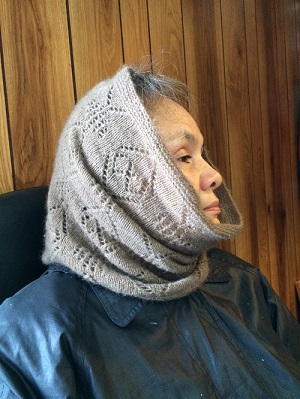 A popular scarf that doesn't require tying or tucking is the turtle. It is easy to make with a circular needle. The name is taken from the fact that it is like the neck of a turtleneck sweater. Using a circular needle, decide what stitch you want to use and then experiment to figure out how many stitches you will need to make your desired gauge. My favorite version of this style scarf is 16 inches wide and26 inches in circumference. It is pulled over the head tucking one side under the chin and the back let rest over the top of the head, surrounding the face.
Mine is knitted in a delicate soft light yarn. It is toasty warm without being heavy.
A Variant of the Turtle Scarf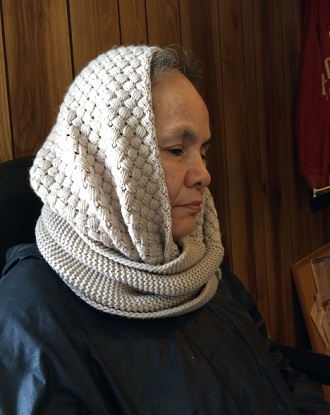 Another way of making the turtle scarf is knit or crocheted. Made to be 15 inches wide and 52 inches long. The one pictured here uses one pattern of stitches for half the length and a ribbed pattern for the second half. Then the two ends are sewn together to make a giant circle like the turtle scarf but twice as big in circumference.
To wear it, draw one side over your head. Twist the scarf under the chin to make a loop. Pull that piece completely over your head to rest at the back of the neck. This scarf then surrounds the face and the figure 8 way of folding it keeps you cozy with no trailing ends or gaps to let in the chilly winds of winter.
The only difference in the two variants of the turtle scarf is that one is lighter, less bulky, and only goes under the chin and over the head like a turtleneck sweater pulled up and over the top of the head like a hood. The figure eight scarf is thicker, of a bulkier weight yarn, so it needs to be twisted under the chin and the loop thus formed is pulled back over the head and covers the back of the neck.
Fleecy Fabric Scarf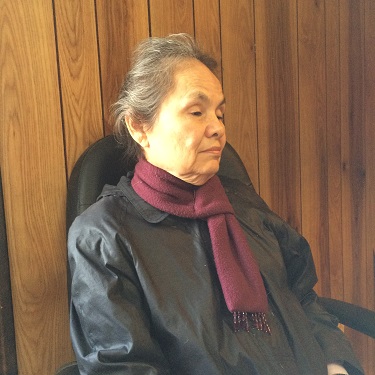 Another handmade scarf is made by sewing a simple tube of fleecy fabric. Then one end is folded back on its self to form a loop. Sew the end down. Holding the loop in one hand, draw the free end of the scarf around the neck and through the loop and pull to close the scarf around the neck.
Mine is trimmed with some strands of beads, but it could be left plain or fringe could be added. Mine has a finished width of 4 inches by 27 inches. The loop at the end is formed by folding 3 inches back and then stitching the end down.
Once you work out how many stitches you will need, you can easily crochet the 4-inch wide by 30-inch narrow scarf; fold back 3 inches and sew the loop through which you pull the free end, and your scarf is tied.
To use fabric, you will need about a yard long piece of fabric that is 9 inches wide. Fold it in half lengthwise with the right sides together. Sew along one end and up the long sides to make a long narrow tube. Turn this inside out and then stitch the open end down to make the loop through which you will pull the free end.
It takes only minutes for the sewn version, and you can get up to four scarves from one yard of fabric. Decorating the free end with beads or fringe can personalize the scarves, but that step is optional. Happy Crafting!
Stay tuned and get ready for Part 2. Instead of hitting the stores on "Black Friday," get busy making your own special presents.
Additional Information About Knitting
Do you have a crafty idea we can make to keep our friends and families warm and toasty this festive season? Please share in the comment section.