Home Business Built on Personal Passion

Barry and Debra Carver are among a growing number of people who have joined the ranks of the self-employed. Together they own and operate their own home business, called MountainCrafted.com, a web store where they sell candles, shampoos, and other natural fragrance products they make themselves in their Smoky Mountain, Tennessee home. Barry and Debra are both blind, he from an accident and she from retinitis pigmentosa, but they don't let it get in their way. The engraving on Barry's business card holder–a gift from Debra—aptly says: "Limitations are self-imposed."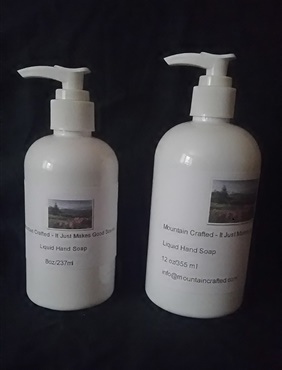 Caption: Mountain Crafted Brand Preservative Free Blue Liquid Handsoap
Like most successful entrepreneurs, the Carvers' business is built on personal passions. "I have always enjoyed scented candles because of the way they stimulate my sense of smell," says Barry. "I used to order a lot of wax tarts because I could enjoy the scent by heating them in a diffuser instead of needing to watch over a lit candle. Only the wax tarts I was buying disappeared much too quickly. I figured there must be a way to make them last longer."
Creating Natural Products Through Online Research
Barry started researching the subject on the internet. "I found some techniques I thought I could use to make my own, improved candles and wax tarts," he recalls. "But I was shocked to discover how many strong chemicals are often used in adding scents to many of these products. Some mass-market products even contain chemicals that aren't safe for pregnant women to inhale." Debra's passion for natural products is a result of her successful battle with breast cancer. "I wanted to use as few toxic products as possible," she says. "I was particularly interested in finding a sulfate-free shampoo. The sulfate foaming agents in many shampoos can soak right through your pores and into your bloodstream."
The Carvers did most of their research online. They used screen-reader equipped PCs, and both Barry and Debra had obtained their first PC from Computers for the Blind, an organization that offers donated, refurbished desktop and notebook computers to blind individuals at bargain prices. Debra got her computer in 2000; Barry's back in 1990. "Mine came with a demo version of Window-Eyes that ran for ninety minutes and then I had to reboot the system," he says. I learned how to use the computer by working my way through the instructional materials that came with the computer, along with a good friend who also used Window-Eyes and who hooked me up with Skype so we could chat online."
The Carvers found a source for sulfate-free shampoo and conditioners, and others for essential oils that don't use chemical preservatives or enhancers. While Debra began concocting scented hair products, Barry began experimenting with soy wax. "Back then I used a double boiler to melt the wax and then used a muffin tin to form them. They turned out way too large, but I knew I was on the right track. These days I use a microwave, which you can use with soy wax, and I can whip up a batch of candles in a few hours."
Launching Ecommerce Business
The Carvers shared their results with friends. "I've always enjoyed making things with my hands," says Debra. But Barry is the businessman and handles the couples ecommerce website. " I figured we could make a little extra money and have a lot of fun, too," he says. The couple registered the MountainCrafted.com domain, and after checking out a number of ecommerce platforms for their web store Barry settled on a company called Volusion. "They are based here in the US, which I liked. They offered 24-hour phone support, and they have been great helping me get set up and with any accessibility issues that come up."
Using Technology and Staying Organized
Running a home business requires a lot of organization, and along with several speech-accessible computers the Carvers use several other accessible products to help get the job done.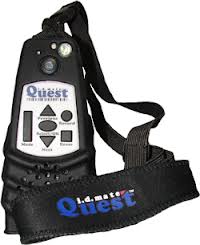 "We have three I.D. Mate product scanners, one for each of us at work and a third for our groceries and pantry," says Barry. "The I.D. Mate will not only scan marked products, you can create your own labels to identify products, which we do all the time." When the Carvers receive a shipment of wax, fragrances or other supplies, Barry creates scanner tags for the various items. "I add the listings to both of our work scanners. That way, if one of our scanners goes down, we can keep working."
Barry also alphabetizes his fragrances and stores them in cardboard-divided crates. "Between that and the scanner tags, I can usually find any fragrance I want in a matter of seconds." One entire wall of Barry's workroom is lined with shelves, and these shelves have vertical dividers every foot or so. "I put a product I.D. Mate tag on the divider, so I know what's in each section."
Using Teamwork when Packing and Shipping Products
Barry and Debra make most of their products fresh to order. "I do most of the candles and tarts; Debra focuses on the shampoos and skin products. When I have my stuff ready I start a shipping box, then pass it along for Deb to finish filling." Naturally, the couple is happy to add Braille labels whenever requested.
Once a box is ready for shipping, Barry uses the U.S. Post Office site to create and print shipping labels with postage. "I always scan the labels with OpenBook to make sure they printed correctly," he says. "The website also email tracking information to the customer automatically, so they know their package is on the way." For many packages, you can use the website to request home business pickup service, but working in a small town has its advantages. "I have my local letter carriers cell phone numbers," he says. "If I give them a call in the morning and tell them I have a shipment ready for pickup, someone will be sure to stop by."
Managing Tasks Independently and Requesting Sighted Assistance
Barry doesn't rely on complex and potentially inaccessible software packages to manage his customer lists and newsletter subscriptions, or for company financial records. "I do them all in a spread sheet and using Notepad," he says. "I actually find it's quicker. I can call up a customer's order, a newsletter subscription email, or last month's sales and profit and loss almost instantly." There are, in fact, only two tasks where the Carver's find it more efficient to hire sighted help. "When we create a new product, we need to make a product label with its name, fragrance, and a complete list of ingredients to meet government requirements. I like to use OnlineLabels.com which I can use on my own. But I also want to make sure the label is attractively laid out, so we often have someone do that for us. We also use sighted help to get product photos on the website. Again, it's a matter of aesthetics."
Our Business is the Ultimate in Independence
Today, the Carvers stay busy building their business and developing new products. Recent introductions include non-toxic room sprays, facial masks, and essential oil blends you can carry with you in one of their pocket inhalers. Debra is also busy creating lip balms and other new products, many featuring Shae butter. Barry enjoys sharing what he and his wife have learned about starting and running an accessible home business. He conducts monthly teleconference seminars to help others get started. He describes how he and Debra operate their business, and offers contact information for vendors, shippers, and other resources that can help with tasks such as building a web store and accepting payments via credit cards and PayPal. According to Barry, "There were a lot of friends, family and others who insisted we couldn't start and run our own business. They may have said it out of love and genuine concern, but you can't listen to the naysayers. You have to just go ahead and do it. That's what Debra and I did, and to us, our business is the ultimate in independence."
More Resources on Self-Employment and Working For Older Adults with Vision Loss
Working as a Senior with Vision Loss
Work Options for Seniors with Vision Loss
Entrepreneurship Is It For You?