Editor's note: October is National Disability Employment Awareness Month (NDEAM), a celebration of a diverse workforce and the contributions of workers with disabilities. This year's theme is "Inclusion Works." Maribel Steel describes what Australia is doing with their currency to "make inclusion work" in this post about the new accessible $5 AUD banknote.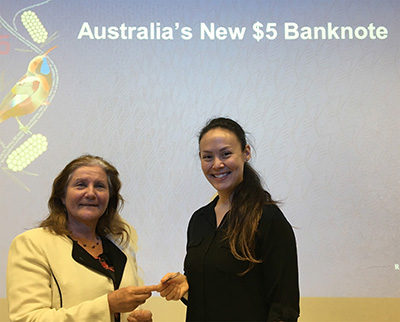 The Reserve Bank of Australia recently put a new, accessible banknote into circulation, the first of its kind in Australia. The new banknote has unique security features and allows easy recognition for people who are blind or visually impaired.
More Than Meets the Eye
I was keen to be at an information session in Melbourne to learn more about this advanced technology and get my hands on one of the notes to check it out for myself as it rolls "hot off the press" to begin its journey into daily circulation.
During the session hosted by Guide Dogs Victoria on September 8, 2016, a small group of visually impaired people and their guide dogs were interested to hear about the current initiative by the Reserve Bank of Australia (RBA). The Reserve Bank is responsible for all aspects of the design, production, and the issuing of Australian banknotes.
Rema, a representative who works in their design department, gave us an eye-opening account on the full life-cycle and life expectancy of the new accessible $5 AUD banknote, printed on a shiny piece of plastic. My ears pricked up to the word "life-cycle". Thoughts regressed briefly, imagining those old pictures I had once seen during biology class of the phases of a tadpole becoming a little green frog. With each snippet of information we gleaned, the new $5 banknote sounded just as transformative!
Life-Cycle of a New Kind
In a press release on September 1, 2016, entitled, "Next Generation $5 Banknote Enters Circulation," I read: "The $5 AUD banknote is the first in a new series and other denominations will be upgraded over coming years."
On the RBA website, they also state, "The key design aspects of the existing series of banknotes, such as the color, size, and people portrayed on each denomination, have been maintained. This will help the public recognize the new banknotes as they come into circulation."
Getting Hands-On with the New Currency
It didn't take long into Rema's presentation for the group to voice our desire to get our hands on the new currency. Like being given a special sweet, we held our hands outstretched and examined the new banknote (with a few oohs and aahs during the handing out ceremony).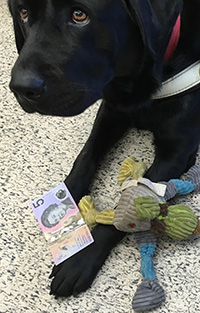 Rema also pointed out the bank's ongoing concerns and responsibility to keep abreast of technology in order to design Australian currency to protect against counterfeits.
In a phone interview a few days later, I spoke with Michael Andersen, Head of Note Issue (RBA), who explained a few more details that went into producing the new Australian currency. He pointed out that two main reasons were considered: to upgrade the security features and to retain familiarity for the public.
After much consultation with a variety of business groups and people from the blind and visually impaired community, adding a tactile feature became a somewhat "interesting and insightful experience" in Mr. Andersen's words. What they assumed to be a helpful feature, often took designers back to the drawing board.
"We have a long tradition of making our banknotes accessible for people with low vision," he said. "We looked at what other accessible features we could add to include a tactile characteristic."
History of Accessible Currency
In 1992, the Reserve Bank of Australia first designed banknotes to incorporate large numerals and gave each denomination a unique and contrasting color for easier recognition for people with low vision. Each Australian banknote is also 7 millimeters larger in size than the next as they increase in monetary value, Mr. Andersen informed me. The RBA is also proud to provide a banknote reader to assist in organizing the notes by size; these are available from blindness organizations such as Blind Citizens Australia.
Exciting and Durable Features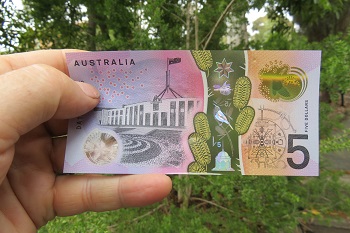 The new generation banknotes require 13 processes to apply no less than 19 layers of security features, some only one micron thick, to ensure the architecture of each note is uniquely protected. Mr. Andersen was keen to point out the new feature of a clear top to bottom strip in the center of the note, which, when aligned with other notes, had a perfect register. A rainbow effect also occurs in the new notes when they are handled and turned (like a 3D image), adding an interactive quality to the plastic notes.
It is the inclusion of a braille-like bump at the top and bottom of the clear strip that makes it a durable tactile feature, quickly recognizable for those who are blind or have low vision.
Not only are the new series of banknotes tactile and accessible but they are also attractive; Each denomination will feature an embossed Australian wattle flower and native bird as part of a distinct Australian theme.
The Reserve Bank aims to roll out more denominations with the $10 AUD coming next in 2017. This will have two tactile bumps, the $20 will have three bumps, and so on. Where the old currency had a life expectancy of approximately seven years, the new notes should last the life of the banknote throughout its circulation.
Accessible Step-by-Step
When asked why they began with the $5 AUD note, Mr. Andersen explained that by beginning with the smallest note, it allows time to promote and circulate it, so people can get familiar with it. "It will also give time to update machines so that by the time the larger notes are in circulation, both software will have been upgraded and the general public will be familiar with the new notes."
On the press release, I noted: "It will take some time for the new banknotes to be widely circulated," but I do hope that major banks will follow the lead of Westpac to live up to Australia's reputation for being 'the lucky country' — especially when it comes to adding another accessible way of living within an inclusive society.
I personally look forward to coming across the new generation of tactile banknotes to experience another type of exchange within my community.
For more information, visit the accessible RBA website and mobile app.
How Can We Manage Money?
Progress Update: United States Accessible Currency Project for Blind and Visually Impaired Persons
How I Keep My Hands on My Money