Editor's note: As we end the observance of National Disability Employment Awareness Month, the peer advisors decided that another critical topic to address is how applying for a job has drastically changed and what they means to individuals who are blind or visually impaired.
Online Job Applications Are the New Norm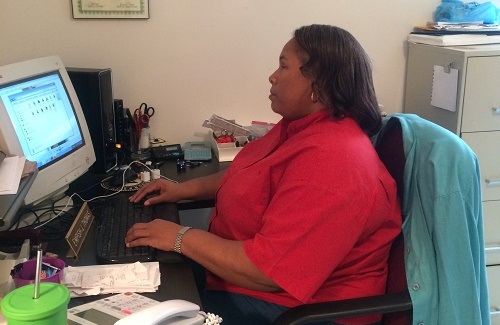 As a visually impaired job seeker you will notice that more and more these day's employers are offering and sometimes requiring that you apply for positions online. Nearly gone are the days of paper applications or faxing a résumé and cover letter. Now you need to upload your resume and cover letter. Or you might have to log in with a user name and password to create an online profile. Or you might have to fill out an electronic application and search for a job using an online recruiting job board.
Qualified Visually Impaired Persons Face Challenges with Online Applications
In one aspect this is great news because as a blind person you can apply for jobs from the convenience and comfort of your home. But many qualified visually impaired applicants face challenges because these sites are not accessible so they are not able to apply for positions. Additionally, many employers miss out on qualified, talented applicants because they create external barriers with inaccessible online application tools.
According to a blog post for employers from the National Business & Disability Council at Viscardi Center, "Online recruiting of employees using the Internet is a growing market with a lot of potential. Studies have shown that e-recruitment revenues topped $ 2.6 billion in 2007. Online recruitment is defined as: 'the use of any technology to attract, select or manage the recruitment process.' Online recruiting has fundamentally changed the way businesses recruit new employees. It has allowed more companies to take advantage of new technologies and, at the same time, provide increased opportunities for a diverse group of people to join the workforce. This is especially true for job applicants with disabilities."
The blog goes on to say, "A 2001 survey conducted by the Society of Human Resource Management (SHRM), indicated that 88% of the managers surveyed, used web recruiting to evaluate and hire potential applicants. It's important for human resource managers to understand how disability may affect an individual's ability to access the web and avert any potential difficulties that exist for individuals with disabilities in completing the online application process or simply search for jobs."
PEAT Conducts Accessibility Survey
To assist employers with providing accessible online application tools, the Partnership on Employment and Accessible Technology (PEAT) conducted a nationwide survey of people with disabilities this summer. The results identified major accessibility problems with typical recruiting practices that can exclude 1 out of every 5 candidates from consideration. Here are some of the results from the survey:
Top recruiting Accessibility Issues
Complex navigation
Timeout restrictions
Lack of video captioning
No alternative text for images
Poor screen contrast
Inaccessible form fields
Mouse-only input option
Accessing Job Applications
46% rated their last experience applying for a job online as "difficult to impossible"
Of those, 9% were unable to complete the application and 24% required assistance
Based on this research, PEAT is building TalentWorks, a series of tools, resources, and leading practices to help employers leverage accessible technology to recruit and hire the best talent. Get more information on PEAT and the survey.
Online Job Application Tips
So, for the visually impaired applicant having challenges filling out an online application, what should you do?
First assess your technology. Sometimes not having the more current up-to-date software program installed on your computer can make a huge difference when on the Internet. Also, are you using the current versions of your assistive technology such as JAWS, ZoomText or MAGic? That can make a difference too.
If you are still having problems after checking for updated software, you can ask a sighted friend, family member, vocational rehab counselor or vision rehab teacher to assist with the application process.
If that is not an option, contact the HR department of the company and ask for an accommodation. Let them know that you are having challenges accessing their online application and that you need assistance. Some companies even advertise this as an option directly on their employment/career section of their websites. For example the website might say something like "If you are disabled and not able to access this online application please contact our human resource department for further assistance."
If the company is not able to provide an accommodation or alternative way to apply for the job that can be a very strong indication that they might not be the best place to work for a person with a visual impairment. You will ultimately have to make the decision as to whether you want to continue to pursue the job application process or not.
As a visually impaired job seeker, how do you handle applying for jobs online? Have you had challenges with online applications or recruitment tools? If so, what strategies have you used to tackle them? Have you reached out to HR managers and alerted them that their website application is not accessible? If so, how did they respond? Share your comments with us in the section below.