"A Breath, an Intonation Expresses a Desire to Act"
This thought, "the desire to act," begins a journey we will take as we pick up the first book written by Ann Chiappetta who has been blind since 1993.
Upwelling is a short book of poetry; it's her first book. Because Ann works as a readjustment counseling therapist for the Department of Veterans Affairs, I was curious why she selected this title for her book. She replied, "It means the welling up of thoughts, feelings, and emotions which are made into words and shared with the reader." The image begins as a thought, an impulse, which comes to life through her words.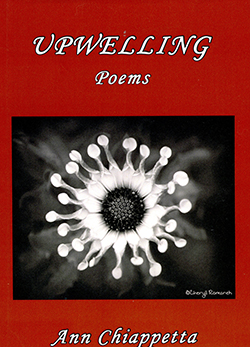 The dramatic front cover features an abstracted macro view of Anne's favorite flower known as the blue daisy. The black and white photo was captured by her sister, Cheryl Romanek. The photo is surrounded by a deep crimson red background.
The cover feels crisp and bold, yet, lively and organic just like the 23 poems inside the book's 60 pages. I think the book's cover would entice a reader to open the book and see the variety of life's dramas waiting inside. She shares glimpses into her world of psychology, domestic life, visual impairment, death, dreams, intimacy, and secrets.
I liked her choice of the first poem in the book. In "Line by Line," Chiappetta tells us that poetry and the fine nuances of life are intertwined. Each tiny letter of the alphabet is joined with other letters, and eventually, a poem comes to life line by line. This makes me think of how we regain our life after vision loss. It comes to us, one small achievement after the next. Our recovery is a journey of small accomplishments.
"One character at a time,
creates the word
A word strung together with others
Divines a sentence, forming
Into lines…"
In the first poem, I thought, will be the single thread I will follow into the landscape of Chiappetta's worldview of low vision and personal experiences. In her world, everything transpires slowly, methodically, one at a time little increments of thoughts searching to find feelings, desires, movements, and memories. This is what she wants us to understand before we can move further into her poetic world. She says, "I think personal growth is the main theme of my collection of poems in this book." The key, here, is "I think."
My own favorite poem is "Diving."
"On the cliffs of Acapulco, divers
Knife the Pacific.
Burnished, Speedo-clad bodies wait
For a chance to be a projectile
I wait
Afraid to take the plunge
Envying their courage
Doubt clings like sand
I'm so separate, so frightened
I'll never jump."
I asked about the sequencing of the collection of poems and learned that she selected the first and then the final poem for the book. Once the two bookend poems were chosen, she worked to fill in the space between them. I noticed there is no division into separate parts or themes. The reader enters the stream of life and moves on the path Chiappetta meticulously, carefully, laid out for us to follow.
A Book of Poetry Inspired by a Guide Dog
There is one photograph inside the book. It's a black and white headshot view of Chiappetta's guide dog, Verona. The dog looks powerful and trustworthy. The photo is placed, fittingly, just after the poem, "Verona." In this poem, the poet reveals her thoughts about the questions she has before she meets her new guide dog, Verona. This encounter gives us insight into the feelings a blind person has when they are given a living creature that will be their partner. She wonders if the dog will like her.
"The questions dissipate with the knowledge
—stroke by stroke—
That she is the one who will lead me."
Adaptive Technologies Enabled Ann to Write Her Book
Ann Chiappetta lives and writes in New Rochelle, NY with her husband, daughter, and an assortment of pets.
Do you want to ask, "What equipment does a blind writer use?"
She mentioned her process in using technical equipment for visually impaired and blind people. Ann uses a computer with special adaptive software to compose her writings. She uses an iPhone and Microsoft Word with a screen reader. She says she also needs the help of sighted people occasionally. We can all relate to the times when we need to say to someone, "Can you loan me your eyes for a moment?" Sometimes, we just need to have another person take a look and let us know how our creative pieces are actually looking to sighted people who will be reading our books.
"I use a screen reader to help me adjust the line breaks and rhythm of the poem. (I feel) like a composer (who) listens and reviews a musical score. When it sounds right, it's done."
Ann Chiappetta's work has been published in a variety of literary journals and anthologies: Magnets and Ladders, Breath & Shadow, Lucidity, Dialogue Magazine, Matilda Ziegler's Online Magazine, Mid-West Poetry Review, and Dozen: The Best of Breath and Shadow, an Anthology.
Learn more about Ann and her collection of writings on her blog. For information on ordering copies of Ann's book, visit DLD Books.
Poetry About Vision Loss
Dancers: A Tribute to My Nine Guide Dogs
How Poetry Helps Me Move On As a Blind Person
Creating a Poetic Outlook from Your Inner Viewpoint
Visually Impaired Poet and Songwriter, Dave Steele, Is Raising Awareness About Living with Retinitis Pigmentosa