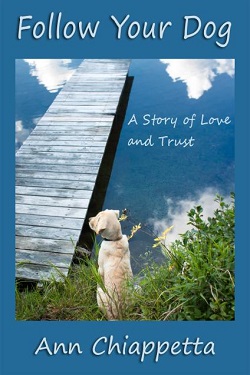 Book Presents View of Difficulties of Growing Up with Low Vision
Ann Chiappetta's second book entitled "Follow Your Dog, A Story of Love and Trust," is a memoir about growing up with low vision and how becoming a guide dog handler changed her life. Ann took me on a journey through her world as she reflected on the loneliness of growing up visually impaired but not blind. There are passages that touch the heart describing her struggles with declining vision. I felt her pain at not measuring up to some nonexistent super blind person who does it all right with grace and aplomb. I wanted to hug her for her honesty.
Ann's first book was a book of poetry entitled "Upwelling" and there are elements of her poetic soul here too. She includes essays that capture how she meets the challenges of her life. She moves forward in the process of overcoming her disappointment over being told she has too much vision to have a guide dog. Her difficulty with changing from bright light to dimness causes her vertigo and too much light gives her severe pain. She wasn't given cane instruction until she was 28 even though learning some verification techniques might have kept her safer earlier.
Being Accepted to Train with a Guide Dog
Finally, Ann moves into the world of the blind with the achievement of being accepted to train with a guide dog. she learns how to work as a team with her dog. She shares the joys and the sorrows as her dog first helps her travel with dignity and safety and then begins to show her that guiding has become too much for this gentle dog sooner than Ann expected. She explains transition, second dog issues and successfully moving on despite glitches like having to leave class early due to illness. This book will resonate with many people. It includes stories and photos of her most beloved dogs, past and present.
Reviewer's Recommendation
I have been a guide dog handler for fifty years and lifelong animal lover. However, I lost all of my vision in childhood. This gave me the best of both worlds. I didn't have to struggle with low vision and learned my compensatory skills early and had the benefits of having had vision for 8 years. Anyone who wonders whether a guide dog might be the answer for them even though they have some vision will get a lot out of reading this book. For those who have never had vision, they will better understand how a person with some useable sight but insufficient for safe travel might benefit from a guide dog. Thank you Annie for your openness and willingness to tell your story.
How to Obtain the Book
"Follow Your Dog" is available as an e-book and in print from Amazon and other online sellers. For a free text preview, author bio, and links, visit Dldbooks.co
Ann Talks About Her Book
On December 11, 2017, at 7 p.m. eastern time, Ann will be the guest author on a telephone conference broadcast called Branco Broadcast. Go to Ann's website for the call-in information or links to the interview if you miss the broadcast.
Other Books You Might Enjoy