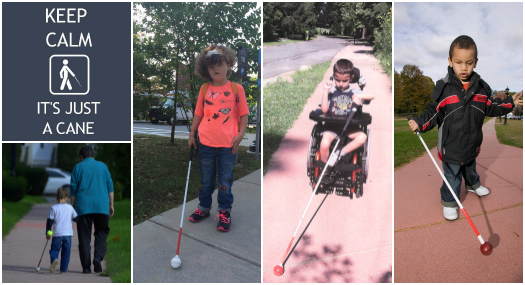 Many communities have a special event on October 15th, to promote the white cane, and to honor its users. Events may range from an exhibit table in a mall, to blocking off streets and marching through the city. In either case, the goal is twofold: First, to let drivers and pedestrians know what the white cane means. Secondly, to let the public know that people who have a vision loss are productive citizens.
Alabama's Celebration of White Cane Day
For the past six years The State of Alabama has celebrated White Cane Day in a big way. The celebration has moved around from year to year. Birmingham, Talladega, Huntsville, Mobile, Tuscaloosa, and Montgomery have hosted White Cane Day events. White cane walks have now become an Alabama tradition.
On Saturday, September 29th, we met on the Capital steps for the opening ceremony. God and country were honored by prayer, from the pastor of Alders gate United Methodist Church. The pledge of allegiance was led by local boy scouts and girl scouts. While the National Anthem was sung by Dana Barber, Coordinator of Blind services. Dr. John Mascia, president of Alabama Institute of the Deaf and Blind, and Jane Elizabeth Burdeshaw, Commissioner of Alabama Department of Rehabilitation Services, each gave a motivationally charged speech that energized the crowd. As we were gathered together on the State Capital steps there was a feeling of standing on hallowed ground.
We passed many historical sites as we made our way to Montgomery's historic River Walk. Audio descriptions were provided for each site; thus participants, both blind and sighted, were able to appreciate the rich history of downtown Montgomery.
Fun continued after arriving at the River Walk. Eighteen exhibitors displayed products and services. A variety of games such as a beeping Easter egg hunt, and goal ball were available for children. Russell Craig, a blind musician, provided entertainment. Of course, everyone loved the free food, water and Italian ice.
Results of White Cane Day Events in Alabama
It was during the fun and festivities at the River Walk that the benefits of White Cane Day surfaced. Three surprising results emerged.
First, students from the Rehabilitation Department from Alabama State University volunteered. They served as human guides, helped with games and with lunch. Not only were they helpful, they fell in love with our profession. Largely because of their enthusiasm, plans are being made to have a guest lecturer come to their class and introduce Vision Rehabilitation Therapy and Orientation & Mobility as possible professions.
Secondly, a local ophthalmologist came and brought her family. Her only concern was that she did not know about the event in enough time to invite her patients. She said it would be a good way for her patients to learn more about vision loss, services available, and to meet other people with a vision loss.
Perhaps the greatest surprise came when blind and sighted children started playing together. It was exciting when they worked together to find a way so that everyone could play tag. We may have some young Vision Rehabilitation professionals in the making.
Putting on a White Cane Day event takes time, effort, team work and planning. It is challenging! The three events described above made it worth all the effort. May White Cane Day live forever!!!
More About White Canes and White Cane Day
Read a history of white cane day
Find out about orientation and mobility skills.