Editor's note: With this post, VisionAware is rolling out a new series on "Dealing with Crime or Domestic Violence As a Person with a Disability." In this series, you will find articles on the disturbing statistics on crimes against people with disabilities, information and resources on domestic abuse, and personal stories that two peer advisors have written about their own experiences. We are also offering information on self-defense techniques that have been adapted or developed for people with vision loss, including the 1Touch Project™ that DeAnna Noriega discusses below.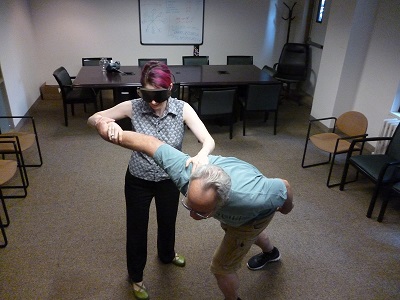 Last July, I attended one of the training sessions held at the American Council of the Blind Conference and Convention in Minneapolis. Personal safety for the blind and visually impaired has always been an interest of mine. Being of small stature throughout my childhood and youth, I was often the target of malicious teasing and even some stalking incidents when I was a young woman.
Staying Safe Is Important
One of the reasons I enjoy working with guide dogs is that I feel safer and more confident with a guide dog than a white mobility cane. My German Shepherds are especially good at keeping casual strangers from invading my personal space or grabbing, shoving, or pulling me in a mistaken belief that I need assistance. My cane skills are above average, but they require me to focus intently on every possible sound, scent, and change in texture beneath my feet. My guide dogs take care of the small stuff and allow me to focus on the larger picture of remembering the route and processing things like traffic flow.
Learning Street Smarts
I have attended workshops before that emphasized using street smarts and avoiding situations that increase my vulnerability as a woman who is visually impaired. As a teenage girl, my uncle showed me some basics of judo to use leverage and momentum to disable an attacker. However, I must admit that in frightening situations, I tend to respond first with girl-type natural defenses like biting, screaming, scratching, and the like. These aren't really appropriate when someone doesn't mean me real harm but resorts to physical contact in a misperception that I need help.
I am by no means athletic, and at 68 years old, I am stronger than I look, but still not someone who can intimidate anyone.
1Touch Project™ Designed for People Who Are Blind
The presenters at the 1Touch Project™ workshop, Executive Director, Stephen Nicholls and Executive Administrative Assistant, Miranda Brown, don't see their program as just another self-defense class.
Mr. Nicholls has been trained in martial arts since he was 13 years old. He has worked with police and people of all ages as a martial arts instructor. However, in 2009, one of his students who was employed by the RNIB in England asked him to train a group of 20 blind individuals. Stephen was intrigued by the idea of working with a population that required something different in approach from regular martial arts instruction. He believes that 20 percent of self-defense is physical prowess and 80 percent is knowing there is something more important than simply being afraid.
Goal of 1Touch Project™
The goal of the 1Touch Project™ is to change the perception of people who are blind or visually impaired. Whether the aggressor intends harm or not, blind people have a right to be treated respectfully.
What "1Touch" Teaches
During the short workshop, he led students through breaking a hold when someone grabbed an arm or shoulder. Whether the person doing the grabbing is a predatory individual or simply an overly zealous person wishing to be of assistance, it can feel like an invasion of a blind individual's personal space. Disengaging the grip can make it clear that the blind person is capable of taking charge of themselves. Other things we were taught involved postures that emphasized we were not helpless blind people, but individuals who deserved the same respect as anyone else.
Find Out More About the Program
Mr. Nicholls has personally trained and vetted 53 trainers to teach the concepts and principles of his program in the United States. He and his team of trainers have taught self-defense techniques to over 2,800 visually impaired people in the past year. To find out more about this nonprofit program, visit the 1Touch™ Self Defense Project's website, send an email to info@1touchproject.com, or reach someone by phone at 319-208-1683.
This year, Mr. Nicholls is speaking at the AFB Leadership Conference in Crystal City on March 2, 2017.
More Information about 1Touch
Second Sense has recently offered a class on 1Touch and Polly Abbott, CVRT and Director of Rehabilitation Services, has written a great blog post about why to take a self-defense class.
Talk to your medical doctor and eye doctor before participating in any self-defense program. Some eye and medical conditions can be affected by athletic activity that includes bending, lifting, straining, or pulling.
New Series on Crime and Domestic Violence
Dealing with Crime or Domestic Violence As a Person with a Disability
Domestic Violence and Women with Disabilities, Including Women with Vision Loss
Crime Against Persons with Disabilities: The Facts