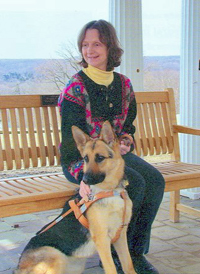 Note from the editor: This month VisionAware is honoring vision rehabilitation therapists (VRTs). VisionAware peer advisor, Sue Wiygul Martin, VRT, has written a book, Out of the Whirlpool: A Memoir of Remorse and Reconciliation, about her experiences as a VRT, which will be published soon. This blog is an excerpt from Chapter 26, "Two Clients, One Goal," which will be posted soon on VisionAware in text and audio format—with Sue's own voice!
This excerpt is about Gordon, who has age-related macular degeneration.
Gordon
"Wondering what awaited me, I opened the door into Gordon and Christine's kitchen and called a greeting. Once we were settled in the living room, where Gordon kept his computer, I had a surprise. Instead of having a task or project in mind Gordon, for the first time, asked me what kinds of things I taught to my other clients. A couple of months earlier I had worked with a woman in Rockland who was a minister. She needed access to the Bible. I had several versions of the Bible on CD but they needed to be broken down into books and labeled properly so that they could be easily retrieved. This turned out to be a monumental task. I related the story of my labors with the Bible to Gordon and he immediately declared that he wanted a copy too.
I copied the disks containing the Bible to Gordon's computer and we were off and running. Gordon would recall a snippet of a passage or a certain story from the Old Testament and we'd go look it up and read it. Then Gordon would recite some poem or other which he had learned in Sunday School. His memory for these rhymes was prodigious and he kept us entertained for hours.
One of the more memorable projects I worked on with Gordon involved his quest for knowledge and understanding of classical music. Gordon wanted to play music CDs on his computer while pausing and moving around amongst the tracks. I explained to him the keystroke for pausing is CTRL+p.
During a morning session, shortly after he had taken his diuretic he sat straight up, held one finger in the air, and with a big grin, announced to the world, 'It's control pee time!'"
Learn more about Martin's upcoming book and on our special VisionAware announcement about the book.