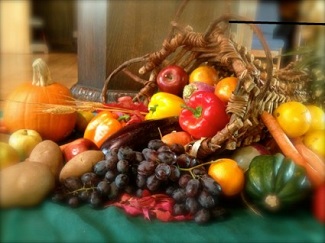 As we enter the Thanksgiving season, this post about family caregiving and family values and traditions is particularly relevant. This post is also part of our Sandwich Generation Series.
Three Generations in the Home
As in most family interactions, there are more smiles than teeth grindings in being a grandparent who is called upon to help raise their grandchildren. This is especially true for a blind grandparent, who can't access the school pictures and seldom gets to see grandchildren who live halfway across the country. In 2004, my youngest daughter came home to stay. She brought with her three children. My grandson Stanley, (bear) and my granddaughters Brandee and Amberlee. The children were 7, 6, and 3 years old respectively.
I had been spending six years assisting my mother with her medical issues. My mother has a congestive heart condition, Macular Degeneration, arthritis, bladder issues, COPD and is tested regularly for cancer. She is a strong independent person and a moving force in my extended family. As eldest daughter, I mediate between my siblings who never see mom's struggles with health issues and my stepfather's assumptions that she can do everything just as usual. I am the one she can confide in when it all gets to be too much for her. I am the one who can organize things so that she enjoys being the center of family life but is also not overburdened by their demands. She can express her fears, let down her hair and talk about her health issues with me without feeling like a whiner.
Becoming a Sandwich
I was running a fair trade gift shop in Colorado Springs, Colorado with my husband when I became sandwiched between my adult child's needs and those of my aging parents. I joined the sandwich generation with family responsibilities in both directions. My husband and I helped our daughter attend a vocational school to become a licensed veterinary technician. This required a two year course of study. She worked part-time training horses and giving riding instruction. Since her classes were in Denver, an hour away. Her time was limited.
Taking Care of Grandchildren
My husband and I had responsibility for getting children off to school, driving them to medical, dental appointments and after-school activities. We picked them up from an after-school program where the youngest spent her days in nursery school.
In a way, we lost out on the fun of being just grandparents, who could spoil and then return our grandchildren to their parents. Instead of being able to give unconditional love and attention to them, I had to work on getting them to eat vegetables, pick up their toys and respect each other's space and needs. My husband and I were the ones to help with homework, attend teacher conferences and a lot of the parenting tasks when our daughter couldn't make it. It was almost as if we were raising four children since our daughter tended to be too tired to do much of the necessary discipline and logistical tasks of childcare. However, it meant we saw a lot more of them as they grew than we did the other four grandchildren.
Relocated to Continue Care of Grandchildren
When our daughter graduated, she went to Missouri on a job interview and was impressed with the benefit package they offered her at the veterinary school at the University of Missouri. Her children were then 5, 7 and 8. She needed us to be there to provide the same level of childcare as we had been doing since her return home. She would be on call several days a week and some weekends. Her children were still too young to be left on their own when she was called in to handle emergency surgeries.
My husband and I closed our business and moved to Missouri. I took a job as an independent living specialist at an independent living center. Curtis's health began a slide in to disability. Though sometimes we get frustrated and tired being live-in grandparents, there are many happy memories and good times we would have missed had we remained just grandparents. I dusted off the print/braille books I had bought when my girls were small. "Is Your Mama a Llama", was joined by the Harry Potter books and I worked to instill a love of reading as I shared some of my favorite books with the small folk in my household. Out came the cookie sheets and cake pans as the little girls helped grandma with baking and cooking. My guide dog learned to count kids and got agitated if they didn't all stick together on shopping trips. A new generation learned that just because they weren't in line of sight, didn't mean that grandma didn't know what they were up to. We rode our horses to the blessing of the animals at church. We went to powwows so that they could learn about their Native American heritage. They absorbed a tolerance and compassion for the differences between people. My grandchildren became people who valued their friends for who they are instead of for the fashions they wore or the sports in which they excelled. Sometimes the lessons they learned from being raised in a three generational family surprised and charmed us.
Tacos, Tunnels and Kitties
For example, I was preparing tacos for the family dinner one evening. My five year old granddaughter put down food for my guide dog Griffin, a nearly ten year old German shepherd. Griffin could be a finicky eater. He decided the taco meat I was frying smelled better than the Science Diet in his dish. Amberlee sat on the floor holding the pan in her lap chanting, "Open the tunnel, here comes the train!" She fed Griffin a piece of kibble.
Next to enter the tunnel was a kitty complete with meow. Cows and various other barn yard animals followed with the appropriate sound effects. Before long, she proudly reported, "Grandma, Griffin ate all his dinner!" Spoiled guide dog you say? Perhaps, it is interesting though how the small people learn their parenting skills by example. Amberlee was a finicky eater too.
No Longer Caring for Mom
By the time I left Colorado to help my daughter, mom had undergone the surgeries she needed and established two homes at lower altitudes. She sold her two story home in Colorado and bought mobile homes back in Michigan on her reservation and another in Palm Desert California. She spent winters there, but for the spring, summer and early fall she lived in Michigan. Her health was stabilized and she was only returning to Colorado Springs intermittently for graduations, weddings and the arrival of new great grandchildren. I still act as my mother's sounding board through weekly phone calls.
Shift in Caregiving Role
Today, my caregiver tasks include caring for my husband who is now using a wheelchair, Assisting my single parent daughter and working part-time. My daughter's health is compromised by having broken her back which required insertion of a plate, four screws and a pin to stabilize her spine. Her back injury has left her with partial paralysis of her stomach. She is still working at the university Veterinary Hospital but no longer is she taking calls as an anesthesiology technician after the 1st of November.
We are in the process of taking in an additional child as a foster family. One of Amberlee's friends is in need of a safe place to live and grow. The parameters have changed in my role as a live-in grandmother, but I am still filling in where I can to provide for everyone's needs. I think that makes me an open-faced sandwich!
Are You a sandwich?
Are you a member of the sandwich generation? How do you cope with vision loss, grandparenting and care of aging parents? Do you have tips or suggestions to share with others? If you are not a sandwich, do you have a plan in mind if that happens? Share your thoughts about the sandwich generation with us below.