Editors Note: This post was contributed by Lynne Tatum, peer advisor.
Tandem Biking-The Perfect Mix of Exercise and Socializing
With fall in the air, Tandem bike riding has become an integral part of my workout. For me, it provides the perfect mix of exercise and socializing. While whizzing around new York's Central park or five boroughs, I've disclosed bits of my life as well as learned interesting tidbits about the lives of my various Captains. As I never know what Captain I'll be riding with, I've become more assertive as it relates to how fast we'll go. The Captains are volunteers and are providing a marvelous service but I need to feel safe while riding through the congested and chaotic parks and streets of New York City. A fairly outgoing person, I'm no speed demon and prefer a moderate pace. Thus far, I've received no push-back on my request.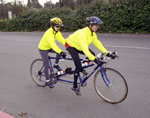 Safety
As safety comes first, all Captains are taught to announce changes such as starts, stops, gear shifts, coasting, and peddling. As with anything, though, you'll have Captains who announce everything and then those who forget it all due to nervousness. After having ridden for several years, I've learned to quickly adjust. I let all Captains know that I will be staying upright on the bike, no matter what. I am one with my Captain and the bike and we work as a seamless team. It's an exhilarating experience. There is an unmatched feeling of accomplishment as you approach the crest of a steep hill—legs and heart pumping as you burn off the calories.
Keeping Up the Rhythm
When we used to bike every other week, it was difficult to get and keep the rhythm. We're now biking every week and have several upcoming tours that are challenging for their duration as well as strength and stamina required to tackle various hills. I've signed up for as many as I deem reasonable for my ability that won't have me feeling as if I'm going to have a heart attack during or after.
Tandem Bike Organization
We're hoping that our In Tandem Bike organization is around for some time to come. We used to have the problem of not enough Stokers but our ranks have swelled. Now, we simply need to attract more Captains. Happily, I publicize that I have now ridden twice with a Captain who saw our television spot . I'm a tireless advocate for the tandem bike program and do my best to spread the word to those in the blind and visually impaired community. I believe that those of us who are able, should get moving and keep moving!
Video About an In Tandem Bike Event
Be sure to watch this CBS news story about tandem biking featuring Lynne.
Related Articles