Author's note: We are continuing our posts on National Disability Employment Awareness Month. This post provides advice from our Peer advisors on working with a disability. Be sure to read Part 1 of Taking Your Disability to Work.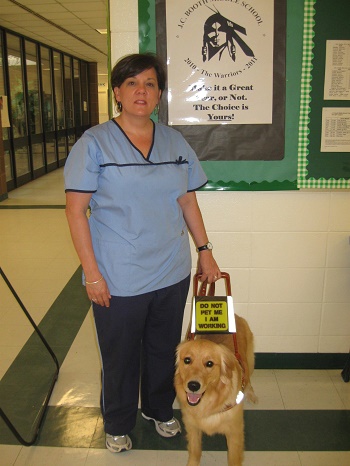 I had been working as a school nurse for some time before I disclosed my vision impairment. It became very stressful hiding the difficulties I was having with reading, computer work, lighting and safe mobility in the school setting. As well, my productivity was affected by my progressive vision loss. Eventually, I had to have the conversation with my supervisor and he made it very easy, asking me "What do we need to do to make things work for you?" This led me to pursue vocational rehabilitation services, workplace accommodations, and assistive technology training. My employer and I worked together to determine the appropriate accommodations. Part of the transition plan was for me to speak at a staff meeting to explain the changes that were taking place with my vision. I explained my level of vision in plaintive terms and which tasks I was still able to perform. I educated my coworkers about my new white cane and the new assistive technologies in my office. Everyone was quite accepting and supportive and I think this all helped make me more approachable to my co-workers. I was relieved and my stress level at work was greatly decreased.
Be confident. This has helped me numerous times in not only getting jobs but also in being promoted. While one must maintain a healthy balance and stay away from being overconfident, we must show our prospective and current employers that we have the confidence and eagerness to perform our jobs and perform them well. Even if it is an on-the-job training scenario, be confident that you will learn quickly and perform the tasks at hand efficiently.
We must be advocates. We must know our rights and have some familiarity of the ADA laws. It's important to know what tools and accommodations can be provided by our employer and keep a humble position about giving suggestions. Don't make demands; rather share thoughtful ideas on what accommodations are available, what may work best for you and even what won't work. It is probably best that this be done in a sensitive way that will not be off-putting or seem demanding. As for fellow coworkers, break the ice and let them know what works and what doesn't work so the whole team can come together and be a unified, cohesive group achieving like-minded goals.
What has worked best for me personally has been open communication and honesty. This carries so much weight even beyond the scope of jobs and effective working relationship with our employers and coworkers. Being honest and communicative opens up a more relaxed relationship in which an employer can feel free to ask questions and learn about our needs and wants – which in turn allows them to feel more comfortable and knowledgeable about providing the accommodations we may need. Honesty and open communication create a healthy workplace environment in which employers and coworkers alike can all thrive.
Many people with disabilities feel social alienation on the job. One very good way to shake those blues off is to volunteer to do something others don't want to do. For example, if someone is retiring or there is a birthday, why not offer to pick up the cake or get the word out? Some offices run charitable campaigns for different causes which are always in need of support. That was my experience and the best way I got to know many wonderful people in my agency. When colleagues see someone's willingness and action, they often become more respectful of that person's ability. You may also wish to start something such as a book club, Bible study or other lunch/social event as well and see how it goes.
I have found that patience and a sense of humor work miracles when adjusting to a new job position. There are always tensions and discomforts for those unaccustomed to working with a person with a disability. Your patience will be tested both by those that underestimate your capability or who think you won't be able to pull your weight on the job. Whether they try too hard to anticipate your needs or intimate that they feel you won't be able to learn the job, maintain a friendly calm approach to how you react to their misunderstanding of who you are and what you can do.
For some of us who are blind or visually-impaired, convincing others who are sighted, that we can contribute our talents and skills along with theirs at work can be a challenge. From experience, I find I need to embrace the 3-C's!
Commmunicate Confidently to Gain Cooperation:
Communicate: It's not that sighted people don't want to help, they just don't know the best way to assist people with a visual impairment. It takes clear communication on my part and self-advocacy in order to educate employers and coworkers so we can problem-solve together. I find that by taking time to explain to my work colleagues my requirements, such as keeping items off the floor that might trip me in the office or introducing themselves when approaching me, that we can all relax and get on with our work together.
Confidence: When I show a certain amount of self-confidence by working to my best ability, I don't feel I have to live up to the standards of others. We are often so caught up in comparisons of what we do – are we working as well as others? are we getting results in the work place?…and this can undermine our sense of worth. I have learned to value my contributions and look for ways I can perform my tasks and produce good results.
Cooperation: Knowing my limitations with vision loss is important too. I am able to recognize that asking for assistance at times is not a sign of weakness but an admirable strength. When I enlist the help of work colleagues, not only are they delighted to have a break from their own work but we get a unique opportunity to share in a genuine conversation. Sometimes, the sharing of our personal situations can lead to a closer friendship outside our work commitments!
Finding our place in the world of employment requires preparation, education and in many cases, the tenacity to overcome barriers. Yes, there are extra challenges when working with a disability. Nonetheless, we have a variety of skills and expertise to contribute, just like other employees. There is more to us than our disability; it is only one part of who we are. We are whole, capable, competent, and independent individuals. Do not overlook or underestimate this valuable resource. The possibilities are endless and we are full of potentiality!
Resources