Author's note: Most of the peer advisors at VisionAware are working or have worked with their disability. In talking about what we should write for National Disability Employment Awareness Month, we decided that a critical topic is what employers and fellow employees need to know about employees with disabilities. This post is divided into two sections: Part 1 sets the stage about the overall issues involved and in Part 2 we will share some of the peers' thoughts and strategies.
October is a time to celebrate the contributions of America's workers with disabilities. The theme for this year is "My Disability is One Part of Who I Am." As employees who are visually impaired, we are more than our blindness and we would like to be seen, first and foremost, as persons who have the desire and skills to work. Yet people with vision impairments experience many obstacles and barriers to employment. According to "Disability Statistics from the 2013 American Community Survey (ACS), for working age adults reporting significant vision loss, only 40.2% were employed in 2013.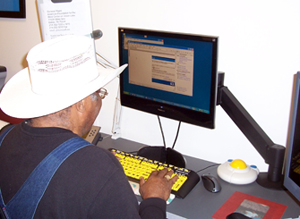 There is increased conversation about the value of diversity and inclusion these days and hopefully this is opening doors and creating opportunities for employment for the disabled. We, the blind and visually impaired community, must value and present ourselves as a diverse labor pool with a wide range of backgrounds, perspectives and experience. We can bring diversity and innovation to the workforce. We have training, education and expertise equal to our sighted peers. In addition, many of us have learned other specialized skills to prepare for employment such as access technologies and safe mobility. Persons who live with a visual impairment often acquire valuable personal assets too; we are flexible, well organized, detail oriented, and have exceptional problem-solving skills.
Lack of Awareness A Major Barrier
Employers and co-workers may have doubts about our abilities to do the job and may have low expectations for us. In fact, most of the general population is simply unaware of what a person with visual impairment is capable. They only need to learn about all the ways we do things differently by using our access technology and special devices. To accomplish our career goals, we must not underestimate our own abilities nor let others do this. The burden to educate employers on what they can expect and what is possible when they hire a person with a disability falls primarily on us.
Right Accommodations to Get the Job Done
Often employers are afraid to hire us because they are unsure how to work with us, uninformed on employment laws regarding disabilities and concerned about liabilities. What we need is the same as other employees; the tools and procedures to get our job done. This may require asking for accommodations. We are not asking for special treatment, but simply ways to create equal access because we want to be equal contributors on the job. Accommodations we may request often cost little or nothing and can have a high impact on our job success. According to the Job Accommodations Network (JAN), 58% of accommodations needed by employees and job applicants with disabilities cost absolutely nothing (i.e., simple, no cost adaptations). For those accommodations requiring a cost, the typical one-time expenditure was $500. The JAN study states that results consistently showed that the benefits employers receive from making workplace accommodations far outweigh the low cost. Employers reported that providing accommodations resulted in such benefits as retaining valuable employees, improving productivity and morale, reducing workers' compensation and training costs, and improving company diversity.
While on the job, we want to be evaluated and rewarded based on performance to expected standards. We are capable of meeting or exceeding performance standards and want to carry our fair share of the workload. A Virginia Commonwealth University survey of 250 supervisors in 43 businesses indicated that supervisors were satisfied with the performance of their employees with disabilities, rating their performance similar to that of their non-disabled peers.
Effective accommodations allow persons with disabilities to perform their job duties to the best of their abilities. It is important to have the right accommodations in place so we can participate as valued members of the team.
Lack of Understanding about Blindness or Low Vision
Supervisors and co-workers may feel uncomfortable in our presence because they do not know about blindness or understand what we need. They may have little experience or preparation for interacting with people who are disabled. As a result, employees with disabilities can feel alienated on the job, experiencing awkwardness and tension at work. We need to learn how to talk about our visual disability in practical, straight-forward terms. Co-workers just need to see that we are real people and capable of performing a job. It is up to us to demonstrate to them that there is more to us than our blindness.
Disclosure of Your Disability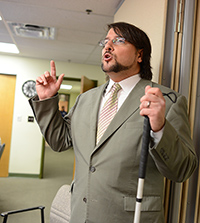 For more on disclosure of your disability at work, check out Joe Strechay's post on CareerConnect "Get Your Disability Disclosure On and Embrace Your Diversity". Here are a few of his tips to wet your whistle. He offers many more:
Know the essential job tasks for the position.
Know your own strengths and skills, and be prepared to sell them to the employer.
Know your disability, but be prepared to speak about it in practical terms as it will relate to your job tasks and employment.
Be comfortable speaking about your disability and accommodations, as an employer will most likely not be comfortable with someone who isn't.
Useful Resources
CareerConnect is an excellent source of information about employment including job search information, mentors, interviewing skills, and resume building. Career Connect has also prepared a set of lesson plans for teachers and professionals on using VisionAware for preparing for and maintaining employment.
Department of Labor Disability Employment Policy Resources by Topic including topics such accessible technology, accommodations,and information for employers.
JAN offers free, expert, and confidential guidance on workplace accommodations and disability employment issues. Per their website, "…Working toward practical solutions that benefit both employer and employee, JAN helps people with disabilities enhance their employability, and shows employers how to capitalize on the value and talent that people with disabilities add to the workplace."
Stay tuned for Part 2: Advice from Visionaware Peers on Ways to Make the Adjustment to Working with a Visual Disability.