By Maribel Steel and Lynda Lambert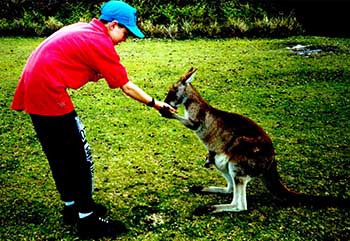 International Day of Happiness All Year Round
People around the world now celebrate International Day of Happiness on March 20th each year. We hope that by taking hold of life's unexpected challenges in a more positive way, we can appreciate life from a higher vantage point. If we can think of gratitude as a graceful eagle that can launch into flight to soar above the mundane, then an incredible sense of happiness flies into serving our every need—all year round.
Editor's note: When everything appears to be going wrong in your life, or you are feeling frustrated by the challenges of living with a visual impairment, it can seem impossible to retain a sense of equilibrium and inner peace on those "tough" days. Two of VisionAware's peer advisors, Maribel Steel and Lynda Lambert, share the ways in which they take hold of happiness by being grateful for unexpected things.
Out of My Comfort Zone—Big Time!
Maribel Steel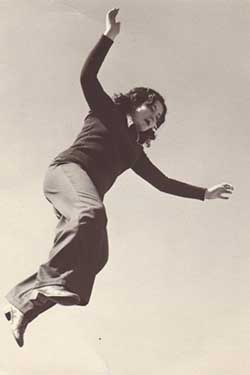 When my family was given the diagnosis of my pending blindness at 17 due to the onset of retinitis pigmentosa (RP), it didn't seem like there was much in our lives to celebrate. Suddenly, all my career options dropped away for a young woman rapidly losing sight.
I knew with an inner certainty that no matter how challenging my life became, I'd have to muster the courage to keep my focus on my abilities and not my visual limitations. I began to collect positive quotations that would lift my thoughts over daily challenges.
One particular quote by Patrick Overton became a favorite. "When you have come to the edge of all light that you know and are about to drop off into the darkness of the unknown, Faith is knowing one of two things will happen: there will be something solid to stand on, or you will be taught to fly."
Firm Ground in Being Grateful
Being in the final years of secondary schooling with a visual disability was extremely challenging. Computers had not been invented, and assistive technology was hugely expensive. But my parents purchased a device that saved my life emotionally so that I could carry on in the face of adversity.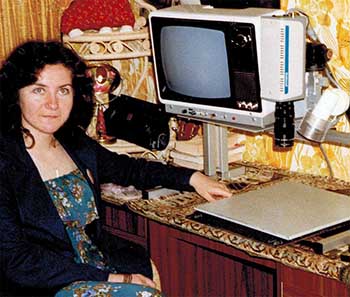 It was one of the first models of a black and white Closed Circuit Television (CCTV and now called electronic video magnifier) which allowed me to use my remaining sight to catch up on school work at home while listening to my favorite records. My bedroom became a sanctuary of contentment, and I was so grateful to have such loving parents who provided me with not only a way to continue reading and writing but who also encouraged my love for being independent.
A Different Journey: Equally Creative
Lynda Lambert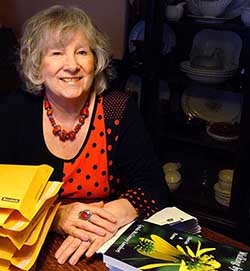 I was well established in my career as a tenured professor of fine arts and humanities at a private Christian college when I suddenly lost most of my vision to Ischemic Optic Neuropathy. Sight loss with this condition is instant, giving no warning before a stroke-like event affects the optic nerve. I was plunged into a new world in two separate events—one in each eye, 10 months apart.
I attended a residency program in Pittsburgh, PA, where I learned how to do ordinary daily activities and eventually learned how to use a computer again. This training took nearly two years and was a major turning point from being a victim to being an overcomer. I felt determined to keep living with my art aspirations and exhibiting my work internationally. Using assistive technology meant that I could continue to write, produce books, and work on getting my poems and stories in literary journals. The change in my life was a blessing because it enabled me to pursue my art and writing passions full-time.
Inspired by the words of Helen Keller, "Life is either a grand adventure or nothing," I feel the same. Each day is a grand adventure for me as I enter my studio and pick up my precious gems, beads, crystals, and threads. At other creative times, I spend many happy hours writing articles to uplift and encourage others.
Gratitude Is Like a Treat on a Tray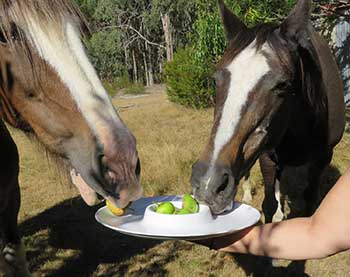 Maribel
Being in the school of life with vision loss has taught me that when I am truly challenged by being unable to do a visual task or some other frustration is hampering my happy-heart, I must look for the good in that very moment. In other words, I stop my thoughts raging out of control to highlight all the negatives of the situation and force myself to find three reasons to be grateful—right in the midst of difficulty. By shifting my thoughts to consider things I can be grateful for, especially when I don't particularly want to, is like being invited to an uplifting party and being given a treat on a tray. A heart-felt gratitude can make any issues of blindness fall away from my thoughts and is replaced with a more gentle approach to the situation.
Lynda
Gratitude and thankfulness are core essentials in my life too. I begin my day just before dawn to walk my two dogs in the woods along the creek where we are surrounded by nature and waking bird calls. Nature brings balance and peacefulness into my life. Happiness is intentional. I intend to have a happy and fruitful day, no matter what happens!
Ways to Invite Happiness Into Your Life with Low Vision
When you are looking for reassurance, inner peace, and emotional security, why not consider the following ways to invite happiness into your daily routine.
Create a Gratitude Journal
Try keeping a journal or a document on your computer dedicated to writing down all the things you are grateful for in your life. Begin by recording your thoughts for a month and jot down at least three to five aspects of your life unique to your vision loss experience; list everyone and everything you count fortunate to be experiencing each day.
There will be days you won't want to write anything but if you stay true to this process and prompt the heart by saying, "I am grateful today for…"—it works in helping to cope with negative aspects of a situation.
Reading an Inspirational Book
Lynda recommends reading an inspirational book before you take on any project. One book she suggests is The Seven Spiritual Laws for Success by Deepak Chopra. Currently, Lynda is reading the Bible and takes time to listen to a daily audiobook. Not far from Lynda's reach is a stack of poetry books near her computer, so she can pick one up and read poems using her electronic magnifier.
Random Acts of Kindness
Often a sense of well-being and happiness comes when we are generous to making a difference in the lives of others. It is acts of random kindness, a genuine comment, or words of praise that will literally "make their day."
Some people call this "paying it forward" based on a book and a movie of the same name. It highlights the kindness of a young boy who did three good deeds for others. All he sought in return was for those three people to pass on another good deed for three more people. By participating in acts of kindness, we become more effective and happier in our home and work environments.
Likewise, another example is from author Darren Hardy, who wrote in his book, The Compound Effect, how he jotted down one thing every day for a year on the things he loved most about his wife. Keeping his "gratitude journal" had a transforming effect on his relationship with his wife as well as being able to present her with a unique gift on Thanksgiving Day!
Gifting Art
As a member of the Art Abandonment Group on Facebook, Lynda enjoys leaving gifts of art works for a random person in unexpected places. She regularly wraps up pieces of her art and leaves them with a message that this art work has been abandoned in this place intentionally, and it now belongs to the person who found it.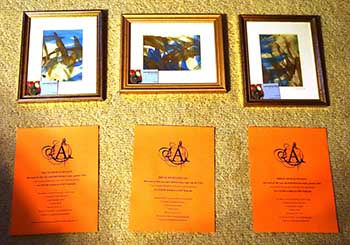 Let us know your thoughts. How do you like to get into a happy mood?
Further Resources
To Love This Life: Quotations by Helen Keller (print and audio versions)
Send an AFB accessible Helen Keller e-card of thanks
Lessons Learned in the School of Life By People Who Are Blind or Visually Impaired Part 1
Lessons Learned in the School of Life By People Who Are Blind or Visually Impaired Part 2
Lynda Lambert's New Book: Walking by Inner Vision: Stories & Poems