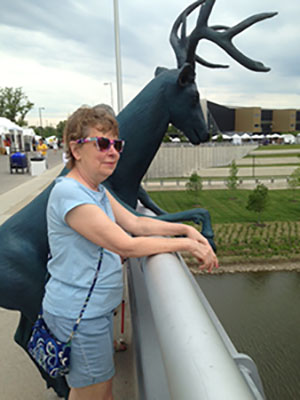 The Arts Festival Is for Everyone
One of the highlights of summer in Columbus, Ohio, is the annual arts festival, held on the first weekend in June. I went today and had a wonderful time. Hundreds of booths and tents line the two main bridges downtown and the streets that connect them. In this photo, I am leaning over the railing of the bridge, admiring the sparkling Scioto River along with my new "deer" friend. He's a life-size statue of a deer, and it looks like he's smiling as he looks over the River.
Choose the Right Friend to Take You
My friend Eve has been a guide for me when hiking and a captain for me when biking. She has taken me shopping, and she has assisted when I host parties. She knows my tastes and what I need and do not need regarding mobility. When we would come to a booth that caught her eye, she would describe briefly what it contained, and if I showed no interest, we moved on. But if it was something I wanted to explore, she expertly placed my hands on the objects of art without fear of breaking anything. Most vendors encouraged me to touch anything I wanted anyway. Even people who are sighted want to touch the artwork to experience the textures.
Plan a Get-Away Cue
Sometimes, the vendors were so excited about showing me their artworks that it was hard to leave. After touching a few examples of the various pieces, Eve would say, "Here's my arm," and we would escape. But this one man delighted so much in showing me what he had done with palm leaves and maple leaves, that he'd say, "No, I've got her. I want to show her this other piece," and off he'd take me to look at another stunning example of tactile art. You'd think I was a millionaire in disguise, and they somehow knew it. But we weren't in a hurry, and it was a beautiful day, so we had fun with him.
Food for Art Lovers
In addition to being able to buy jewelry, blown glass, wood carvings, and even art objects made from collected pieces of junk, we could enjoy the same variety of food. Wanting to know all my options, I insisted on walking through the entire row of food vendors before I made my choice. Fortunately, Eve is the same way. We don't just stop at the first thing we see and settle for that.
Music in the Air
Mostly what I like to do at an arts festival is get an ice cream cone and sit on the grass and enjoy live music. Today, however, we got there early to beat the heat, so we were too early for the music, but I got a real "feel" for the world of arts.
It's Not Just Paintings
If you think that art is just for those who can see, you're missing out on an experience that will broaden your world and impress you with the imagination and creativity that these artists demonstrate. And if you happen to be a millionaire, it's just the place for finding that perfect lamp, bird feeder, serving tray, or object to make you laugh.
Tips for a Pleasant Time
Go early. Beat the heat and the crowds.
Bring water.
Wear sunscreen.
Use a credit card for any purchases, because it's faster than fiddling with cash.
Have Some Fun This Summer!
Recreation and Leisure for People Who Are Blind or Visually Impaired
Sports and Exercise with Visual Impairment
Arts and Crafts After Vision Loss
Summer Camp Experience for Campers Who Are Blind or Visually Impaired