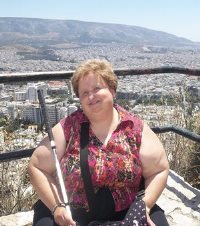 Traveling is My Passion
Traveling is my passion. There is nothing more exciting to me than stepping onto an airplane and flying off to a new and unexplored destination. I've had the love of travel ever since I was a very young child. At age five I traveled with my family across the United States to the coast of Washington state in a motor home that we rented. Twice again during my growing up years my family drove across the United States, visiting famous landmarks and spending time with my relatives who live in Arizona.
I had seen much of the United States as a child, so as a college student I yearned to see more of the world. The summer I was 20 I spent five weeks in London on a study abroad program. While there I traveled to Scotland and Wales, as well as a weekend jaunt to Paris. Throughout the 1990s I was blessed with opportunities to continue to pursue my passion.
Not a Picky Traveler
I'm not a picky traveler. I'm ready to jump in and do almost anything and go almost anywhere. While still an undergraduate student, I took part in a mission trip to Mexico sponsored by our Baptist Student Union. Before that trip, I said I wouldn't take a bath in the river, but…never say never… I did. After completing my graduate degree I participated in a study abroad program that took me to Australia and New Zealand. I extended my time in New Zealand by visiting an exchange student friend. Later in the '90s I spent my Christmas holiday in New Zealand, and I traveled to Germany and Poland with friends. In 2001 I was invited to a wedding in England, so of course I went. How often do you get invited to a wedding in England? I've been on a cruise, and I have vacationed in the Caribbean. I've experienced a bit of everything in my various travel adventures. Like I said, I'm an "equal opportunity" traveler. I'm up for nearly anything, just let me pack my bag and go!
So, last winter, I began to plan what would be an amazing trip. It all started when I met new friends, a couple, she is from Greece and he is from England. They invited me to come for a visit. My thought was, Why not? I've never been to Greece before.
Making Travel Plans for Two
Since I didn't really know these friends well, I decided that I wanted to travel to Greece with a friend of my own; it's never fun being the third wheel. So, I invited Angela, my unofficial adopted daughter. She is 20. I visited Europe for the first time when I was 20, so I thought how wonderful it would be for Angela to experience Europe at the same age I was on my first visit. My initial thought was that we would spend 2 weeks in Europe, visiting Greece and then traveling back to England, but as we began to make plans, things blossomed into our month long experience.
Angela and I flew to London; then we changed airlines and traveled on to Athens, Greece. We spent 9 days in Greece, staying with my friend at her family's flat. While there, we visited the Acropolis and Parthenon, spent a day on a Greek island, stood where the apostle Paul preached to the Athenians, and explored the old areas of the city. Then, the four of us traveled to France. After 23 years, I finally made it to the top of the Eiffel Tower; the top level was closed when I visited the first time. We spent a week in France, visiting famous landmarks, such as the Arc de Triumph and Notre Dame, as well as a trip to Disneyland Paris. Next, we traveled by the Euro Star train under the English Channel to London. From there we traveled by train to Devon in the southwest of England where we spent 4 days in Teignmouth, a small seaside town. it was back up to London for 3 days of sightseeing, and then saying good-bye to our travel companions. Angela and I spent 5 more days in England, visiting other friends and seeing more of London's sights.
The Highlight of My Trip
The highlight of my trip was visiting the Pantheon in Paris where the body of Louis Braille is entombed and the village of Coupvray, where Braille was born and lived as a young child. I was very emotional. I didn't expect to, but I cried as I listened to speeches that were given on the day when Braille's body was moved from Coupvray to the Pantheon. As I moved inside the crypt and placed my hand on Braille's tomb, all I could think of was what this man had done for all blind individuals and me across the world. It was amazing.
Poor Reception at Disneyland Paris
The most disappointing experience was the reception that we received at Disneyland Paris. Park employees were horrified that four blind people arrived at the park without a caretaker. They almost didn't let us into the park, and nearly didn't let us ride the rides. Finally, since Angela had some vision, she folded up her cane and pretended to be sighted. After that, we were left alone. Amazing to me that the country that produced the man who opened the doors of opportunity by bringing literacy to the blind still has such negative and demeaning attitudes toward blindness.
Our reception as a group of blind persons was not so negative at other venues that we visited. The Tactual Museum in Athens was quite interesting. It is the home to replicas of many famous ancient pieces of art that can be touched and experienced tactilely. At the Tower of London, Hampton Court Palace and St. Paul's Cathedral in England we had audio guides for visually impaired guests. They even gave directions on how to move to get to the next area on the tour. In Athens we got Braille brochures at the Theatre of Dionysos and The Acropolis. We could actually keep these brochures. This was a first for me.
Traveling with All Blind Companions is Different
As I said, this was a tremendous adventure for me. In my previous travels, I was with sighted companions. Traveling with a group of blind persons was completely different. In many ways it was better. At many of the places we visited we were able to experience and touch things that, if we had been with sighted companions, we would have simply walked past. There were times when situations were frustrating, but even when you travel with sighted persons, things are often frustrating. Sighted people get lost too, and things don't always go as planned. If I could do it all again, I would, even with the good, the bad, and the crazy. Now that I am home, I am looking forward to my next travel adventure. I can't wait! If I had the opportunity, I'd get on a plane tomorrow and fly off to another new and exciting place.
Editor's Note: This article was first published in the Summer 2012 issue of The Cardinal the bi-annual newsletter of the National Federation of the Blind of Kentucky.
Check out more information on travel and vision loss.