Editor's note: Mary D'Apice, VisionAware Correspondent interviewed Sue about her new book.
In Dog We Trust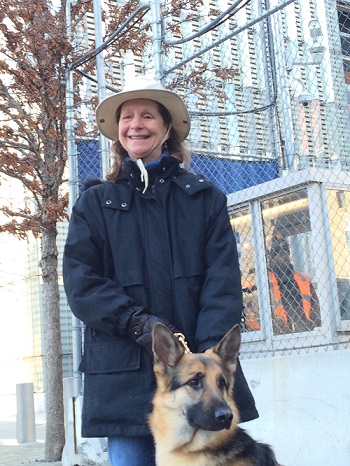 Sue Martin's first book "Out of the Whirlpool: A Memoir of Remorse and Reconciliation," chronicles a young woman's battle with depression, a suicide attempt that resulted in blindness, and a courageous journey to rebuild her life. Her second book, "In Dog We Trust: Independence, Thrills and Dignity with My Seeing Eye Dog", recounts Martin's second act as a love story. Martin reflects on her 30 years of marriage to Jim during which they shared careers in vision rehabilitation and a passion for outdoor adventure. But the book is ultimately a Valentine to her life partners of the four-legged variety. Martin has penned a loving tribute to her Seeing Eye Dogs — Sadie, Quoddy, Beverly and Kismet and the way in which her unique relationships with each of them enriched her life's journey. Martin's light, humorous and often lyrical prose is complemented by her husband's photographs which feature the couple's working dogs as well as pets. With scenic backdrops of mountain top vistas and trees cloaked in snow, the book can be enjoyed as a family album that celebrates love and nature.
A Poignant Memoir that Also Educates
Nested in this poignant memoir is practical information about guide dogs. "I wrote it for anyone who is curious about guide dogs, dog handlers, puppy raisers and trainers, and people who might want to get their own guide dog. I hope the book educates the general public about what it is like to live, work and lose a guide dog." Says Martin. "In Dog We Trust" is a tribute to guide dogs everywhere and the schools that make these life changing partnerships a reality.
A period of adaptation often follows blindness but few cycle through the process with such an accelerated speed as Sue Martin had. "I went kicking and screaming at first and then with great enthusiasm into training." The trajectory from becoming blind to resolving to get a degree in vision rehabilitation was meteoric. Loved ones feared she had not given herself enough time to heal emotionally or fully master new skills but the bold choice proved serendipitous. In the prologue Martin writes, "In the beginning there were no dogs. A year and a half after my life with blindness began, I enrolled in a master's program at Western Michigan University. In the process of acquiring a master's in blind rehabilitation I also acquired a husband. Our first 'date' was a trip out in the woods for a class assignment. That morning I fell in a manhole. I clearly needed better orientation and mobility skills. Or a new means of travel"
First Trip to The Seeing Eye
The notion of traveling with a guide dog readily appealed to Martin who grew up with dogs and learned to appreciate the intimate communication between humans and animals as a horseback rider. On a field trip to Chicago, a professor let Martin borrow his guide dog and the experience was exhilarating. The ink had barely dried on her diploma when Martin was boarding an airplane to get her own Seeing Eye dog. (Although the generic term is guide dog, all of Martin's dogs can rightfully be called Seeing Eye dogs as they were bred and trained at The Seeing Eye, in Morristown, New Jersey.)
Martin recounts her training at The Seeing Eye, beginning with a simulation called a "Juno" walk in which a sighted guide and the student walk in tandem holding opposite ends of the harness. The Juno walk provides guide dog schools with the necessary insight needed to make the ideal match. Martin explains, "They don't just invite you in to grab a dog from the kennel." The right dog must compliment its owner's stamina and pace, personality and lifestyle among other factors. According to The Seeing Eye's website, the matching process is "part science, part art and part magic."
Sadie and Many New Beginnings
After 25 days of intensive training, Martin returned to her hometown in Alabama with a labrador named Sadie. Martin recalls with pride how the jet way became a kind of red carpet as Sadie led her off the plane to be welcomed home by her parents. "I walked back into my family as a new person," she writes. In typical whirlwind fashion, Sue and Jim were married two days later. Martin remembers how they exchanged wedding vows with Sadie quietly resting her head on the kneeler. The honeymoon was a road trip to a new state where they immediately launched careers at the Tennessee Rehabilitation Center.
Quoddy Opens the Door to Outdoor Adventure
Martin praises Sadie for having been a fabulous worker, but her strength made her difficult to handle. After a couple of years, Sadie seemed to rebel against her roll as working dog by behaving aggressively. But Martin arranged for her happy retirement to a neighboring farm and returned to The Seeing Eye to be matched with her first German shepherd, Quoddy. "Quoddy was the first dog of my heart," said Martin, "Oh I loved that dog." But Quoddy was as reluctant to make decisions as Sadie was strong-willed and decisive. "I had to pay attention with Quoddy. If I was daydreaming we would walk into the wrong bank."
The first years were peripatetic for the couple but eventually they settled in the woods of Maine. Quoddy helped reintroduce Martin to hiking, an activity she enjoyed before she lost her sight. Martin recalls walkers and bicyclists greeting her on the trail and complimenting Quoddy. She writes, "For the first time, I felt a sort of camaraderie with the people we passed." Though at times she may have felt set apart by her blindness, that day she was officially welcomed back into the community of hiking enthusiasts. Soon, Martin was regularly summiting the mountains of Maine with Quoddy navigating the rocky trails ahead while husband Jim, followed behind, describing the terrain and the scenery.
Beverly the Firecracker
The average working life of a guide dog is 7-8 years, and upon retirement, their owners often look for other families to adopt them. But with the exception of Sadie, Martin was fortunate to keep her dogs as pets. She describes how she worked out a seamless transition. "I took off the harness on Friday afternoon and got on the plane to get my next dog Saturday morning." While she was away, the retired dog would learn that Jim was his or her "person" and transfer his devotion to him. He went along on outings as before, but only on a leash.
Martin points out that as people change the qualities of the ideal guide dog changes, too. "The Seeing Eye provides a dog that matches you with the person you are at the moment." Quoddy was a "gentle soul" but her successor, Beverly, was a "firecracker in a harness." Though her dogs differed in temperament none balked at commands to summit the highest peaks. Martin is grateful. "I've been amazed as what each dog was willing to do." Beverly was not only an exemplary hiking companion but was also the first dog to pull Martin on cross-country trails.
After Martin's father passed away, the couple moved back to Alabama to be closer to Martin's mother. In addition to being an adventurous dog, Beverly was also adept at working in a quiet office environment at the Birmingham Veteran's Affairs Medical Center where Martin worked in the computer training department. Beverly could put her nose on all the elusive elevator buttons in the sprawling building and Martin credits Beverly with helping her maintain total independence. But after 9 1/2 years it was time for Beverly to retire. "The heat in Alabama in the summer is murder on working dogs." Martin says. She returned to The Seeing Eye to be paired with her third German shepherd, a breed she had come to prefer. "Some people want fun loving dogs, but I like shepherds because they are the ultimate professionals."
Beloved Kismet
Shepherds are very destination oriented and Martin's fourth dog, Kismet, was no exception. Martin recalls taking a walk on a beach they had visited previously when Kismet recognized the hotel where they had stayed a year ago. Suddenly, Martin felt herself being dragged away from the ocean toward the hotel. "I felt like I was attached to a laser guided missile."
Not only was Kismet Martin's second "dog of her heart" but she also forged close relationships with Martin's family. Kismet was very attached to Jim and shared a birthday and a special bond with Martin's mother. Kismet's affection fortified the family in the last days of Martin's mother's illness. Martin acknowledges the deep emotional bond she shared with Kismet by dedicating the book to her memory. As much as "In Dog We Trust" describes the joy each dog brought to Martin's life, we are also privy to the circumstances of their deaths and the heartbreak that followed. Pets, as one saying goes, leave paw prints on our hearts, but the harness joins the life of guide dog and handler in a deeply profound way.
The Seeing Eye helps people work through their grief and honor the service of their dogs with engraved bricks on the walkway known as the "Path to Independence." The photograph of Sue's book cover below captures the memorial. "Kismet: Beloved. Impish. Brilliant."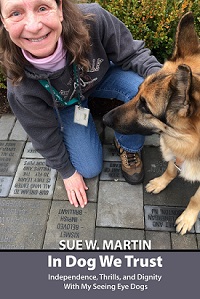 Caption: Cover of "In Dog We Trust"
Another Loveable Dog Named Quan
Since completing her memoir, Martin is settling into life with Quan who, at her request, is a much calmer and quieter dog. It's difficult to believe the couple will be settling down knowing that they celebrated their 30th wedding anniversary by zip lining in the mountains. Quan had only been in Martin's life a couple of weeks when Jim observed that The Seeing Eye "went and gave you another lovable dog." Martin marvels at the degree dogs and their handlers share affection and how willing they are to learn from each other. "I feel lucky to be loved so deeply by another being."
"In Dog We Trust" Available on Bookshare
Sue's book is now available on Bookshare.