This is the third in our end of year bucket list series coordinated by Maribel Steel
In this post, Sue Martin picks up from when she had just shared the stage with Debby Boone in Hollywood and shortly afterwards, went on a mission to "share the stage with Dean Koontz." But life is never that simple…Life Got in the Way
Kismet, My Seeing Eye Dog Died Unexpectedly
Kismet, my beloved Seeing Eye dog who had faithfully and skillfully guided me over a decade died unexpectedly. Life came to a screeching halt. I had an application in to retrain with a new dog at The Seeing Eye and, at that point the application had been in over eight months.
But for ten days after Kismet's death all they could tell me was, "We don't have a dog for you." I was penciled in for the class that began February 1st. The class supervisor came back to work and, voila, one of the trainers produced my Quan dog. I went into class February 1 and brought Quan home, two weeks later, after a lot of hard work I might add. What a joy this dog has been! He's big, calm, brilliant. We've been together about ten months now and, thanks to The Seeing Eye, it's another match made in heaven.
I Publish "In Dog We Trust"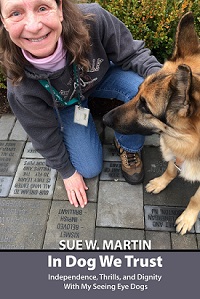 As noted in my interview about this book in April, 2016, Mary D'Apice states, "Martin reflects on her 30 years of marriage to Jim during which they shared careers in vision rehabilitation and a passion for outdoor adventure. But the book is ultimately a Valentine to her life partners of the four-legged variety. Martin has penned a loving tribute to her Seeing Eye Dogs." You can read this book on Bookshare.
The Chance to Work Remotely and My Dream Home
For the past nine years I've been part of a team at VA which ensures information technology used by VA is accessible to individuals with disabilities. The past several years I only went into the Birmingham OIT field office once a week. So it was clear I could do my job from anywhere. If we were going to move to Maine I had to go full-time remote and, in the way of large Government organizations, that proved to be no small feat. After several false starts – they kept changing the rules on me – I finally achieved full-time remote status towards the end of last summer.
Bucket List Dream: Let's Go!
We always knew we'd move back to Maine in the end so, with retirement in his sights and my remote job, my husband Jim started looking for a house in Maine. Although we considered several other houses and locations along the coast, we set our sights on the geodesic dome in Franklin.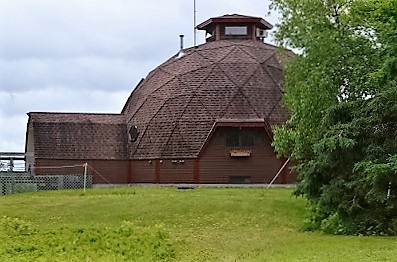 We put our house in Alabama on the market, made an offer on the house in Maine, and the wheels of buying and selling real estate moved into action. As the weeks passed things fell into place one by one. Jim set his retirement date; we started packing; we gave away loads of possessions; we sold what we could through a combination of a garage sale and an estate sale; we scheduled the movers for November 14.
Jim drove away from the house in Alabama late in the afternoon of the 14th with our two pet dogs, Lukas and Soldier, and Cheeto, the cat. The movers pulled away next and it was just Quan and me left in the house where we had lived almost fourteen years. A little while later my friend, Jeri, showed up and I, too, left our Alabama house.
Four days later we all converged on our new house in Maine – arriving within an hour of each other – an achievement! I walked in the house with Quan and sank onto the couch before a roaring fire. We were home.
Our "Forever" Home
Our new, and we hope final, home is the most energy efficient home I've ever experienced. A geodesic dome simply looks like a mixing bowl flipped over. The walls are about 2.5 feet thick so we're well insulated for those long cold Maine winters. We have a windmill and two arrays of solar panels with which we produce our own electricity. While we're "on the grid," we draw very little conventional power for the day to day operation of the house. We're heating the house almost exclusively with wood and solar heat. I'm amazed at how efficient it is!
Opportunities arise and, if I've learned nothing else in my sixty years on this planet, you have to grab them when they come along. We're in our dream home now – our forever home. It wasn't easy getting here but we dreamed big, worked hard, and here we are!
My Bucket List – A Moving Target
Sharing the stage with Dean Koontz someday will have to move to 2017 – sorry about that Mr. Koontz – please don't take it personally. Moving back "home" to Maine really did have to take primacy of place this year.