Editor's Note: This is part of our ongoing series on Laughter is Often the Best Medicine.
Sometimes You've Just Gotta Laugh!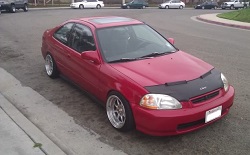 Sometimes when you're visually impaired, you've just gotta laugh when mishaps and embarrassing moments arise. One day after shopping alone, I waited on the curb in the blinding sun for my husband to pick me up. I knew it would be a matter of a few minutes before he arrived; so when a reddish car pulled up, I hopped in. Then I heard an unfamiliar voice say, "What are you doing??!" "Oh-oh," I stuttered. "You are not my husband!" Quickly, I awkwardly exited the stranger's car with no explanation.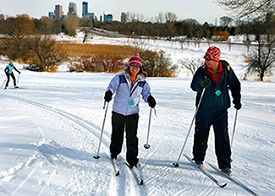 I have very little vision and most of the time, trying to use it just gets me in trouble. So…I don't try to use it very often. My husband, Jim, and I enjoy cross country skiing. During one of our many ski trips, Jim started off in front of me. When we stopped to rest for a minute, I assumed the body in front of me was Jim. This assumption was perfectly logical, since that was the last place I knew him to be. In a moment of mirth, I poked him in the butt with my ski pole. Suddenly, a total stranger turned around and asked me what the heck I thought I was doing!
By Dave Loux and submitted by Lynda Jones
Recently, Dave Loux, a colleague in the field of blindness shared a few stories with me about his travels for the Seeing Eye, a dog guide training school. One day while attending a conference in the field of visual impairment and blindness, Dave stepped into an elevator with his dog guide. Already on the elevator were three long time friends who were also attending the conference. Immediately, one of them said, "Mister, you can't get on here with that dog!" Recognizing Dan's voice, Dave said nothing. Then a second voice chimed in and said, "That's right!" Then the third man sniffed loudly and complained, "That dog stinks!." As the banter continued, no one paid any attention to the other passenger on the elevator.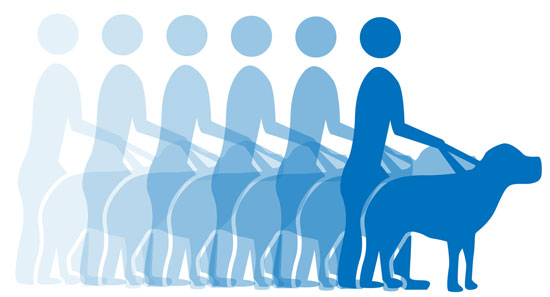 When the elevator door opened, Dave exited, having said nothing, followed by two of the men. At this time, Dan glanced in the direction of the woman still riding with him. In disgust, she moved as far away from Dan as possible and turned her head toward the opposite wall of the elevator. When the door opened again, she exited as quickly as she could. What a story she must have told!