Editor's note: Just in time for planning for Valentine's Day, we bring you this post by Lynda Lambert. Lynda suggests that you might consider a similar trip to a museum or art gallery as a fun Valentine's outing. Read and enjoy!
Visiting the Andy Warhol Museum
Recently, I invited my daughter and great-granddaughter to help me celebrate my birthday with a visit to the Andy Warhol Museum which is located about 40 miles from our home. Since my great-granddaughter was celebrating her birthday that month, it was perfect timing for us. This could be a great idea for a Valentine's Day excursion with a friend or family member too.
I wanted to take photographs in the museum, so I asked at the entrance desk for permission. My only restriction was to not use a flash on the camera. That is normal as a flash causes long-term damage to art work. I wondered what the receptionist might be thinking when he saw me walking with a long white mobility cane and asked to take photos during my visit. I still chuckle to myself about this conflicting image. Our excursion was so enjoyable I wanted to share some tips with you so your next visit to a museum can be as much fun as ours was.
Six Tips for an Out-of-the-Box Museum Visit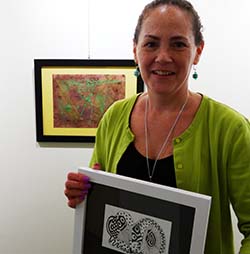 Tip One: Visit the Museum Website for Accommodations
The website will have a link for directions to the museum, educational programs, special exhibits with dates, contact information, and a link for accommodations information. If you need more details, call the museum.
One interesting thing you can find on the schedule is when they have a docent tour or an artist presentation. Both of these are informative and educational. The artist presentation is one way to find out about the art process directly from the artist who made it. They will answer any questions you have and even put the art work in your hands if possible.
Tip Two: Wear Comfortable Shoes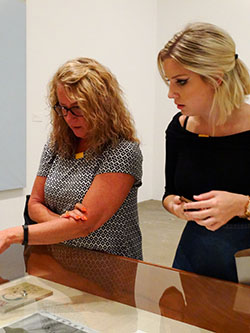 I recommend that you wear comfortable walking shoes. My great-granddaughter found this out in a painful way during our visit. She walked into the museum in high heels. By the time we looked at the first two floors of art, she was getting blisters. Fortunately, the museum store had some flip-flops for sale so she could change her shoes and continue to have a good day.
Tip Three: Review the Floor Plan for Display Information
The museum we selected has seven floors of art works and the floors are very large. Decide before you begin how you will see the various art shows. We wanted to see all seven floors.
We also looked to see where the bathrooms are located and where the stairs and elevators are situated. It's a good idea to use the elevator. This removes the chance that I might have trouble navigating the many steps and it gives us a little break from one place to the next. There are usually some chairs to sit on near the elevators as well. Take advantage of these opportunities.
Tip Four: Select Exhibits that Feature Large Wall Works and Floor Displays
I like to seek out the galleries that have good light and dark contrasts for I am light sensitive. The best exhibits for me are large, bold, high contrast paintings, or large sculptures with a good amount of light and shadow on them. The Warhol Museum is an old factory, so the floors are concrete, which provides a very good contrast from the white walls.
Many galleries have intense lighting, white walls, and slick light wooden floors. This is a nightmare for a person with very low vision, and it can be dangerous for us because we become like a deer in the spotlight in such situations.
If you are extremely sensitive to light as I am, take some sunglasses with you and put them on.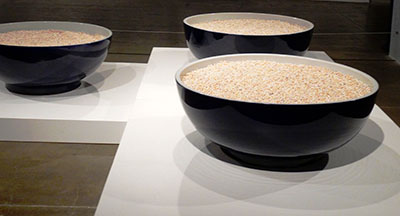 Tip Five: Take Breaks and Visit the Café and Museum Store
A museum can be overwhelming. You can walk for hours once you enter the building.
Be aware of the variety of displays and be selective. You just cannot see it all in one visit.
Decide in advance where you will go. Pace your visit to include periods of relaxation. Your feet will be thankful for some resting time during your visit.
We looked at three floors of art, then we went to the café for lunch. Museums have delicious sandwiches and a variety of salads and drinks. After we left the café, we stopped in to browse the items in the museum store. Of course, we came home with a few bags of interesting items, reproductions of art work, and some books.
Bonus Tips for Out-of-the-Box Art Viewing
Bonus Tip 1: Find Art in Unexpected Places
Have you noticed that many cities have art on display outdoors? You can find it unexpectedly as you stroll through parks and around urban areas. These sculptures are really great for people with vision loss to enjoy. We can walk up to the art work and explore it with our hands, walk around it, and really have a great experience.
Here is an example of some outdoor art I found in Ponce, Puerto Rico. It is a sculpture of a lion painted in many different colors.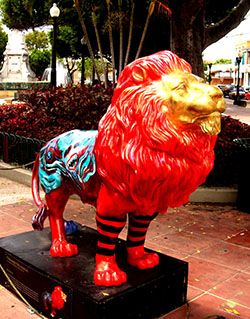 Bonus Tip 2: Outdoor Arts and Crafts Festivals
When is the last time you visited an Arts and Crafts festival? I have found many of the art works in my personal collection at such shows. You can meet the artist and learn about what she makes first hand. Prices are very good because you are buying directly from the artist. And, best of all, you can touch and hold just about anything that is on display at the artist's booths. Some artists will even let you make art in their booth or demonstrate how they make their art. We all love a walk in the park, don't we!
Do you think you will consider taking an Out-of-the-Box Art experience for Valentine's Day or a special occasion this year? I would love to hear about it!
Learn More About Visiting a Museum with Vision Loss
Enjoying Cultural Activities When You Are Blind or Visually Impaired
Adapting Artworks for People Who Are Blind or Visually Impaired Using Raised Printing