Editor's note: September is National Service Dog Guide Month (originally National Dog Guide Month). To start our coverage of this annual occurance, Maribel Steel, VisionAware's International Correspondent, shares her story of a "Walk in the Park" event in Melbourne, Australia. Stay tuned for more.
Gathering of the Team
The team had come prepared. Dozens of orange caps and water-proof ponchos packed by the staff of Guide Dogs Victoria (GDV) to be handed out to their clients – the rain was not going to dampen our fun-loving spirit for this year's RunMelbourne event.
The sun came out in a burst of support while the hive of volunteers buzzed about helping clients who are visually impaired to attach name badges to orange t-shirts and time tags to the inside of shoes.
As they waited, a color assortment of guide dogs greeted each other with a sneaky sniff here and there.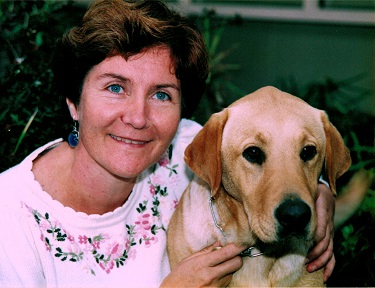 This was my second fun run, having participated the previous year after my elderly guide dog had passed away. I knew then, if I wanted to stop crying whenever a golden Labrador passed me in the park, I had to get back among the pack and be a part of the live action.
This year, I tapped my white cane through the throng of Melbournians flocking to Federation Square in the heart of the city. I narrowly avoided collisions with joggers, children on bikes, prams and buskers. My eyes brightened when I was greeted by the familiar voices of the team from the Guide Dog Centre. "Yay, you made it."
Excitement warmed the wintry morning and I could sense the forty guide dogs, puppies in training and ambassador dogs were hanging out for that first 'forward' command to sprint off into the race. This year's guide dogs team had swelled to over one hundred and forty participants of the human kind: clients, dog handlers, volunteers and staff, all with one mission – to raise $30,000 in funds, the cost involved in the breeding, training and ongoing care for one guide dog.
Let the Spring Begin
Just before 11 a.m., the call to start came and we were off. Some guide dogs and their handlers were faster than others, a mini Tour de France group jostling for position on the crowded pavement along Swanston Street as we sorted ourselves into clusters: the main team, the sprinters, the walkers and at the rear, the chatting stragglers.
My sure-footed companions, Gena Marie and her elegant chocolate-coloured lab, Gypsy, and my sighted guide, Caroline Dazey, the fundraising coordinator for GDV became so caught up in swapping travel tales during our five kilometers stroll around the Botanical Gardens that we finished last and waved proudly to volunteers packing up the event behind us.
Pizzas On the House for One and All
At the team party, cheers of joy rang out loud when the Chief Executive Officer of GDV announced that the efforts of everyone this year had raised funds exceeding their target goal – the pizzas were on the house!
We were thrilled, and just for once, some of us turned a blind eye to any pizza crusts that may have made their way to where our off-duty canine companions sat quietly under the tables pretending to lick their paws.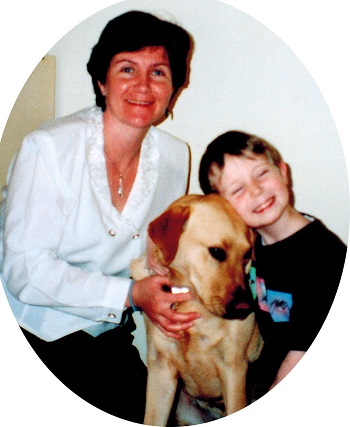 Your Own Tales to Tell
Do you have a doggy tale to tell? Let us celebrate it with you in the comment box.
Read More about Dog Guides
An introduction to dog guides for people with vision loss
Leaders Dogs offers orientation and mobility training