Editor's note: These book reviews by Peer Advisor, Amy Bovaird are part of the VisionAware Bookshelf Series. Each book shares a message of facing vision loss straight on and finding the courage and will power to move forward with life as someone living with a visual impairment.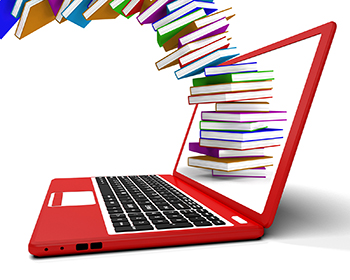 Harnessing Courage: Overcoming Adversity Through Grit and Gratitude by Laura Bratton
By Amy Bovaird
Laura Bratton's Harnessing Courage challenged me to dig deeper and try harder to live life more fully. Bratton never specifies the cause of her vision loss, but readers see that it unfolds as a child and impacts her school life greatly. Readers benefit from the tools that carry her forward through the life lessons she shares with us in each chapter. This is not just a book for those with vision loss, though as someone experiencing my own progressive vision loss, I was drawn to it through the title. How did I 'harness' courage to overcome adversity to live a deep and fulfilling life?
Her chapters seem like essays and vividly express strong life lessons—like having to drag in an anchor of her family's sailboat at a young age when she doesn't think she can do it. Bratton describes how her close family and friends serve as "life jackets" in the water to keep her afloat when she feels she is drowning on her own.
I loved her fine-tuned examples and even found myself underlining sentences toward the end, thinking, that's important to know! I don't want to forget that. Bratton takes her readers from seeing her as a vivacious three-year-old extrovert to where her vision loss changes her at nine and on to many other pivotal moments where positive changes take place through her life choices. Her life lessons show both the strong and the weak moments in her life. Her willingness to be vulnerable throughout her memoir encourages the reader to examine his or her life. At times, I felt like a bird circling back and scooping up grit and gratitude to move forward along with Bratton.
A very encouraging read! I would recommend this book to others regardless of their life situation.
Look Up, Move Forward: My Journey of Losing Vision and Finding Resilience by Becky Andrews
By Amy Bovaird
Becky Andrew's Look Up, Move Forward is well-named because it's all about moving forward, both mentally and physically, in spite of worsening vision—due to a progressive eye disease called Retinitis Pigmentosa (RP).
The book establishes her background, family support system, and character as it shows the progression of this eye disease. Andrews chooses to live life on her terms, in joy and gratitude, with the help of those around her. She goes through mobility training, tandem-bicycle training (for competitions), guide dog training, and training for marathons—setting the Boston Marathon as a larger-than-life goal!
What makes the book interesting to me is her vulnerability, which surfaces at various points throughout—a scene where she has to cope with shaking hands she can't see, another with a prejudiced eye doctor who questions her right to have children, and businesses who disallow her guide dog on the premises. What I like even more is her ability to problem-solve. Living with RP myself, I become overwhelmed, at times, with finding solutions. But she is dogged in her pursuit of what is right and fair, does find solutions, and often changes perceptions along the way.
Andrews hones in on her gifts to help others accept themselves and focus on their strengths. She uses her limitations to encourage others to seek what really matters, then move forward to pursue these goals, whatever they are.
Personally, I loved this book! Though Becky Andrews is modest about her accomplishments, she never backs down from a challenge, and I think both vision-impaired and sighted individuals need that example.
The Bookshelf Series
Reading to Enhance Mental Health and Well-Being
"Walking by Inner Vision" Book Review