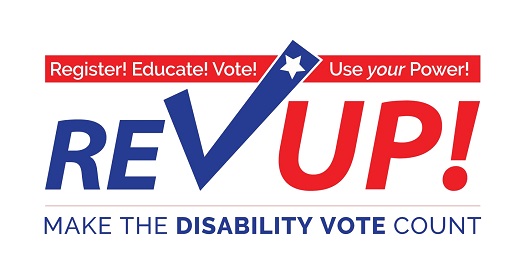 Caption: REV UP Campaign Logo, Courtesy of the Association of People with Disabilities
While many people are vacationing, attending summer camp, relaxing by the pool, and firing up the grill, others will be hitting the streets spending this July focused on a voter's registration campaign. Although the next national election is not until November, this campaign is concentrating its efforts early and specifically targeting the disabled voter. The REV UP Campaign is coordinating National Disability Voter Registration Week (NDVRW) during the week of July 16-20, 2018. The purpose is three-fold.
Get people with disabilities registered to vote
Educate them about this year's election
Prepare them to cast a ballot in November
The REV UP Campaign
The REV UP Campaign, which is a part of the American Association of People with Disabilities' advocacy efforts, stands for "Register, Educate, and Vote – Use Your Power!" It aims to increase the political power of the disability community while also engaging candidates and the media on disability issues. According to their website, the American Association of People with Disabilities (AAPD) is a convener, connector, and catalyst for change, increasing the political and economic power of people with disabilities.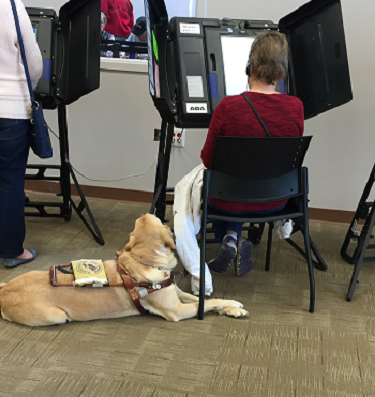 Another reason for the campaign focus in July is that the anniversary of the Americans with Disabilities Act (ADA) is observed during the same month. The law supports accommodations for disabled voters, such as accessible voting machines for the blind and visually impaired, poll workers to read and help fill out forms, and voting materials in alternative formats. Also, July falls before the voter registration deadline for some state primary elections. No doubt giving time to get the word out and get people registered to vote. So, the REV UP Campaign hopes to garner further attention from media and candidates running for office.
"The American Association of People with Disabilities (AAPD) launched the REV UP Campaign in early 2016; however, it was actually the brainchild of Bob Kafka and other disability advocates in Texas," said Zach Baldwin, AAPD Director of Outreach. "They used REV UP as a strategy to organize multiple organizations under one voter engagement initiative. After being offered and taking the REV UP brand to go national, AAPD convened a group of other disability voting advocates to strategize on next steps and how to grow the campaign. We landed on launching our own voter registration initiative as a way to build awareness about the potential power of the disability vote while also establishing a common event to organize and rally partners around the country."
Plans for National Disability Voter Registration Week
During NDVRW, REV UP will partner with state and local disability organizations across the country and provide them with resources and support to register and educate their community. There is a National Disability Voter Registration Week Toolkit available via the AAPD website. It includes a guide on how to organize voter registration events, ideas on other ways to participate, sample social media posts and graphics, and other resources. There is also a Candidate Questionnaire Template that explains how nonprofits can submit questionnaires while remaining nonpartisan as well as over 100 sample questions that partners can use to develop their own questionnaire for state and local candidates. Lastly, the REV UP Campaign will release an "Issues Guide" that will provide a summary of the issues and legislation that are having a relevant impact on the disability community. This guide can be both a tool to educate disabled voters and used by advocates.
Importance of Exercising Your Right to Vote
It is important that you exercise your right to vote. I have shared my experiences on VisionAware and strongly believe that voting is a powerful way to get your voice heard. We must be politically active in order to protect not only our rights but the programs and services that are essential to our community. "In 2016, Rutgers University identified that there were 35.4 million eligible voters with disabilities. However, only 16 million people with disabilities voted in the 2016 general election," Baldwin explained. "While voter registration is not the only reason for this level of turnout (access issues and transportation are significant barriers to many people with disabilities), we do know that the voter turnout rate and voter registration rate for people with disabilities was 6 percent and 2 percent lower, respectively, for people with disabilities compared to the rates for people without disabilities. National Disability Voter Registration Week is needed to address one of the barriers to voting experienced by people with disabilities and more importantly, to demonstrate that the disability community is paying attention, is getting registered, and is planning to vote to advance disability rights in 2018."
More Information
Using the Accessible Voting Machine
The Association of Americans with Disabilities
Voting and Self Advocacy Are Intertwined