I had the pleasure of interviewing James Boehm, a young entrepreneur who has his own custom cane business entitled "Kustom Cane." This personal story is the third in a series of articles on colored canes. Part 1, "The Impact of New Colors on the Long Mobility Cane" gave a brief historical evolution of the white cane in the U.S. and Europe and explored the perspectives of users of the long white cane, professionals in the field of orientation and mobility, and product manufacturers. Part 2 of the White Cane Safety Debate examined the effect of color on driver recognition and the legal protection under the "white cane" law for the user of a colored cane.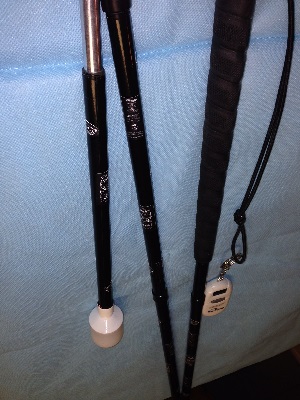 James Boehm's story bypasses the facts and figures of history, research, and legal concerns and adds a name and a face with a personal story to the evolution of the mobility cane used by blind and visually impaired people all over the world. How ironic it is that the first reported white cane created as a mobility tool was created by the British artist James Biggs, who had to readjust to his environment after losing his vision in an accident. Feeling threatened by increased motor vehicle traffic around his home, Biggs decided to paint his black walking stick white to make himself more visible to motorists. Ninety years later, James Boehm transformed his white mobility cane into black with added features to make it an extension of his own personality and individualism. In their own ways, these two men turned an ordinary cane into a tool that has contributed to the independence, freedom, and vitality of blind and visually impaired people all over the world!
Check out James's personal story about how and why he started Kustom Cane. Continue below to read James' account of "You Cane Give," his international cane give-away initiative.
Your Cane Counts
"Wondering what to do with that old cane you no longer use in the closet? Is that drawer of used canes collecting dust and taking up space? Donate your old canes to our new "You Cane Give" program. Kustom Cane is collecting donated canes to refurbish and send to individuals who are blind and visually impaired around the world."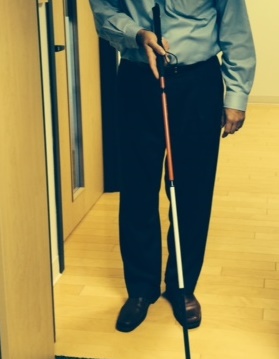 "Let's face it, we have it good in America. With the click of a button, we can order almost anything we need, including a cane. In countries like Mexico, China, India, and South Africa, people do not have access to the proper tools to empower independence and success. Do not let your canes go to waste! "You Cane Give" allows you to help us give your used cane to a person far away who needs it! Kustom Cane will give you a $15 credit towards the purchase of a cane or accessory if you donate a cane to "You Cane Give." We are in need of canes in all sizes. We have contacts in Peru, Nigeria, and South Africa wishing for a cane of their own. Kustom Cane is collaborating with Global Cane Outreach to put canes in the hands of people abroad."
Thank Yous Received About the "You Can Give" Initiative
"We are very thankful for the generosity that you, Jimmy, Wendy, and Shep have shown us. With these canes, we will show everyone around us that blindness never hinders anyone's goal to be a responsible citizen who is willing to live the life we dream of. We will continue to be productive like the typical human being in our daily endeavors. We also would like to extend our gratitude to the people who donated their canes. We cannot thank you enough for the love you have shared with us."
A special education teacher at the Laguna Resettlement Community School in San Pedro said, "I can now put my old cane to rest and look forward on serving the school every day with the new cane."
A woman who actively participates in the National Disability Prevention and Rehabilitation week in the province of Bicol says she is very excited to use the new cane. She says that,"My only problem now is that I do not know which outfit to wear matching my very stylish cane."
Contact Kustom Cane at 901-483-1515 or at kustomcane@gmail.com for more information. Put a cane in a hand and empower a blind person today.
Be sure to read James Boehm's personal story.
Also read his bio