Reading Bookshare Books on iBooks Announced
January 23rd is National Reading Day, which is observed as a time to encourage and celebrate the love of literacy among children. Although it has been years since I was a child, the love of reading has never left me. The ability to peruse a book, newspaper, or magazine has always been a delight.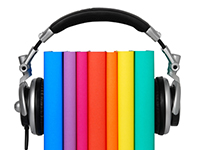 When I lost my vision 20 years ago, instead of reading printed books, I started reading audiobooks. One program I like to use is Bookshare, an online service that provides accessible books for people who are blind or visually impaired. When you become a member, you can download books to a computer or compatible device. I have been a Bookshare member for a couple of years, and I have enjoyed reading books from their library because they have books I typically don't find at the National Library Service, which is why I got excited reading my Bookshare newsletter last October. They announced I could now read their books on the iBooks app on my iPhone with Voiceover command. This was great news because in the past you had to pay for an app to read a Bookshare book on your iPhone or iPad. The two most popular apps are Read2Go and Voice Dream Reader. Read2Go costs about $20 and Voice Dream Reader is about $15. The iBooks app is free and already loaded on my iPhone, so I was itching to try it out.
Downloading Books to My iPhone
So, I got started. I had a list of books already that I wanted to read, specifically one for an upcoming book club meeting. I went to the Bookshare website and began to download the ebooks using the EPUB format instead of audio or braille. This particular format makes it compatible with iBooks. But I must admit, I found the Bookshare directions to be insufficient. They only addressed if you are using a Mac computer, not a Windows operating system. For example, the directions told you how to download the book from the Bookshare website, but it was not clear on how to transfer the book from the computer to your device. They also didn't take into consideration a person using an iPhone versus an iPad. I have been told there are some variations between the two. But after having a couple of conversations with Bookshare's tech support, I was able to come to a solution that worked effectively. The solution was to download the books directly from my iPhone using Safari instead of my desktop computer using iTunes. I logged into the Bookshare website, selected the book, selected the format, and downloaded. Once the book downloaded, it connected to iBooks and was placed in the iBooks library. This process was a lot easier, faster, and smoother.
iBooks Not So Easy to Navigate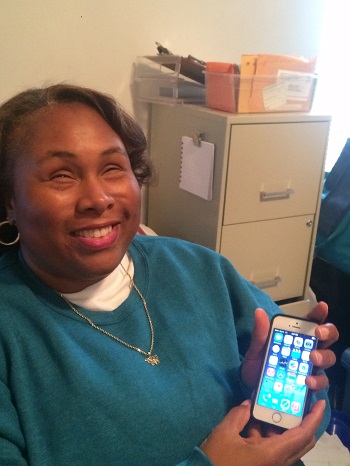 Mission accomplished, right? Wrong! More challenges abound. I opened up the iBooks app and began to try and navigate around to find and read my newly downloaded book. I found the book, doubled tapped on the table of contents, and started reading the prologue. This is where some of the challenges started for me.
Because Bookshare books are printed books that are scanned and not an actual audiobook, the layout and reading of the books are very different. I struggled to move to the next page and to keep up with where I was in the book. I contacted Apple tech support about this and spent quite a bit of time working with the app with them. We did some troubleshooting, and they sent me some articles to read on iBooks. I also went back to Bookshare tech support. They gave me advice for using Voiceover command for continuous reading that was effective, but I found I got lost in the book too much. The heading would say one thing, but the actual text was saying something else. For example, the heading would read "author's note," but the text you were reading was no longer in that section anymore. I think this all goes back to the fact that I was trying to read a print book that has been scanned. For instance, some pages are blank and some pages were shorter or longer than others. This could vary from book to book too. You don't deal with these factors when reading an audiobook.
I found that I spent more time navigating within iBooks than actually reading and enjoying the book. Sometimes when I would open iBooks, the book would be there on the page where I left off and then other times it would not. On those occasions, I would have to tap through the menus to get to the book, table of contents, and then to the section where I left off. As a result, my excitement about iBooks has cooled down, and I am working on using another app instead. I will consider using iBooks for other audiobooks but not for Bookshare books. After going back to the Bookshare website to do more research, I found that there is another free app called Capti Narrator. The information I read looks very promising, and I am going to give it a try. Perhaps this will be a better experience. Keep your fingers crossed and happy reading!
Reading Solutions for People with Vision Loss
Reading, Writing, and Vision Loss
Audio Players and Talking Books
Specialty Reading Products and Services