Editor's Note: To answer questions posed by readers,we have started a "Readers Want to Know" section of the Peer Advisors Blog. This is the Part 3 in that series.
Question
"How soon after vision loss (already seeing physician) should I look at support services to meet my needs? I personally had a hard time getting my eye surgeon to admit that my vision wasn't coming back anytime soon and was trying to work for 3 months until I was finally given someone to talk to. When talking with the services personnel, they said that this is common."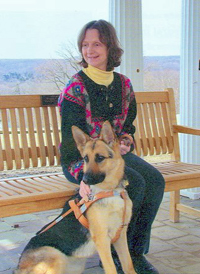 Peer Advisor, Sue Martin,VRT, Provides Thoughtful Insights
The sooner the better. It is not uncommon for there to be some passage of time between the onset of blindness or visual impairment and the beginning of vision rehabilitation services. The reasons vary but can include:
Lack of knowledge that vision rehabilitation services exist
Lack of knowledge of how to refer someone for services
Medical issues that might contraindicate rehab services
Fear or unwillingness on the part of the person with vision problems or blindness to accept services
In the ideal world, as soon as a medical professional knows that a patient has an injury or illness that has resulted in significant visual impairment, the patient should be referred for Vision rehabilitation services. The trick here is "significant." What does that mean? If someone is having difficulty with reading and writing, getting around, (both in the home and outside of it) cooking, cleaning, or personal hygiene, that person is ready for services.
I'm a peer advisor and a vision rehabilitation professional. I'm not a mental health professional. However, in my own adjustment to blindness and through my work in over twenty years in the field, beginning to learn the skills necessary to live with blindness is an important first step in the emotional adjustment as well as the practical adjustment. My blindness is the result of trauma. I was referred to vision rehabilitation services before I even left the hospital. I met my vocational rehabilitation counselor three weeks after I was injured and my rehabilitation teacher, now called a vision rehabilitation therapist, came to see me three weeks later.
She began teaching me braille during that very first lesson. At the end of the lesson I could read three letter words and felt that I had truly accomplished something.
Then I drew up short. Here's an excerpt from my book: "It had taken enormous concentration just to get to the point where I could read simple three-letter words. While this feat gave me some small feeling of accomplishment, I couldn't help thinking that the whole thing was absurd. The part of me that flew over fences mounted on a huge thoroughbred, the part of me that kayaked the toughest whitewater rivers in the Southeast, the part of me who had zipped through college—that part of me was almost ashamed. I was almost ashamed that learning to do something so simple as reading a three-letter word in braille gave me satisfaction."
A Changed World
But I "let" myself feel the accomplishment. It wasn't easy and it felt a little like moving into a whole new world. The title of that chapter, in fact, is "A Changed World." In my own experience, both as a recipient of vision rehabilitation services and a provider of same, there's no such thing as "too soon." The sooner you can begin to learn to live with visual impairment, the better.
Navigating the Waters of Vision Rehabilitation
If you've found Vision Aware you know that you need services. That's a huge first step. Being your own advocate, asking questions, seeking answers, all of these are important. Broadly speaking, there are five areas in which you might need or want services.
Read First Steps to Find Out More
You can learn more about where to start at Finding Services based on where you live.