Editor's Note: To answer questions posed by readers,we have started a "Readers Want to Know" section of the Peer Advisors Blog. This is the second part of that series.
Question
"I am completely blind in left eye and now the right eye has decided it is tired also. I would like to see listings of learning materials for us "newbies" in being able to take care of myself at home, It is vital that I learn these things. Thank you for all I have learned already."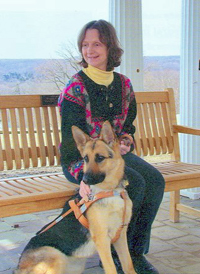 Peer Advisor, Sue Martin, Provides Thoughtful Insights
VisionAware has loads and loads of resources and learning materials. For example, if I enter "What is O&M?" or "What are cane skills?" into the search field at www.visionaware.org, I get the following resource, An Introduction to Orientation and Mobility Skills. If I enter "What are living skills?" I get Essential Skills, which is loaded with useful techniques for living with vision loss.
VisionAware also has helpful information that can help the person new to vision loss cope emotionally as well as a family guide to help family members understand what you are going through. In addition, the site has a great Directory of Services to assist you in finding services in your local community that can help you with making the adjustment to living with visual impairement and help you connect others who are living with vision loss. You may also want to check out the message boards and interact with others in that way.
Getting Started Kit
To make finding information on VisionAware even easier, you can use the Getting Started Kit, a fully-downloadable resource for you, your family, and your friends.
My Book Can Also Help
As I mentioned in Part 1 of this series, I have recently published a book entitled Out of the Whirlpool, a Memoir of Remorse and Reconciliation Chapters 4 through 14 of the book are concerned with my own process of rehabilitation. Those chapters have been edited so they can stand alone and serve as a resource for anyone interested in the process of adjusting to vision loss or blindness. All ten of those chapters are available on my website.
What my book brings to the table is a different way of learning about living with blindness. It's one person's journey from the first days of being blind to the place where I find myself today, happily married, working a great job, being a published author. I had great rehab services. I'm convinced that those services started me down the road to the place where I stand today. At times, the road I've traveled has not been easy. It took a lot of work and determination, but I did it. If I can do it, you can too.