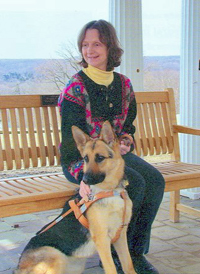 First Question of the Peer Advisor "Readers Want to Know" Series
"What could a person with sudden vision loss expect for outcomes and how to manage their expectations?"
Peer Advisor, Sue Martin,VRT, Provides Thoughtful Insights
Based on questions visitors ask, it's clear that readers want to know what to expect if they or a family member is losing vision. Ths, we are starting a "Readers Want to Know" section of the Peer Advisors Blog similar to the series Maureen Duffy has begun.
Then and Now
I've been blind for over thirty years so I've had plenty of time for emotional adjustment and the learning of new skills. I thought it might be instructive to compare how I felt and what I could and couldn't do in the early days of my life with blindness to those same kinds of things in my life today. I'll preface this by saying that, with education and determination, there's no reason you can't be the same person you were before the onset of blindness or a visual impairment and that you can't take up all of your activities again. If there's a task you want to do, there's probably an adaptive way of doing it.
My Book Tells the Story
I have recently published a book entitled Out of the Whirlpool, a Memoir of Remorse and Reconciliation Chapters 4 through 14 of the book are concerned with my own process of rehabilitation. Those chapters have been edited so they can stand alone and serve as a resource for anyone interested in the process of adjusting to vision loss or blindness. All ten of those chapters are available on my website.
From Chapter 4, A Changed World
In the following excerpt, I describe coming home from the hospital following the events which caused my blindness. The chapter begins, "Finally the day came when I left the hospital for good. As my mother opened the front door she said, 'Welcome home, honey.' 'Thanks, Mama,' I said. 'It's good to be home,' I added, without a great deal of conviction because I just wasn't sure. To say that it felt strange to be home would be an understatement. I felt reasonably sure that nothing had changed, but I felt equally sure that absolutely everything had changed. It was like starting all over again. There were no half-finished projects to which I could return. There was no half-finished book lying on my bedside table just waiting for me to pick it up again. I didn't even know if there were cookies in the tin on the counter waiting to be eaten. It was as though I was entering the house where I had lived for twenty something years for the first time. I had a history in this house but that history seemed somehow irrelevant."
Then, the chapter ends.
More of My Story
"I had a conformer in my left eye. It was just a blank piece of plastic that I needed to keep in the socket until all of the healing from the surgery was over. I could then be fitted with a prosthetic eye. At first, the eye was bandaged, but by the time I left the hospital they were able to take the bandages off and give me a patch. They told me not to get it wet. That meant that I couldn't take a shower but had to take a bath instead. My mother offered to help me the first time I took a bath. I thought this a little ridiculous but didn't possess the fortitude to decline the offer. It was horrible. My mother knelt beside the bathtub and both helped and spoke to me as though I was a child. I was so humiliated. I was just hating this. The next time bath time came around I summoned up some courage and independence from somewhere and just took a shower. I washed my hair and everything, getting my left eye quite wet during the process. My parents were alarmed, but it ended up causing me no harm whatsoever. From this experience I learned that rebellion is sometimes a good thing. Most importantly, I learned that there was absolutely nothing wrong with me intellectually or spiritually. By spiritually, I mean that my strong and independent spirit was still alive and well. It had been cowed, certainly, but it was still there. I could nurture it. I could build on this."
Now, An Ordinary Day
In contrast, here's a description of my day yesterday. It was a holiday so we slept later than usual. I had been awake for a while but had been listening to some quiet music on my iPhone. I decided to go ahead and get up when my guide dog, Kismet, started getting restless. (Kismet came from the Seeing Eye School.) I let the dogs out, got some coffee brewing, and turned on my computer. With coffee in hand I caught up on the news, checked Facebook and Twitter, and sent a reply to a couple of emails. All of this was done on my PC (personal computer) which I access with a screen reader, a program that makes the computer talk to me.
Later, when my husband, Jim, had done pretty much the same activities, with the exception of his computer talking to him (he can see just fine), I made brunch. This consisted of scrambled eggs, hash browns, sausages, and home made cornbread.
After brunch, we each pottered around the house. Jim fed the birds. I took care of the plants, both in the house and in my greenhouse. Then we went for a long walk in the woods.
We took a trail that we take frequently so Kismet knows the way. Parts of the trail are wide enough for us to walk side by side. We walked together, commenting on the birds we could hear, Jim pointing out the spot where he had seen a deer earlier in the day. Other places, the trail was narrower. We swapped off the lead, sometimes Jim was in front with our two pet dogs on leash and other times, Kismet and I took the lead.
After our walk, we had a nice soak in the hot tub on the front porch. Then, after a quick shower, we headed to town to catch a movie.
Enjoying the Movies
We had read the Hunger Games trilogy together, listening to the audio books purchased from Audible.com. We went to see the movie of the second book, Catching Fire. We snagged a transmitter with headphones at the customer service desk, loaded up with popcorn and soft drinks and settled down to watch. This was our first experience with audio description in a theater. When the movie started, I slipped on the headphones and was then listening to recorded descriptions of the action on the screen. (Note,VisionAware has more information on going to the movies with audio description.
It was fabulous. Jim didn't have to describe things to me so he could relax and enjoy the movie. For the first time in thirty years,I was laughing and gasping right along with everybody else. It was a pretty good day.
Just Getting Started? Find Out More About Living with Visual Impairment
Download our Getting Started Kit.