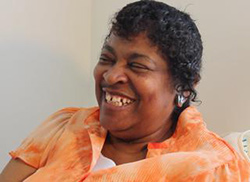 Editor's note: Shirley Jordan, our guest blogger, has been served by the Columbia Lighthouse for the Blind and was recruited for this post by Michelle Miller, peer advisor.
A Shining Star Covered by Clouds
When my neighborhood reached the time between light and dark, right at that magic moment of twilight each evening, I instantly began to shut down mentally and physically. The fear of the dark was so paralyzing I stopped doing anything after sundown. The shining stars were no longer a joy for me, so why bother with them?
I knew I was limiting myself, shutting friends and neighbors out, and losing opportunities, but being available after dark would not only terrify me, but also others might really begin to discover my secret.
Living in the nation's capital was so exhilarating, and filled with a constant vibe and the electricity of life but I only wanted to be a part of it during the times I had some usable vision. Yes, that was my plan, and I was sticking to it.
My change in vision due to macular degeneration was my secret for the last ten years, and I did not want my neighbors to feel sorry for me or think less of me. I've grown up with them and now in my sixties, I have earned their respect, and I did not want my status to change.
As the years continued with my vision deteriorating; I began developing other challenges such as reading my mail, taking notes for appointments, and keeping my calendar.
So with my strong mind drilled with resolve, I reached out to the Columbia Lighthouse for the Blind (CLB). Even though in my mind I was not blind, I thought they might be able to help me with some tools to help me read. I was referred by a friend, so I decided to see what it was all about.
Shifting of the Stars
Once I made the call things began to move so quickly, I didn't know what hit me. I had a case manager come out and meet with me, and tell me about all the tools and devices available as well as the support groups. Soon thereafter, I participated in support groups and activities a few times each month, and that was where I learned about the SARA, a scanning and reading machine that was designed to read my mail to me. I could not believe there was a piece of equipment that would do something so nice. And then it was my lucky day, when a Sara was given to me by CLB. Yes, yes, yes, someone had donated it to them, and they gave it to me; every day, I thank my lucky stars for it.
At the same time, I was blessed by my new reading device; I also began learning about the white cane. I knew it was something I did not need or want, but at least I learned about it. I had it if I ever wanted to try it, but I knew with that tool in my hand everyone would know my secret.
During my Orientation and Mobility lessons (O&M), we'd work outside my neighborhood for the most part, so I could practice without feeling observed. During this time, two years ago, CLB was developing a new Foundations to Adjustment to Blindness Course (FAB), and I was invited by my O&M instructor Brandon Cox to participate in the first course held in Washington, D.C.
I was a little hesitant because of my age, and the fact that I was not really "blind." So I did not believe there was too much I could gain from such a course. But because it was so near my home, I could leave, if I was not engaged, so I decided to enroll.
Alignment of the Stars
From the moment I walked into the room, I knew something amazing was about to happen. I was one of seven participants, and we were going to spend the next two weeks together learning some of the basic skills pertaining to independent living. All of us were nervous, but soon we all discovered so much that we had in common and shared about our vision, lives, and community relationships.
I was the most senior person in the group, but I loved being the wise woman that everyone came to for advice and feedback. With this recognition, my confidence really grew. In addition to learning so much, that I gleaned from the staff, Michelle Miller and Brandon Cox were the key players in gifting me this opportunity. Michelle was the one who developed and designed the program; together she and Brandon started it and gave all seven of us a gift. Observing them direct the FAB program, and teach us lesson after lesson throughout the day was life changing.
Surrounding myself with class mates and instructors with vision challenges, I knew what they could do was possible for me, too. I cooked meals using new techniques, I learned more about navigating in public with my cane, and, most importantly, I learned that there were ways to organize and mark things in my home to be more efficient and safe.
Shining Star
I fast forward two years later, and I have hardly had a moment since that course to take a breath. The words Michelle Miller shared with me on the last day of FAB have continuously reverberated in my mind when my vision diminished even more, or a new challenge presented itself. "Ms. Shirley you are a natural born star, and you always shine so much, and now that you have a strong foundation under you filled with some new skills, it's time to help others shine."
So that is exactly what I have done. I am now a member of my local chapter of the National Federation of the Blind, I am a community volunteer, and I attend the FAB class each month for two days to mentor new students, and served on a community advisory committee for CLB. My life is so filled with giving, and learning, and stretching now that I never even notice if twilight has come or gone, but I am always reaching to be a brighter star for everyone who I touch and who shines alongside me no matter if it's dark or light.
The FAB program is funded through Title VII, Chapter 2 of the Rehabilitation Act, which provides limited funding for a nationwide service delivery program for older persons with vision loss. The program is administered through state vocational rehabilitation services agencies. Find out more about specialized services for older persons with vision loss and what you can do.