Editor's note: Amanda Dennis is a twenty year old senior undergraduate student at the University of Georgia studying Sports Management and Exercise and Sport Science. She was born with aniridia and nystagmus. As a child with a visual impairment, her parents exposed her to adapted sports. She became a serious competitor in goalball, a sport designed specifically for the visually impaired. Amanda advanced through the levels to eventually compete in the Paralympic Games in London in 2012. Currently, she is training for the Paralympic Games in Rio de Janeiro in 2016. Here, she tells of her inspiring journey to become the "best she can be" in goalball and life.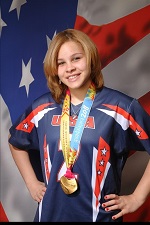 How I Got Involved with Goalball
I got involved with goalball through a sports program in Atlanta for the visually impaired. Many of my friends also wanted to play, so we checked it out. Upon learning what goalball was, I instantly found a love for the sport. Finally, I found a sport with which I stood on equal grounds with my peers. Since everyone is blindfolded, no one has an advantage over others. One summer I attended a Sports Education Camp. This camp taught me a lot about how you can adapt any sport to make it accessible to the visually impaired. They had Paralympic Athletes from the United States Goalball team come in to teach about goalball and track and field. Through this experience I learned that I could do anything with my disability.
Competing in Goal Ball Tournaments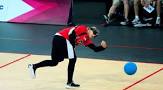 I started competing in goalball tournaments around the country at ten-years old. I gained skills and knowledge to further my competition skills and made connections with other blind and visually impaired individuals. By going to these tournaments I discovered other resources for youth such as sports camps, Olympic days, and local organizations that hosted events for the visually impaired.
Invitation to U.S.A. National Youth Camp
When I was 15, I got invited to my first U.S.A. National Youth Camp to try out for the International Blind Sports Association (IBSA) World Youth and Student Games competition held in Colorado Springs. At this camp I learned how to cohesively work with a group of individuals who never played on the same team together and developed certain skill sets such as accuracy, speed, and defensive shifts which would help me become a more successful player in years to come.
First Youth International Competition
I competed in my first youth international competition when I was 15, and my first adult competition at the age of 17. At age 18, after years of hard work on and off the court, I made the U.S. Paralympic Team, to compete in the London Games in 2012. Competing in the Paralympics turned out to be more than I ever imagined. I became a better athlete and a better person from that experience. It's something bigger than just winning medals. It's an honor to compete on an international stage and represent the red, white and blue of the American flag. You're able to honor the coaches, parents and peers who believed in you and pushed you towards reaching your dreams. Making it to the Paralympics, the largest international event, was worth all the hard days at the gym and failures along the way.
Desire Grew to Be Better than Before-As An Athlete and Personally
Though we did not come back from London with a medal, I learned more than a medal could have taught me. I learned that defense, teamwork, and relationships with others are what win championships. From London I walked away with the desire to be better than I was the day before both as an athlete and in my personal life.
After London I took a hard look at myself. Our team was set to win a medal – we were favorites, yet we didn't perform to win. I wanted to be a better asset to my team so I constantly trained off the court. I sought help from others for training and ended up working with a strength and conditioning coach. I set personal goals and demolished barriers to my goals. I pushed myself through tough workouts and days when I thought I had no more to give. Eventually, I realized hard work would set me apart from others who share the same dream of becoming a champion.
"Every time I put the uniform on, I get the same feeling – it's not about me anymore, its about the country"-Nick Cunningham – USA Bobsled
The 2014 IBSA World Championships
Our most recent success was at the 2014 IBSA World Championships. This is an event that qualifies you for the next Paralympics, which is in Rio de Janeiro in 2016. Though we were favorites heading into world championships, we faced many ups and downs trying to reach our first goal of making the quarterfinals. We had to play the best team in the opposing pool, Brazil. This was a game that really tested how much we wanted to qualify for Rio. We ended up beating Brazil in a close defensive game that ended 5-3. That very same day we had to face Japan in a semi-final. The winner would qualify for Rio and play in the championship game. Japan is the reigning Paralympic champion and we fell to them two years ago. We knew that we would be able to beat Japan if we got a point on the board and kept our defense. We had a strong game strategy. We were able to push past Japan, qualify for Rio, and would play Russia for gold the next day.
The next day we went into the game with our sights on a gold medal. We had already qualified for Rio; which is what we came to do, but we wanted to hear our national anthem. We were about to play to see who was the best team in the world. It wasn't about us anymore; it was about our country, playing for the honor of representing the stars and stripes. Team USA hasn't won a World Championship since 2002.
World Champions
We started out with a goal on the first throw of the game. We thought "we are winners, we will prevail, and we will be World Champions." Through strong defense and Russia earning two penalties, we secured the win to become World Champions, honoring our country, and most importantly hearing our national anthem on top of the podium. It was a celebration of hard work and sacrifices.
Goalball Has Made Me Who I am Today
I've taken away more than skills and successes from playing a sport. Goalball has made me who I am today. Through Goalball I've learned the value of hard work, determination, perseverance, responsibility, failure, accomplishment, teamwork, and most importantly leadership. Being blind or visually impaired is a disability, but playing a sport helps demonstrate that your disability isn't a disability at all. You're able to develop abilities through sports that will help in life.
Adults and youth can get involved by finding their sport associations for the blind in their states. Check out the resources below.
More Resources
United States Association of Blind Athletes
Find A Local Program in Your Community
Physical Education and Sports for People with Visual Impairments Chapter 9: Organized Sports for Children and Adults with Visual Impairments: Goalball and Beep Baseball.