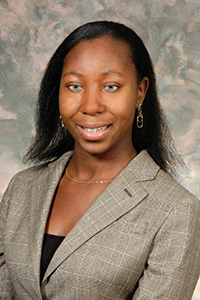 Editor's note: This is the second installment in the OPEN series begun last month by Angela Winfield,Esq. It is a fitting post to launch Thanksgiving, a holiday that is full of hope. As W.T. Purkiser said, "Not what we say about our blessings, but how we use them, is the true measure of our thanksgiving."
Where Do You Begin Your Journey
At times, you may feel lost, like you have a long way to go. Or, perhaps, you don't know where to turn or where to go now that you are visually impaired. I know that was the case for me. Sometimes even the smallest tasks putting toothpaste on my toothbrush or buttering a piece of bread seemed so daunting. Everything seemed so far out of my reach and I didn't really know where to begin. So, I did a lot of nothing. Doing nothing, certainly didn't get me to where I am today, but that is where I began my journey.
Now, where do you begin your journey? The wise words of ancient Chinese philosopher Laozi (Lao–Tzu), "a journey of a thousand miles begins with one step" comes to mind. That sounds nice and profound, doesn't it? But, what do these words truly mean?
This proverb means two essential and powerful things:
The journey starts from right where you are, wherever and whatever that is for you. Whether you have been visually impaired for a month or ten years. Whether you are sixteen years old or sixty. Whether you are in the middle of your career or well– settled into retirement. You start exactly where you are.
You know where you're trying to go. The proverb says the journey is a thousand miles. This implies the journeyer knows the distance from where he or she is to his or her desired destination. Your journey may be shorter or longer, but you'll want to know the distance.
Beginning Right Where You Are
If you put these together, you begin from right where you are and with your destination firmly in your mind. If you do this, your first step assuredly will be in the right direction moving toward your destination. As my husband points out, a tumble down a flight of stairs begins with one step as well. SO, to avoid tumbling, to the extent you can, you want to make sure your steps are in the right direction. To do this, you want to have a proper plan.
P–Plan: The Second Master Key
Your plan is your guide for traversing the distance between where you are and where you want to be. Having a plan helps you stay on course or get back on course when you encounter an obstacle like a flight of stairs or when you take a detour either intentionally or unintentionally. You can think of planning as preparation especially if you are adverse to planning. When I am working with my private coaching clients on this master key, I take them through a three stage process: getting crystal clear on the appropriate destination or goal. It is critical that you consciously choose the correct destination for yourself because any goal or someone else's goal for you, no matter how good or reasonable it sounds, won't work. Next, we discuss getting honest about where you are currently by taking a self–inventory. Lastly we focus on bridging the distance with incremental action items and steps. Essentially, you plan, plan some more, and then expect the unexpected because the unexpected is part of not only planning, but life.
Planning My Career
For me, career-wise, I wanted to be a lawyer because that was my destination. I wanted to be a lawyer ever since I saw Clair Huxtable on The Cosby Show. Nevertheless, I took some intentional and unintentional detours. I explored other fields, listened to advice and suggestions of others, but kept coming back to the law. My blindness obviously put some hurtles in my way. But by having a plan and applying the other three master keys, I was able to take one step, then another, then another and another until I reached that destination.
Teaching Others to Reach Their Destinations
When I reached that destination, I realized more about what I wanted and other destinations I wanted to reach in life including teaching other people how to do the same in their own lives. That is why I am sharing all of this information with you and why I founded Blind Faith Enterprises LLC, my motivational speaking and personal coaching company. I want you to be empowered to take those purposeful, meaningful and hopefully delightful steps toward your destination.
Your destination does not need to be the same as mine. It doesn't even have to be career related. It can be something like wanting a hobby to enjoy, wanting to cook a special meal, wanting to venture outside your house independently, wanting to meet new people, or wanting to have more spending money.
Two questions About Planning Your Destination
What's your destination of choice and why? Really think about this last part. Why are you choosing this particular destination for yourself?
What is one tiny step that you are ready, willing and able to take today that will move you closer to your chosen destination?
Take a little time to think about and answer these questions. They will help get you started on putting together your plan so you can get moving on your journey.
Next time, I'll share the third master key, education, and it's not the type of education you're probably thinking about. If you missed the first post in this series, where I introduced the four master keys to happiness and success, you can read it here. Until we meet again, please let me know what you're thinking and feeling.