Editor's Note: With Independence Day just ahead, VisionAware peer Empish Thomas has written about a vital aspect of independence for people with vision loss—grocery shopping. Empish discusses some new ways that retailers are making it possible to shop more autonomously than ever before.
Pickup or Delivery, a Different Way to Grocery Shop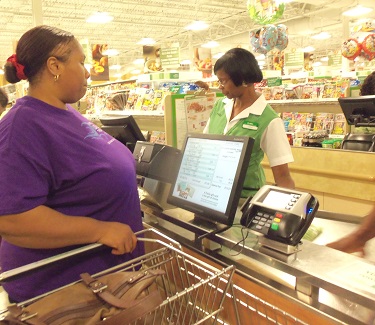 A couple of months ago I started a different way of grocery shopping. In the past, I would inventory my pantry and refrigerator to restock, make a list, and catch the bus to my favorite grocery store. Once there, I would venture over to the customer service counter, get assistance, and do my shopping and go home. I still shop in that traditional and familiar way, but when I got a postcard in the mail from Walmart to try their grocery pickup services, I decided to try something new. I also have discovered that grocery shopping pickup and delivery services are what's trending now. I have to admit I was a little hesitant. I wondered would the person doing my shopping do a good job without my presence? How would they pick my produce? Would my bread be fresh and not smooshed? Would they check the expiration date on my milk? These were the questions I thought about that caused me to pause when thinking about grocery pickup and delivery services. A friend encouraged me to try and just see what would happen. If I didn't like it, I could always go back and do my shopping the old-fashioned way. No harm, no foul, right?
Walmart Grocery Pickup
The first service I tried was Walmart Grocery Pickup. I found the experience very pleasant. First, the website was very easy to navigate with my screen reader. As I searched for items to place in my cart, it would add them up at the bottom giving me a sub-total. Additionally, I could add items to my favorites so that in the future, I wouldn't have to look up the same items over and over again. A couple of times I got a little stuck on what to do and simply called the Walmart Grocery customer service number, and the representatives were very helpful. They were patient while I navigated the website and assisted me with solving the problem. I like the idea of substitutions. So if an item is not available on your list, you can choose a substitution or not. You can even do same day pickup and definitely next day. There is no charge for the service; you just pay for the groceries and tax. I used my cell phone so that I could get a text message of when my groceries were ready. I also downloaded the app so that I can "check in." This lets the Walmart representatives know that you are there and ready for your pickup.
Now for a little snag. Walmart Grocery is a pickup service, and they cater to people who drive. Of course, since I am blind, that doesn't exactly work. So I do catch the bus so that I arrive at the pickup time. I sit in the delivery area until they text me that my groceries are ready. Then I call the pickup number and let them know I am in the store and that I am blind. They bring the groceries over; we go through and check my order for accuracy. Then I either take the bus or Uber home. I have done this on several occasions and found it works very well.
If you decide to use this option and you are having someone drive you, download the app on your smartphone and check in. There you will be directed to drive over to the pickup area. You will also be directed to give the make and model of your car. A Walmart representative will come out and put the groceries in the car.
To find out about what Kroger is offering with their new ClickList service, be sure to read Aaron Preece's article in AccessWorld.
Instacart Delivery
About two weeks ago, I tried Instacart Delivery for the first time. I had been hemming and hawing about using it for several months and just couldn't make up my mind. After having brunch with some girlfriends and talking about grocery shopping, I decided to take the plunge. I had already downloaded the app and started playing around with it. Instacart had the following options of stores I could shop from in my area: Publix, Kroger, Aldi, and CVS Pharmacy. With Instacart, a person will shop at the store of your choice. You will get your items within two hours or so. There are fees associated with this service (i.e. delivery, service, and tip for the shopper). The first time I shopped my fees added up to about ten bucks, which would have been what the price for a round trip on Paratransit cost.
Using Instacart, I shopped at Aldi and didn't have too many problems using the app. I placed each item in my cart but did notice that items were not being added to my favorites. I contacted Instacart customer service about it, and they were unable to explain the issue. They shared that once I ordered items, I could "purchase them again" from my previous order. Once I checked out, I got a timeframe of about two hours for delivery. Instacart shoppers select your groceries in real time, so as you look at your app, they are purchasing items. If there are problems, they will text you. For example, the milk had expired, and my shopper asked for suggestions of what I wanted to do next. I texted her back a solution. Then she explained about not finding cucumbers and frozen asparagus. I texted back on that as well. I found this process great although a little stressful. I like the fact the shopper is checking in with me on items; however, the texting back and forth was rapid as I am not a regular text message person and use Voiceover on my iPhone. So, by the time I replied to one message, I was getting another one. After all the texting back and forth was done, I saw her check out and then send an ETA (estimated time of arrival) of when she would reach my home. The ETA was very accurate, and she arrived and placed the groceries on my kitchen counter. She also explained the situation with some of my items to be sure I totally understood what happened in the store which I appreciated.
Amazon Fresh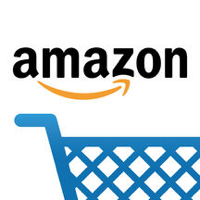 I have not tried Amazon Fresh and don't live in the service area. So I reached out to a friend and called Amazon to learn how it works. Although I don't live in the service area, I can order from their pantry which includes dry goods like cereal, canned items, and snacks. To use this grocery delivery service, you must be an Amazon Prime member, which you can pay either annually or monthly. I was told that both the website and app are very accessible and fairly simple to use. Searching for items seems to be easier on the website than the app, but first, you must type in the words "Amazon Fresh" in the search bar to get started. Instead of a favorites list, Amazon Fresh has a wish list and grocery list that you can use to order your items. Amazon selects its groceries from one of its neighboring fulfillment centers and Whole Foods. In the years that my friend has used Amazon Fresh, she has had few substitutions and has found odd items not typically found in a regular grocery store. For example, she was looking for vegan Worcestershire sauce and was pleasantly surprised that Amazon Fresh actually had it. Like other Amazon orders, there is no delivery fee if ordering over a particular amount, but a tip for the driver is encouraged. Delivery can be the same day or following days. Delivery options include doorstep or attendant. If you select doorstep, that means your groceries will literally be dropped off at your door. Sometimes, depending on driver availability, this option might be chosen for you regardless. The other option of attendant means that the driver will come to your home and personally deliver your groceries. When your groceries arrive, they are packed in dry ice for temperature control and to maintain freshness. Other items that are fragile are wrapped in bubble wrap to prevent breakage.
A Different Way to Think About Grocery Shopping
Deciding to have your groceries delivered or picking them up can provide you with extra choices during your shopping experience. Sometimes these options are preferred because they provide a totally new level of independence plus a time and energy saver. No more waiting at customer service for a person to help you walk around the store to shop. No more waiting for a family member or friend to take you shopping. No more asking for patience and understanding as you "touch and feel" your items or read a label to ensure it is what you want. When you shop through delivery and pick up services, you have more control over the situation, and the power is in your hands.
Additional Information
Walmart Grocery 1-800-924-9206.
Instacart 1-888-246-7822
Amazon Fresh 1-888-280-4331
Kroger Expands Access to Online Shopping