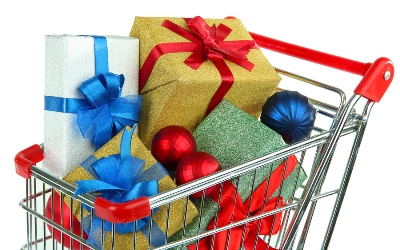 The VisionAware peer advisors and Maureen Duffy, writer and editor of the VisionAware Blog, have all contributed to this post. Also be sure to read our new holiday gift guide for people who are blind or visually impaired.
Peer Advisors' Gift Bucket List
Deanna Noriega
Deanna Noriega loves to cook and highly recommends a kitchen timer on a cord.
Audrey Demmitt
For crafters, Audrey Demmitt suggests an adjustable task lamp for crafters with the added bonus of coupons to decrease the cost! And how about supplies like beads, clay, paints, a Touch of Yarn book for knitters who are blind? Read VisionAware's tips on setting up a craft area.

Audrey also recommends other practical items such as boxes, baskets, or organizational containers for storage, soft and cuddly throw blankets, and scarves.
And last, but not least (especially for getting in shape after the holidays), home exercise equipment such as handweights, balance balls, and yoga mat along with a Blind Yoga CD set. She suggests trying BlindAlive for some "eyes-free" exercise ideas. You might also throw in exercise clothing and shoes, as well as a talking pedometer. She recommends that hikers might enjoy a backpack and a colorful mobility cane and tips.
For the person who has it all, how about a massage, facial, manicure, pedicure, and a donation to a favorite charity?
Lynley Hood
Lynley recommends LED lamps for reading. LEDs illumination is bright, uses less electricity, does not heat up (good to keep from burning oneself). She says, "get a model that can be used next to an easy chair!" For more on LED lighting, check out this video on LEDS.
Max Ivey
What do Jack Benny, Hopalong Cassady, and Dr. Kildare have in common? All are shows that can be found on Vintage Radio for a monthly subscription. They offer a 90-day subscription gift package for only $20 and the shows that you download are yours to keep! Max says, "I've gotten a lot of enjoyment out of them and the site is very easy to use."
Maribel Steel
Maribel suggests both practical and personal gift items, believing "it is often that quaint little thing from a friend that brings the most pleasure." Here are some of her favorites:

Double pack of large print cards for Canasta players
A piece of jewelery with your birth stone
Good quality perfumed soap wrapped up in a pretty new handkerchief.
Lavender pillows or eye soothers (good for long flights)
Quirky kitchen items like measuring cups in gorgeous different colours or unusual shaped bowls for those who love cooking
A music CD or record store gift voucher
Tactile radio or a portable hand size radio with ear-buds, great for travel or night owls
Decorative lamp that will act as a beacon on furniture
A gift membership to Audible.com for book worms anywhere in the world
Knitted water bottle covers and warm scarves
And readers from Australia, might enjoy Castille de Fleur, which has a range of pure ingredients for skin care, room defusers, body lotions and natural essential mists for the home.
Wrapping It Up
Maribel suggests that instead of using traditional wrapping paper, you can bring a warm personal touch to gift giving by wrapping a present in a piece of pretty fabric or a silky scarf and gather up the ends to form a bow.
Other small packages can be wrapped in colorful tissue paper and tied with a length of lace or thick satin ribbon, pom poms or thin strands of tinsel.
Anything that can stick to a surface, can be placed on top of a gift to bring tactile pleasure as well as a visual one, such as a decorative butterfly on a clip or a dainty artificial bouquet of miniature flowers purchased from a craft store. Don't forget, you could also scout out some great wrapping paper from your children or grandchildren by asking them to make some colorful paintings on large pieces of paper which makes gift giving a real festive affair!
Editor's note: Maribel has also written a cookbook, My Mother's Harvest: A Collection of Family Recipes & Short Stories. The book contains a selection of fifty-five family recipes, that have nourished three generations. In the second half, Maribel recalls stories from her childhood, making the connection between Spanish and English culture and cuisine and how these colors and flavors have become a part of the lives of her Australian children. It is available as an ebook (iBooks for iPad format).
Maureen Duffy Adds Her Faves
Jewelry
Maureen says, "Alice Lynch's braille jewelry really holds up to daily wear and tear and I love her work. She designed a bracelet for me. The design process was an interesting one. Via email, Alice asked about my likes and dislikes, my personal style, and my color preferences. (That last one is easy: black, black, and…black!) I asked her for something a little bit punky, and in no way formal. The bracelet Alice produced was pure me and pure genius! It's composed of three dark-chocolate — almost black — brass chains; two thin, one chunky, fastened with an incredible Goth-y, Steampunk-y clasp."

"The pièce de résistance, however, is the seven silver charms/discs, each containing a brailled letter of my first name, that are attached to seven consecutive links along the chunky chain. It is beautiful and is utterly me."
Alice designs for men and women. Examples of a woman's necklace, and braille ID tags for men or women, are below.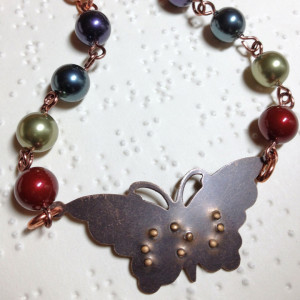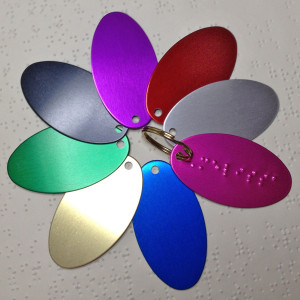 Clocks
The Curve, "the best, simplest clock that I've come across in my years as a Vision Rehabilitation Therapist."
"For people with low vision, I recommend a the Reizen Low Vision Clock with a yellow face and large, contrasting, bold black numbers."
Organizing
"For people who have a hard time keeping up with their TV remotes, glasses, pens, almost anything small, I recommend a bed or arm chair caddy, available through Walmart, Amazon, and other vendors."
Marking
Also, on Maureen's stocking list are tactile dots such as Can-Do Bumps and Round Stick Ons, which are really useful for all sorts of labeling and marking tasks.
Where Can You Find Other Products?
You can find many products through VisionAware's Helpful Products Section which has links to the AFB product database as well as to specialty catalogs. Tip: most of these catalogs or stores have gift certificates.