Editor's note: This is Part 2 in our Holiday Favorites recipes. It is included in the new Cooking with Confidence Series, led by Leann Gibson, Chef and VisionAware Cooking with Confidence Correspondent. You may want to read Part 1: Desserts.
Appetizers
---
Ratones
Submitted by Stephen J. Wilson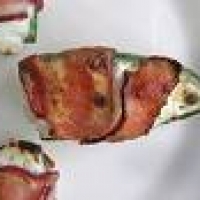 As we approach the holidays, I'm reminded of the season with smells of peppermint, cinnamon, and nutmeg. I sometimes wonder if the smells of a good old' home cooked meal might be somewhat therapeutic. Call it aromatherapy if you will, there just isn't anything better than walking in to my house smelling spices blended with simmering meats and vegetables. This is a southwestern dish that's been a hit.
Directions
Take fresh jalapenos and cut them in half down the center without totally separating the two halves. Scoop out the seeds, (or leave them in if you like it hot) and stuff mozzarella cheese inside the peppers. Then wrap a slice of bacon around the peppers holding the bacon (and two halves) in place with toothpicks on each end. Place Raton's on the grill or in a pan for the oven. Grill or bake until the bacon is done and Walla!
Please note: When working with fresh jalapenos, consider wearing latex gloves as the flesh and seeds can cause a burning sensation. Do not touch your face while you are working with this ingredient.
Buffalo Chicken Dip
Submitted by Audrey Demmitt
When I make this I use only one package of cream cheese, less ranch, and hot sauce. This is my family's favorite appetizer for special occasions!
Ingredients
4 boneless, skinless chicken breast halves
1-12 oz. bottle Texas Pete hot sauce
2 packages 8 oz cream cheese
1-16 oz bottle ranch dressing
8 oz shredded Monterey Jack cheese
Directions
Boil chicken until fully cooked. Chop and shred the chicken and place in 13×9 baking dish. Pour Texas Pete all over meat and stir. In a saucepan, heat cream cheese and Ranch dressing until smooth. Pour this mixture over chicken in an even layer. Top with cheese and bake uncovered at 350 degrees for 30 minutes. Let cool for 10 minutes. Then serve with celery sticks, tortilla chips, and crackers.
Easy Cheeseball
Submitted by Audrey Demmitt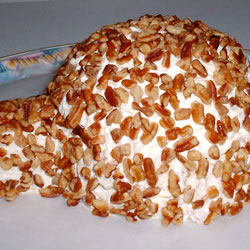 Ingredients
1-8oz package soften cream cheese
2 green finely chopped onions
3 oz chipped finely chopped beef
1 tbsp Worcestershire sauce
¼ cup Parmesan cheese
Chopped nuts for garnish
Directions
Mix all ingredients. Form a ball and cover with nuts. Serve with crackers and veggies.
Vietnamese Rice Paper Rolls
Submitted by Leann Gibson
The great thing about this recipe is it can be made ahead of time and can be made for one or many.
Ingredients
Rice paper (available in the ethnic food section of the grocery store)
Variety of sliced vegetables/whatever you have in the refrigerator. Examples are: peppers, cucumbers, fresh mushrooms, carrots, snap peas, iceberg lettuce or sprouts
Fresh basil or cilantro (either is a nice flavor addition)
cooked shredded chicken (optional/can use leftovers)
sweet chili sauce or teriyaki sauce
Please note: I like to put sauces in squeeze bottles as I have better control when dispensing them.
Directions
Set up a work station with a cutting board in front of you with all your ingredients to your left or right, whichever is your dominant hand. On the other side, you will need a plate filled with warm water; this is to reconstitute the rice paper. Have a platter handy to place the finished rolls.
Place one piece of rice paper in the water, let soften for 20-30 seconds. The rice paper needs to be soft but not falling apart. Lay paper on cutting board, place a small handful of meat and/or veggies on the section closest to you. Squeeze a bit of the desired sauce on top then add a small sprig of fresh cilantro or basil.
Fold in so one layer of the paper is covering ingredients, now fold in each side and continue to roll away from you. Make sure to cover these very well so they do not dry out. Cut in half for smaller portions. Serve extra sauce for dipping. Keeps well in fridge for up to three days.
Entrees
---
Meatball Casserole
Submitted by Mary Hiland
This is my favorite holiday recipe. It is always a big hit and easy to make for a crowd. What I like about this recipe is that you only need one measuring cup, and you only use it twice.
Directions
Mix together 3 eggs lightly beaten. Add 1 package Lipton dry onion soup mix and 1 cup dry bread crumbs. Stir in (with hands) 1-1/2 lb ground round or chuck. Make into balls about 2 inches in diameter. Place in slightly greased 9×13 inch baking pan.
In a large sauce pan, mix the following:
1 bottle Heinz chili sauce
1 bottle water (Use the Heinz bottle)
1 cup brown sugar
1 16 oz can drained sour kraut
1 can whole cranberry sauce
Simmer to heat. Pour over meatballs in pan. Bake uncovered at 350 degrees for an hour and a half.
Brisket for the Holidays
Submitted by Audrey Demmitt
Ingredients
4 or 5 lb beef brisket
1 can of beef consomme
1 (10 oz.) bottle (lite) soy sauce
1/4 cup lemon juice
Garlic to taste
1 tablespoon liquid smoke
Directions
Combine last 5 ingredients, pour over meat and marinate overnight. Place meat and marinade in a pan and cover tightly. Bake at 300 degrees for 3 hours for 4 pounds and 4 hours for 5 pounds.
Baste occasionally during baking. Take out and slice. Then replace it in the pan and pour some of the marinade over brisket. Increase the temperature to 350 degrees and continue baking for another hour . (uncovered).
Peer Guide to Cooking Safely with Visual Impairment
The VisionAware Peer Advisors have just started a new guide. It is housed in the cooking section, where you will find lots of great cooking techniques.