Editor's note: The VisionAware Peer Advisors have just started a new Guide to Cooking Safely with Visual Impairment and will be adding lots of great content about cooking with visual impairment. It is housed in the cooking section, where you will find lots of helpful cooking techniques.Leann Gibson, Chef and VisionAware and Cooking with Confidence Correspondent, has pulled together the following favorite dessert recipes from our peer advisors who are blind or visually impaired. Also, be sure to read Part Two: Appetizers and Entrees.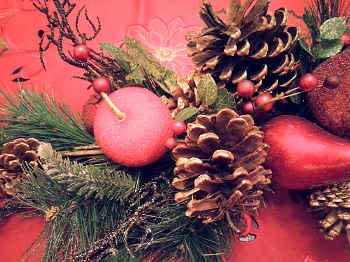 Favorite Recipes of the Season
It is that time of year again when we all get together to celebrate and spend time with the people in our lives. Our family, coworkers, neighbors, and friends. At these festive gatherings, tasty little bites and sweet treats are often the stars of the show. The VisionAware Peer Advisors have shared some of their favorite recipes of the season. The first part of this series contains desserts. We have included some wonderful ideas for gift-giving too. There is nothing quite like homemade presents from the heart to truly reflect the warmth of the holidays. Part 2 with Entrees and Appetizers is coming soon.
Russian Tea
Tarka Apple and Rhubarb Jam
Magic Squares
Easy Turtles
Apple Enchiladas
Cracker Toffee Bark
Pecan Pie
Tangy Lemon Curd
Never-Fail-Shortbread
Grandma's Peanut Butter Chocolate Chip Cookies
Oatmeal Macaroons
Playdough for Kids and Grandkids
Russian Tea
Submitted by Empish Thomas
Ingredients
3 teaspoons of loose tea or 3 teabags
1 quart of water (about 4 cups or 32 oz)
3 cinnamon sticks
1 tablespoon whole cloves
1 can frozen orange juice
1 can frozen lemon juice or equal amount of bottled lemon juice
1 can pineapple juice
2 cups sugar
4 quarts of water
Directions
Bring 1 quart of water to a boil. Add tea, cloves, and cinnamon sticks. Let the tea and spices steep for 15 minutes. Strain the spices from the tea. In a large pot, add the tea and other ingredients, and heat until warm. Serve hot. Russian tea will keep in the refrigerator for a week. Enjoy!
Tarka Apple and Rhubarb Jam
Submitted by Maribel Steel
I created this jam recipe made from our own organic apples as a tribute to a wonderful piece of symphonic music called Tarka. I was the project co-coordinator for a World Premiere concert where the symphonic music, written by Harry Williamson & Anthony Phillips (Genesis) in the 1970s was celebrated three decades later in the Melbourne Town Hall in 2010.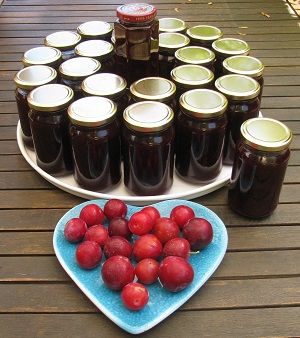 Ingredients
6 cups diced rhubarb
6 cups diced apples
4 cups raw sugar
rind of 1 large lemon
1 cup of water (include lemon juice)
2 tablespoons ground cinnamon
Directions
Place all ingredients in a heavy-based saucepan. Stir in sugar and mix thoroughly. Bring to boil, then lower heat to simmer for 35 minutes. Stir occasionally to check jam is not sticking (with lid off).
Cook until the fruit is soft, leave for five minutes before placing mixture into clean jars. Take care at this point, jam is very hot. Store in a cool place and refrigerate after opening.
This amount makes about six medium jars and can be wrapped up to present as a gift, straight from your kitchen!
Magic Squares
Submitted by Leann Gibson
Ever since I was little, these squares have been far and away my very favorite. Simply, they remind me of holiday time with my family and how special it all was. Now, I bake them for gifts in the hope to give away a little "magic" of my own.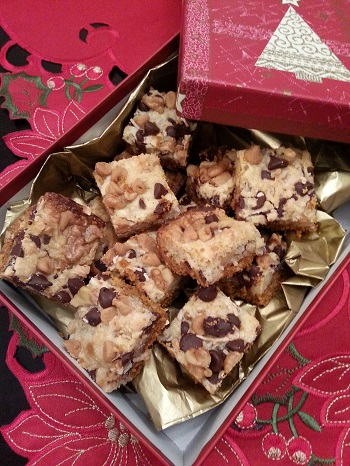 Ingredients
1-1/2 cups graham cracker crumbs
1/2 cup melted butter
1 can (14 oz) sweetened condensed milk
2 cups semi-sweet chocolate chips
1-1/3 cups flaked coconut
1 cup chopped nuts (pecans, walnuts)
Directions
Heat oven to 350 degrees Fahrenheit. Combine graham crumbs and melted butter, press into greased 9×13 pan. I line parchment in the pan with some extending over the edge. This makes it come out well for cutting. Pour condensed milk evenly over crumb bottom. Layer chocolate, coconut, and nuts evenly and press with fork. Bake for 25-30 minutes. You can personalize these using different ingredients like peanut butter chips, raisins, or marshmallows. The possibilities are endless.
Easy Turtles
Submitted by: Audrey Demmitt
Ingredients
1 package of Rolo chocolate/caramel candies
1 bag of small pretzel twists
Pecan halves
Directions
Place the pretzels on a cookie sheet in single layer. Top each one with an unwrapped Rolo candy. Place in a 350-degree oven for 3-4 minutes. Remove from oven and place a pecan half on top of each one, gently pushing it in a little. Cool completely and store in containers.
Apple Enchiladas
Submitted by Linda Fugate
Ingredients
2 (8 oz) cans refrigerated crescent rolls
1 can pie sliced apples (do not use apple pie filling)
1/2 cups sugar or Splenda
1 cup melted butter
1 teaspoon ground cinnamon
1 (12 oz.) can citrus-flavored soft drink such as Mountain Dew
Directions
Preheat oven to 350 degrees. Unroll crescent rolls; separate into triangles. Place one apple slice on wide end of each triangle; roll up triangles around apples, starting at wide end. Place, point sides down, in a lightly greased 9×13 inch pan.
Stir together sugar, butter, and cinnamon, and drizzle over rolls; pour soft drink over rolls. Bake at 350 degrees for 45 minutes or until golden brown and bubbly.
Cracker Toffee Bark
Submitted by Audrey Demmitt
Ingredients
2 sticks of real butter
1 cup of dark brown sugar
1 sleeve plus a few more of saltine crackers
2 cups semi-sweet chocolate chips
¾ cup of chopped nuts-your choice
Directions
Preheat oven to 400 degrees. Place saltines to cover a cookie sheet in single layer (some gaps are okay). Melt butter and brown sugar in saucepan. Bring to a boil and boil for 3 minutes. Pour over crackers and spread evenly. Place in 400-degree oven and bake for 5 minutes. Remove and sprinkle the chips on top. Let sit for 5 minutes. Then spread the melted chips to cover the top evenly. Sprinkle with chopped nuts. Cool completely and then break into pieces. Store in containers.
Note: These make great gifts for neighbors and friends!
Pecan Pie
Submitted By Lynda Jones
Many people do not realize that this is one of the easiest pies to make. When I was quickly losing my vision, I discovered this secret. Pecan Pie became my trademark.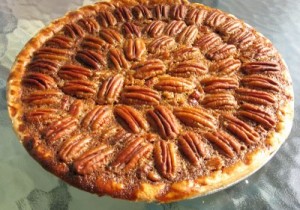 Ingredients
3 lightly beaten eggs
1 cup dark Karo syrup
2 teaspoons vanilla
½ cup sugar
½ soften stick butter
1 cup pecan pieces (unroasted—these are found in the baking section of most stores)
1 frozen pie shell in a pan or 1 pre-made pie crust. Ask grocer for help in finding what you need. Gluten-free is available in many stores.
Whipping cream for garnish
Directions
Preheat oven at 325 degrees. Blend all ingredients together except pecans (1 to 2 minutes). Pour into unbaked pie shell and then gently stir in 1 cup pecans without tearing up the pie crust.
Bake at 325 degrees for 45 minutes or until knife comes out clean. Garnish with whipping cream if desired.
Tangy Lemon Curd
Submitted by Maribel Steel
We all love to receive homemade treats. There is something special in the way they taste with the added ingredient of thoughtfulness. For special occasions, I like to prepare tangy preserves or mouth-watering cookies, and surprise my family and friends with pretty package they can eat! Here are two of my favorites…all the way from Australia!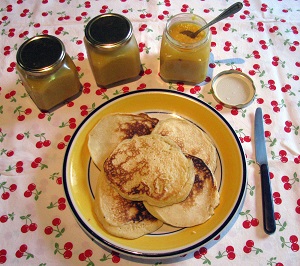 Ingredients
8 lemons
500g sugar (about 1 pound)
250g butter (about 1/2 pound)
6 beaten eggs
Directions
Wash lemons and grate rind. Squeeze all the lemons to extract their tangy juice. In a saucepan, melt butter and add sugar. Stir well (I use a whisk to avoid lumps), and when all nicely melted, add the lemon zest and juice.
Next, add beaten eggs and mix well. Stir over low heat until deliciously smooth and thickened. This will take about 20 minutes. Pour tangy mixture into hot sterilized jars and seal. Store in the fridge. The lemon curd will thicken upon cooling.
Delicious when used on hot buttered toast, crumpets, or on pancakes.
Never-Fail-Shortbread
Submitted by Maribel Steel
Ingredients
250g butter (about 1/2 pound)
1/3 cup icing sugar
1/3 cup corn flour
¼ cup raw sugar
½ teaspoon vanilla extract
2-1/3 cups plain flour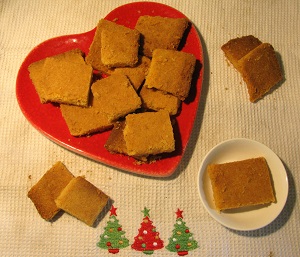 Directions
Melt butter in a saucepan over low heat, allow to cool slightly. Sift icing sugar and cornflour into a bowl, add raw sugar. Now add the melted butter and vanilla to the dry ingredients. Stir mixture until thick and creamy.
Next, add the sifted flour and mix well. Once all combined, press shortbread mixture into a greased 7×11 inch pan and smooth the top with a spatula. Mark into fingers with a knife (not cutting all the way through) and use a fork to prick a decorative pattern on the top.
Bake in a 350-degree oven for 30 minutes or until lightly golden. Allow to cool and then cut into fingers (and hide some in another tin for yourself). They will disappear like hot shortbread!
Grandma's Peanut Butter Chocolate Chip Cookies
Submitted by Deanna Quietwater Noriega
Each weekend finds me in the kitchen baking breads and cookies, which go in the freezer until I have enough to organize trays and tins of holiday goodies to give to friends, neighbors, and coworkers. I decorate the top with a candy cane, ornament, or bright ribbon.
Ingredients
1/2 cup vegetable shortening
1/2 cup crunchy peanut butter
1/2 cup brown sugar
1/2 cup white sugar
1 egg
1-1/2 cups flour
3/4 tsp baking soda
1/2 tsp baking powder
1/4 tsp salt
1 tsp vanilla
8 oz chocolate chips
Directions
Mix ingredients in order given. Roll into walnut sized balls and place on greased cookie sheet. Press down lightly with sugared glass. Bake at 375 degrees for 10 minutes.
Oatmeal Macaroons
Submitted by Deanna Quietwater Noriega
Ingredients
1 cup shortening
1 cup brown sugar
1 cup white sugar
1 tsp almond extract
2 eggs
1-1/4 cup flour
1 tsp baking soda
1/2 tsp cinnamon
3 cups oatmeal
1 cup shredded coconut
Directions
Sift together flour, soda, salt, and cinnamon. Add oatmeal and coconut. In another bowl, combine eggs, shortening, sugars, and almond extract. Whip until well blended. Add dry ingredients and mix well.
Drop by teaspoon on to greased cookie sheet. Bake at 350 degrees for 12 minutes.
Playdough for Kids and Grandkids
Submitted by Maribel Steel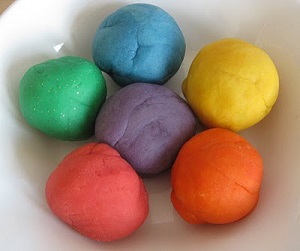 Homemade playdough is an economic alternative to the commercial variety and just as fun to play with. You can make several different colors and gift to your grandchildren
Ingredients
In a large saucepan, mix:
1 cup flour
½ cup salt
2 tablespoons cream of tartar
Then add:
1 cup water
1 tablespoon oil
A few drops of food coloring
Directions
Stir all the ingredients together and cook on medium heat for 3-5 minutes, stirring constantly until dough is pliable. Turn out onto a wooden board, mix with hands and allow to cool. Place into an air-tight container and prepare for hours of fun!
Please note: Interested in more recipes from Maribel? Read about her recipe book My Mothers Harvest: A Collection of Family Recipes & Short Stories, in the peer advisors gift guide!
Be sure to read Fun for All During the Holidays for more play ideas!