By Maribel Steel
The Big Day
During the first weeks of dog guide training, you can become easily overwhelmed by the new skills required to be able to step out in confidence with your four-legged companion.
The interaction required between your canine pilot and you as navigator takes a significant measure of trust, courage, and good humour to keep moving smoothly through a chaotic world of obstacles.
If you have wondered what it is like to experience that first leap into the unknown, then hold on tight, we're going paw-wheel driving with my dog guide — destination unknown.
The big day came when we climbed aboard the Dog-guide minibus. Five obedient dogs, five anxious handlers and two confident trainers from Guide Dogs Victoria all set off to carry out our first walk in public.
A burst of nervous giggles then silence swept through the bus, our loyal dogs quietly lying by our feet. The engine whirred down a few gears to a complete halt and the trainers briefed us on what was expected next.
I felt like someone waiting in the back of a sky divers' plane about to jump out into the vast unknown. The sliding door opened, "Jonathon. You can go first."
Phew! I sat back into the vinyl seat, my hands straying over Nev's coat. My canine companion looked up at me as my trembling fingers toyed with his velvety ears like holding onto a comforting teddy bear.
Trust your Dog Guide
A few minutes later, the sliding door opened again. "Ready, Maribel?"
Nev sprang to his feet, bouncing towards the door as he guided me down the two steps. Once on the footpath, I tried to organize my dog guide to take up position on my left. Nev fidgeted as I untangled the leash from around his front legs, a hot doggy-tongue licking my ear.
"Ready?" The trainer asked. Nev and I continued in a nervous dance on the pavement. "Sometime today would be good," he added, amused by our comic capers.
I took a deep breath and nodded. "Forward, Nev, find the way."
Independent Mobility
Nev lunged forward, skipping first gear. I felt his body swerve to the left and my feet followed suit. We cruised past curious stares and a hushed silence fell on the street.
A rush of heat burned into my palms trying to keep a firm but calm grip on the harness as we stayed in perfect step in the spotlight of our first public performance.
We glided past every obstacle on the street. "Good boy. Find the way."
I kept verbal commands clear. A smile broke free on my tense face. Everything seemed lighter, easier, as I stayed close on the heels of my dog guide.
An unexpected feeling of playfulness put a lighter spring in my step. He showed such grace and skill. Emotions swelled within me as I could hardly believe we were trotting together in effortless harmony.
Teamwork and Triumph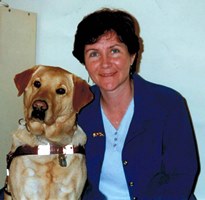 As Nev pulled up by the end of the curb, I bent down on one knee, buried my quivering lips into his soft coat and burst into tears, whispering, "My dear Nev. We did it."
My trainer came sprinting to our side. "What happened? What's wrong?"
I stood up, wiping away the moisture from my eyes, "Nothing." I sniffled.
"Why are you crying then?"
"I can't believe Nev just did all that for me. I'm so proud of him."
My trainer's voice lightened. "Oh, good grief." He touched my shoulder and laughed, "I told you to trust him, that's what he's trained to do. He's your guiding eyes now."
Additional Information and Resources
Find Out More About Me
Please Tell Us Your Story
Do you have a dog guide tale to share? We'd love to hear your story! Let us know in the comments below what you have found to be the most rewarding or challenging aspect when working with your dog guide.